101 Popcorn Toppings, from Basic to Insane
Note: The Cookful may receive a commission on purchases made through Amazon/affiliate links.
Buttered Popcorn is so boring. Try out one of these 101 Creative Popcorn Toppings on your next movie night.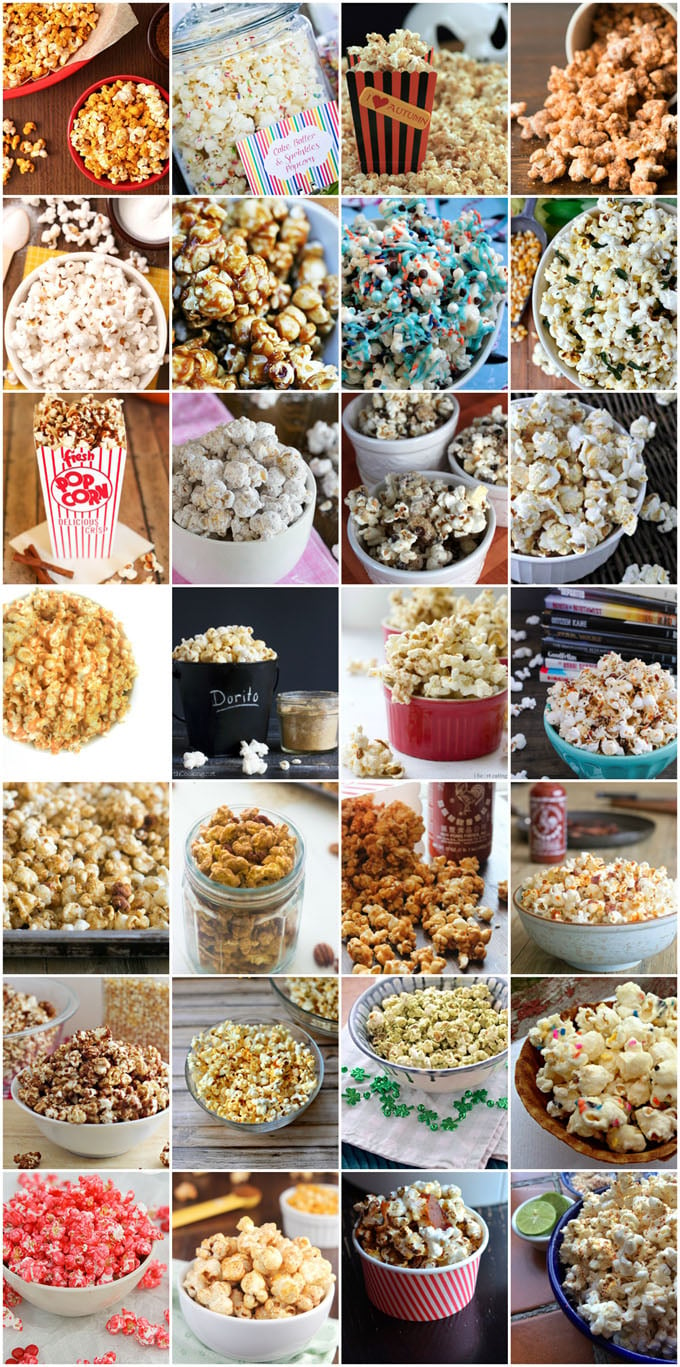 Every movie night deserves a bowl of popcorn. Why not dress it up with something different each time? We compiled a list of 101 popcorn toppings to make movie nights even tastier. Whether you prefer your popcorn sweet or savory or both, there is definitely a popcorn recipe here for you.
The very basics
1. Simple Homemade Stovetop Popcorn with Salt
2. Sprinkle with cheese powder.
3. Stir in a bit of truffle oil.
4. Toss with cinnamon sugar.
6. Toss with olive oil and sea salt.
7. Add splash of balsamic vinegar.
8. Cover with melted butter.
10. Douse it in melted white chocolate.
11. Drizzle on some melted dark chocolate.
12. Grind black pepper over top.
13. 5 Fun Make-Ahead Popcorn Toppings (including Dorito-flavored!)
Butter it up
14. Brown your butter.
15. Dairy free? Try melted goat butter.
16. Sauté butter with minced garlic.
17. Douse popcorn with duck fat or bacon fat.
Note: The Cookful may receive a commission on purchases made through Amazon/affiliate links.
Throw in some herbs
18. Brown Butter and Crispy Sage Popcorn
19. Add a little rosemary.
20. Add dill weed and celery salt.
21. Shake on dried oregano.
23. Sprinkled with chopped fresh parsley and a squeeze of lemon.
24. Stir in some basil pesto.
25. Throw in some fresh cilantro.
Put your spice rack to work
26. Buffalo Popcorn
27. Add garlic powder.
29. Reach for the taco seasoning.
31. Toss with chili powder.
32. Toss with paprika.
Make it spicy
34. Toss with cayenne pepper.
35. Cotija and Chile Spiced Popcorn
37. Tabasco Honey Butter Popcorn
A little fruit will keep the doctor away?
38. Drizzle with fresh lime juice.
39. Add citrus zest.
40. White Chocolate Raspberry Cheesecake Popcorn
41. Sprinkle in some raisins.
42. Or dried cranberries (drizzle with melted chocolate and let it cool if you want popcorn and dried fruit clumps).
Eat it for dinner (we won't tell)
44. Pizza Popcorn
45. Peanut Butter and Jelly Popcorn
46. BBQ Popcorn
Popcorn is for breakfast, right?
48. Maple Bacon Bourbon Popcorn
49. Stir in cocoa powder, brown sugar and chai spices.
51. Popcorn Dipped in Egg (yes, really. This is insane and a must must must try!)
Dessert popcorn
53. Birthday Cake Oreo Popcorn
54. Toffee Butterscotch Popcorn Munch
55. Pumpkin pie popcorn — add pumpkin pie spice and brown sugar!
58. Brown Butter Snickerdoodle Popcorn
60. Unicorn Popcorn Rocky Road
Or try kettle corn!
Always add chocolate
66. Bacon and Chocolate Popcorn
68. Chocolate Chip Cookie Popcorn
69. Chocolate Peppermint Popcorn
Ice cold
70. Popcorn Ice Cream Caramel Sundaes
71. Frozen Popcorn
72. Caramel Corn Pistachio Ice Cream Sandwiches
Sweet like candy
73. Salted Butterscotch Popcorn
75. Add M&Ms, raisins, nuts and cereal for a twist on trail mix.
76. Peanut Butter Drizzled Popcorn
77. Snickers Popcorn
78. White Chocolate Pumpkin Protein Popcorn
79. Easy Microwave Caramel Corn
81. Red Hot Popcorn from Taste & Tell
Top with caramel goodness
82. Caramel Corn
83. Peanut Butter Caramel Popcorn
84. Vegan Caramel Corn with Cacao Nibs and Coconut
85. Caramel Masala Popcorn with Pistachios
86. Make a Basic Caramel Corn and then sprinkle with sea salt for salted caramel popcorn.
Sprinkle on popcorn as the topping
88. Cinnamon Apple Coffee Cake with Caramel Corn Topping
89. Cookie Butter Popcorn Cupcakes
91. Double Chocolate Peanut Butter Layer Cake with Caramel Popcorn
Popcorn around the world
92. Canadian: Popcorn poutine? Sprinkle hot popcorn with shredded cheese then dip in beef gravy.
93. Creole/cajun: Add creole or cajun seasoning.
95. French: Toss with Herbes de Provence and butter.
96. Hawaiian: Toss with coconut flakes.
97. Indian: Sprinkle in some curry spices.
98. Italian: Sprinkle with grated parmesan cheese and Italian seasoning.
99. Japanese: Pour on the fiery wasabi powder.
100. Thai: Add a few dashes of sriracha.
101. American: Toss with a packet of ranch dressing powder and butter.
We dare you to try to come up with more ideas. Delicious popcorn links and all your scintillating popcorn thoughts are welcome below.
Susannah blogs at Feast + West where she specializes in cocktails and easy entertaining recipes. She can (and often does) eat a whole jar of olives in one sitting, sans cocktail. A graphic designer, Susannah also blogs about design for bloggers at Garnishing Co.