If you don't know what to do with your meatloaf leftovers (aside from eating them as, well, leftovers) we have just the thing for you – twelve fantastic ways to use those meatloaf leftovers.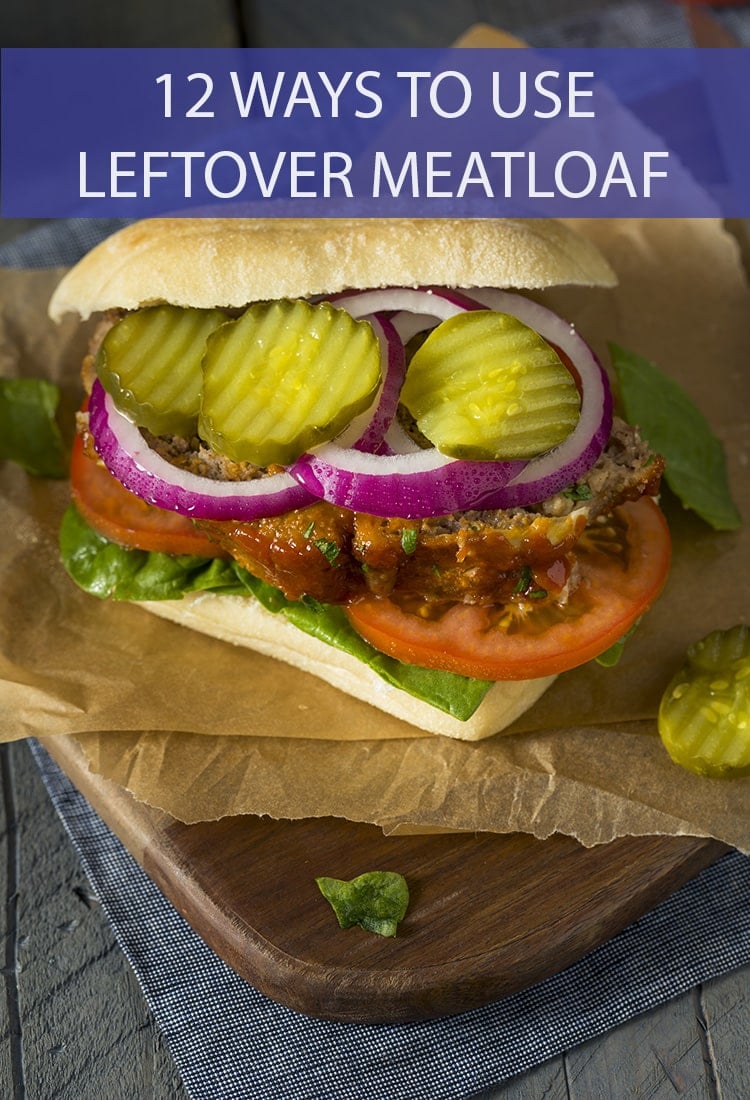 Meatloaf might be one of the world's best "next day meals," meaning it's fantastic both when eaten fresh and when reheated as leftovers. But there are many different ways one can use leftover meatloaf. Some are simple and obvious, but others require some outside-the-box thinking.
Here is our list of the top twelve ways to use leftover meatloaf.
Meatloaf Sandwich
I'm starting us off with the most obvious one, which is also my personal favorite. When I was a kid, I looked forward to meatloaf just for sandwiches the next day. I found that a meatloaf sandwich is great either hot or cold. Add some ketchup, mayonnaise, and maybe a little cheese and you've got a perfect quick lunch.
Meatloaf Burger
No, this isn't the same thing as a meatloaf sandwich. I got this idea from a restaurant in Orlando, Florida, which makes one of the best burgers I've ever tasted. Since then, I've made this a regular leftover meatloaf recipe. Take a regular burger patty and cook it to your desired pinkness, then place it on a large Kaiser roll and top it with a piece of leftover meatloaf. Top that with a scoop of mashed potatoes, and even some corn if you'd like, and you've got an amazing and unique burger that can serve as the perfect lunch or dinner.
Breakfast Hash
Crumble up some of your leftover meatloaf in a skillet with diced onions, potatoes, and bell peppers, then add a fried egg on top. This is a great breakfast the whole family can enjoy and is a fun outside-the-box way to enjoy your meatloaf the following day.
Stuffed Peppers
Mmmm, stuffed peppers are a personal favorite, but did you know that you can make them using day-old meatloaf? Dice the meatloaf up and load it into some cored bell peppers along with some tomato sauce, cooked rice, onion, and shredded cheese. This is a great way to prepare a second entrée with yesterday's dinner.
Meat Sauce
While this would likely make my Italian grandmother roll over in her grave, I love adding leftover meatloaf into a nice tomato sauce, or Sunday Gravy if you're one of my people. Throw it into the pot with some basil, hot sauce, balsamic vinegar, sautéed onion, and Italian seasoning. Then toss it with some spaghetti to make a great Bolognese.
Tacos
Ok, so we blasphemed the Italian cooking traditions, now let's mess with a Mexican dish. Leftover meatloaf is great in a taco. Load some up into a hard shell with some jalapeno peppers, shredded cheddar, lettuce, and sour cream, or make a burrito and add some rice and black beans. Finish it off with some sweet chili sauce as well to really make the flavors pop.
Soup
You can turn leftover meatloaf into a nice hearty soup or stew. If you add it into a minestrone it's fantastic, and perfect for a cold winter night. You can also use it in place of meatballs in Italian Wedding Soup.
Shepherd's Pie
My all-time favorite Irish dish tastes great with a little leftover meatloaf thrown in. Traditionally this is made with lamb, but I won't tell if you won't. Mix it up with sautéed onion, garlic, peas, carrots, and tomato paste. Pour in some beef stock and top it off with mashed potatoes.
Fried Rice
Meatloaf fried rice. Get on the train before every Chinese food restaurant is doing it. Add some diced veggies, hard boiled egg, cooked rice, and soy sauce and toss it all up in a wok for a perfect Asian inspired meal.
Pizza
Put some crumbled meatloaf on top of the cheese when you're making a homemade pizza and you've got a pretty unique offering to serve your guests. I'd pair it with some pepperoni, onion, and mushrooms to give it that extra bit of familiar flavor.
Chili
Using leftover meatloaf crumbled up in a chili is one of the best ways to spend a snowy winter evening. Pour it into the pot with some crushed tomatoes, kidney beans, jalapenos, chili powder, paprika, and any other spices you love. Top it off with shredded Mexican Blend cheese and a dollop of sour cream for that extra bit of creamy goodness.
Mac and Cheese
This one is a little decadent, but you deserve it. Crumble up your leftover meatloaf and mix it in with a nice creamy mac and cheese. It adds an extra special protein flavor to an otherwise meatless meal.
So there you have it. Twelve delicious ways to use meatloaf leftovers. Which one will you try first? Let us know in the comments.
This post originally appeared in February 2019 and was revised and republished in March 2021.