You're going to love Chicken Cordon Bleu in the air fryer. It cooks faster and turns out perfectly crispy.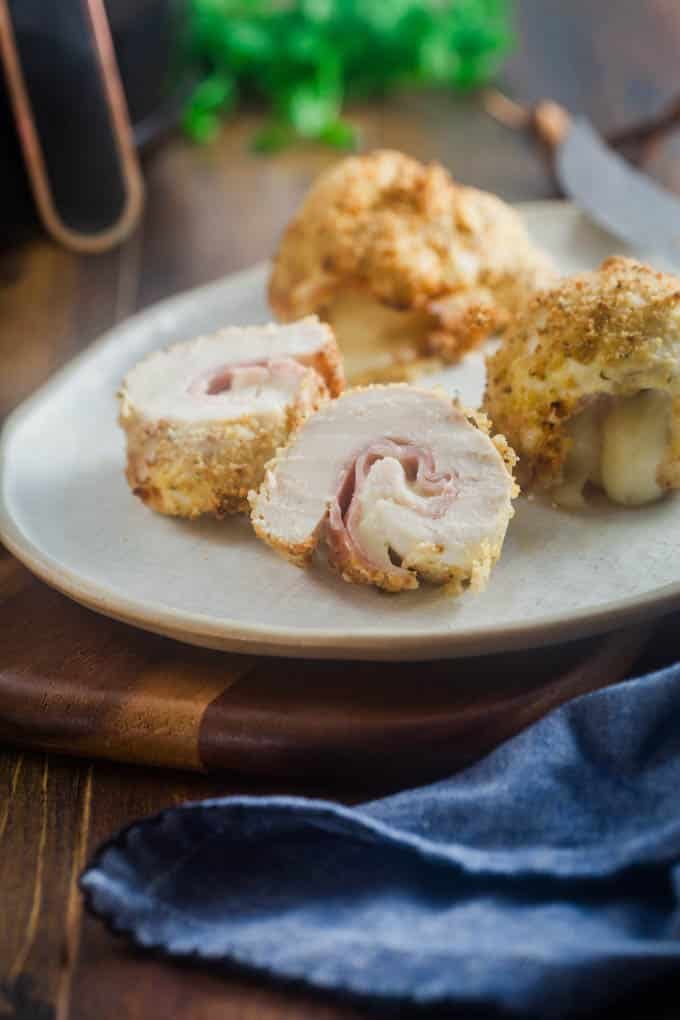 Who orders Chicken Cordon Bleu at a restaurant because it seems too complicated to make at home? Well, we've got you covered. Just wait until you see how to make it in the air fryer. If you don't have an air fryer yet and you reeaaalllly want Chicken Cordon Bleu tonight, well order your air fryer then make this Easy Chicken Cordon Bleu from our sister site, Cook the Story.
Why make Chicken Cordon Bleu in the air fryer? For starters, it comes out super crispy and golden brown. It's also much faster than baking it in the oven. It only takes about 12 minutes to cook, and doesn't require any time waiting for the oven to preheat, although we recommend you let the air fryer preheat while you prep the chicken.
Cooking the chicken seam-side-down might seem counterintuitive, but trust me. It will hold its shape better so you won't lose that gooey, cheesy filling. Just be sure to secure everything the best you can with a toothpick or two – but don't forget to remove them before serving!
Print
Air Fryer Chicken Cordon Bleu
Contributor: Lauren Keating
You're going to love Chicken Cordon Bleu in the air fryer. It cooks faster and turns out perfectly crispy.
Author:

Prep Time:

15 minutes

Cook Time:

12 minutes

Total Time:

27 minutes

Yield:

4

servings

1

x
4

thin boneless, skinless chicken breasts

4

slices ham

4

slices Swiss cheese

2 Tbsp

. flour

1

egg, beaten

1/4 cup

seasoned bread crumbs
Cooking spray (or use an olive oil sprayer)
Instructions
Preheat oven to 400° F.
Using a meat mallet, pound the chicken breasts until they're 1/4 inch thick.
Season the chicken with salt and pepper, then layer each breast with one slice of ham and one slice of cheese.
Starting on the long side, tightly roll the chicken around the filling and secure with a toothpick.
Lightly coat the chicken with flour, then dip it into the egg.
Roll the chicken in breadcrumbs to coat thoroughly. Spray the chicken with cooking oil and place seam-side-down in the basket of your air fryer.
Cook at 400°F for 12 minutes, or until 165°F on an instant read thermometer.
Let rest 5 minutes and remove toothpicks before serving.