Air Fryer Spring Rolls are such a great way to make your favorite take out treat without the guilt of a fried spring roll.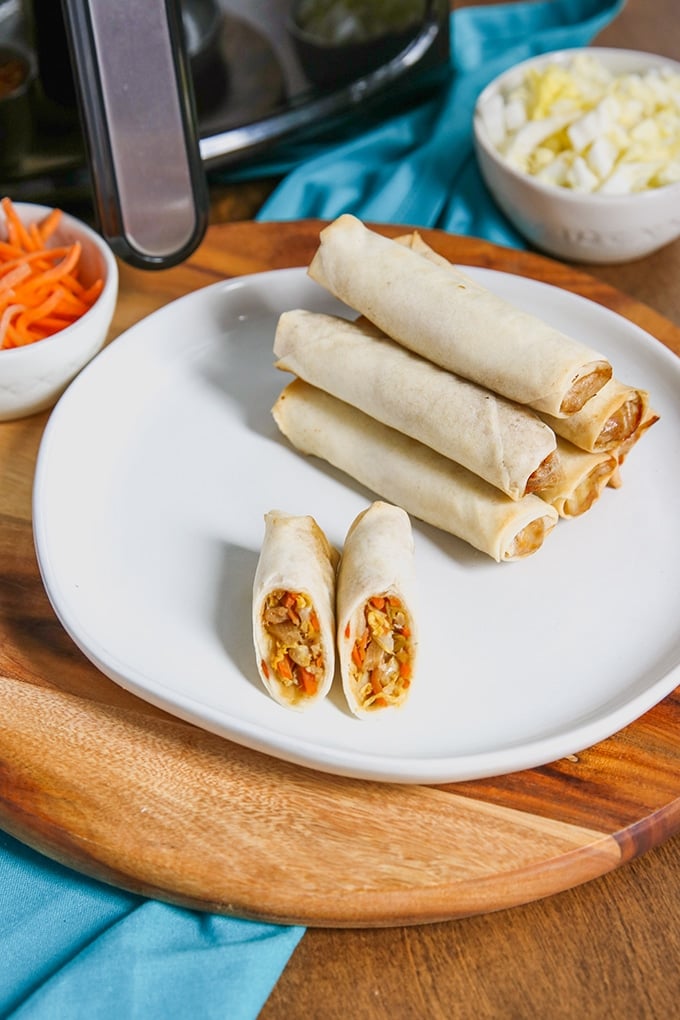 What Is The Difference Between Egg Roll Wrappers And Spring Roll Wrappers?
There is just a small difference between egg roll wrappers and spring roll wrappers.
Spring roll wrappers are made of rice flour and water. They are rolled out much thinner than an egg roll wrapper which allows the entire wrapper to crisp when put in the air fryer, giving it a delicate crunch.
Egg roll wrappers are made of egg, flour, water, and salt. Because there is egg in them, they are not vegan friendly, though companies are coming out with vegan options. They are also usually rolled out much thicker.
Where Do You Get Spring Roll Wrappers?
You can usually find spring roll wrappers at your local Asian or international markets as many local grocery stores don't carry spring roll wrappers, only egg roll wrappers or wonton wrappers. You can substitute them if you need to but they won't have the same satisfying crunch of the thin spring roll wrappers so it's worth an extra trip to get the correct wrappers.
What Is The Difference Between Egg Rolls And Spring Rolls?
As I said above, egg rolls have a much thicker wrapper. They are also often filled with different types of protein to make a more substantial appetizer. The thicker wrapper gives the egg roll more of a chewy bite after the initial crunch of the exterior fried wrapper. They also tend to be much larger than the spring rolls. If you're looking for a great air fryer option, try this Air Fryer Egg Rolls recipe.
Spring rolls are generally just filled with vegetables making them a great vegetarian option. This may vary depending on the restaurant so always be sure to check. The thinner shell also offers a great flaky crunch when you bite into it. They are usually much smaller than egg rolls making them an easy appetizer for parties.
How Long To Cook Air Fryer Spring Rolls
It only takes a few minutes to cook spring rolls in the air fryer. At 400°F it only takes about 10 minutes to complete! You'll want to flip them halfway through so that both sides get golden brown and crispy. If you're looking for a great air fryer, I really like this one.
Fillings For Spring Rolls
These are vegetarian so the following fillings are great staples to include:
Shredded cabbage
Shredded carrots
Bamboo shoots
Bean sprouts
Green onion
Minced ginger
If you want to add more protein in the dish, small cooked shrimp is a great option. Just remember they will no longer be vegetarian-friendly.
How To Wrap Spring Rolls
It just takes a few steps to wrap spring rolls. First, you'll want to lay out the spring roll wrapper in a diamond shape with the bottom point facing towards you. You'll then place the filling in the center of the roll, but just about two inches from that bottom point.
Carefully roll the point over the filling while keeping the mixture tight to remove any air bubbles. Next, you'll roll the left point towards the middle ensuring that there are no air pockets. The left point should cross the middle line of the spring roll. You'll do the same with the right side.
Roll up from the bottom where the filling is towards the top point. Stop when you have a small triangle left and use a cornstarch slurry to seal the top triangle. Finish rolling once that has been applied and you just rolled a spring roll.
Can You Multiply This Recipe?
Yes. This recipe makes 5 spring rolls so it fits perfectly into the air fryer in one batch. A lot of spring roll wrappers come in a pack of 25 so if you'd like to make enough filling to use them all, use the following amounts of each ingredient:
3 Tbsp. sesame oil
5 cups shredded cabbage
2 and 1/2 cup shredded carrots
2 and 1/2 cup bean sprouts
1 (8 oz.) can sliced bamboo shoots
1 bunch of green onion, diced
5 clove minced garlic
1 2.5-inch piece ginger, minced
1/3 cup soy sauce
2 and 1/2 Tbsp. rice vinegar
1 Tbsp. Corn starch
2 Tbsp. water
25 spring roll wrappers
Print
Air Fryer Spring Rolls
Contributor: Sam Ellis
Air Fryer Spring Rolls are such a great way to make your favorite take out treat without the guilt of a fried spring roll.
Author:

Prep Time:

20 minutes

Cook Time:

10 minutes

Total Time:

30 minutes

Yield:

5

servings

1

x

Category:

Appetizer

Method:

Air Fryer

Cuisine:

Chinese
1 Tbsp

. sesame oil

1 cup

shredded cabbage

¼

 cup shredded carrots

¼

 cup sliced bamboo shoots

¼

 cup bean sprouts

1

green onion, diced

1

clove minced garlic

1

-in. piece ginger, minced

½

 Tbsp. soy sauce

1 tsp

. rice vinegar

½

Tbsp. cornstarch

1 Tbsp

. water

5

spring roll wrappers
Instructions
Preheat air fryer to 400°F.
In a large saute pan, heat oil over medium heat.
Add in cabbage, carrots, bamboo shoots, bean sprouts, green onion, garlic, ginger, soy sauce, and rice vinegar to the pan and mix together thoroughly.
Cook for 7-8 minutes until most of the liquid is gone and the vegetables are tender.
In a small bowl, mix together the cornstarch and water until cornstarch is dissolved. Set aside.
Add 2 tablespoons of filling to each spring roll and wrap according to the package. Use the cornstarch slurry to seal the edges.
Place rolls in the basket, and spray the outside of each spring roll with cooking oil and cook for 10 minutes, flipping halfway through.