With New Year's Eve around the corner, we're here to help you make the night, and the whole holiday season, sparkle like never before. Until the ball drops, we'll be talking about Champagne cocktails non-stop!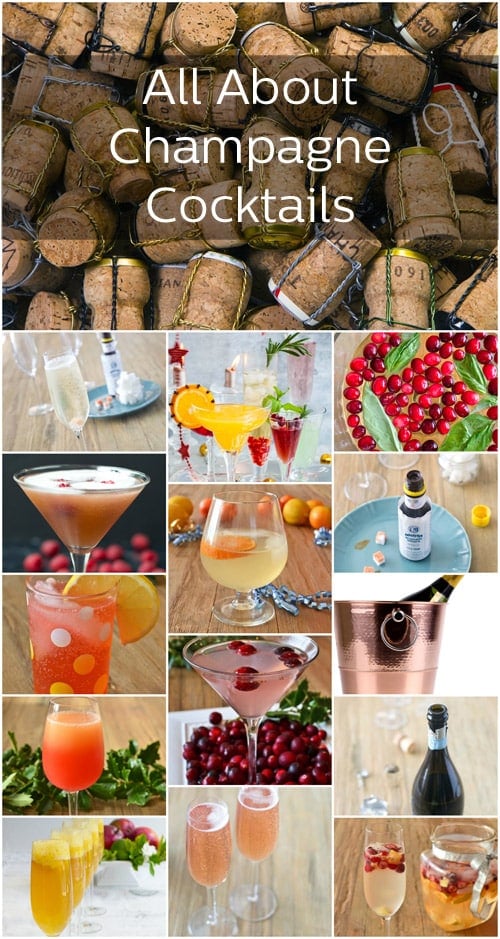 Champagne. Sparkling wine. Champs. Bubbly. Whatever you call it, Champagne makes life more dazzling. It's toasted at weddings. Sipped on during late and lazy weekend mornings. And mixed with everything from peaches to whiskey.
It's that mixing we're fixated with right now. We love how you can take everyday ingredients, put them in a glass with Champagne, and suddenly they're all special and sparkly. It's that specialness that made us decide to spend time focusing on Champagne cocktails.
We have so much Champagne cocktail info to share with you. We're walking you through Champagne and sparkling wine terminology, sharing some great classic cocktail recipes (like this Classic Champagne Cocktail, the French 75 and the Kir Royale, which includes some neato variations) and some new Champagne cocktail twists (like a Mango-Lime Bellini and a Champagne sangria). We're also talking about bitters and how to use them in Champagne cocktails, we'll show you how to set up a simple Champagne cocktail bar and so so much more.
Check over here for all our Champagne cocktail excitement. Or, grab our Champagne cocktail ebook. It has all the info conveniently packaged together in one handy place. To get the ebook, sign up here:
Let's get pouring. Cheers!
Christine 😉
This post originally appeared in December 2015 and was revised and republished in December 2020.