Easier to eat but just as tasty, Caramel Apple Slices are the way to go for your next grown-ups-only shindig.
Sometimes the idea of eating an entire caramel apple is just too much. Certainly, if you want to serve them at a gathering with a lot of grown ups, many won't take them because of the mess and the time commitment involved to eat them. The simple solution is to make caramel apple slices instead.
Just cut up an apple into slices, toss the slices with lemon juice, insert sticks and submerge in caramel sauce. Then put them on a greased sheet of parchment. For these ones I then melted chocolate in a ziptop bag, cut a bottom corner off the bag and drizzled onto the slices. It was really easy and they turned out pretty, if I do say so myself.
Print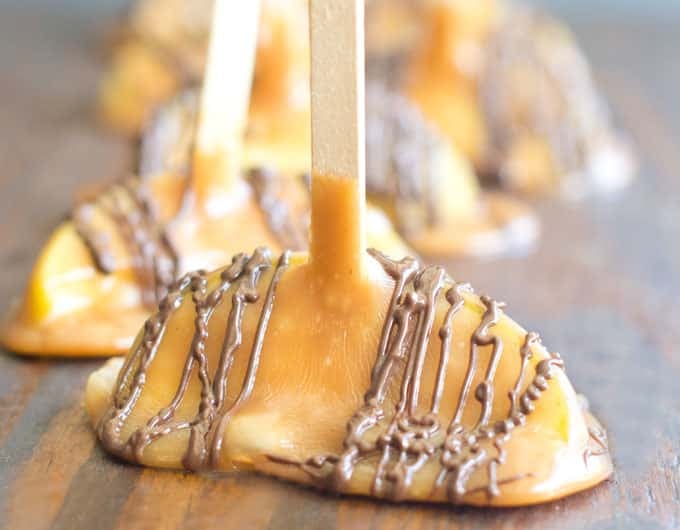 Caramel Apple Slices
Contributor: Christine Pittman
Easier to eat but just as tasty, Caramel Apple Slices are the way to go for your next grown-ups-only shindig.
1 cup

heavy cream, divided

3/4 cup

dark corn syrup

1/2 cup

unsalted butter, cut into pieces

1 cup

sugar

1 tsp

. vanilla
baking spray

2

Granny Smith apples

2 Tbsp

. lemon juice

1/4 cup

semi-sweet chocolate
SPECIAL EQUIPMENT
parchment paper
ziptop bag
Instructions
In a heavy-bottomed sauce pan mix together 3/4 cups of the heavy cream, the corn syrup, butter, sugar and vanilla. Attach a candy thermometer to the pan and make sure the tip is in the syrup but  not touching the bottom or side of the pan. Heat on high over high heat until it reaches between 244-248ºF. At that point, use a spoon to carefully move away some of the light froth on top to see the color of the syrup below. If it's a dark enough caramel color for you, like peanut butter is ideal, remove it from the heat. If not, let it heat a bit longer until that color is reached. Remove from heat. Carefully add the remaining 1/4 cup cream and the vanilla. Swirl gently to combine.
While the caramel is cooking, put parchment paper on a cooking sheet. Spray it with baking spray. Wash and dry the apples. Core the apples and cut each into 8 slices. Toss them with the lemon juice. Pat dry. Put a stick into each apple slice.
Wait for the caramel to stop bubbling. Then hold an apple slice by the stick and scoop sauce up with it. You may need to tilt your pan to make the sauce deep enough to coat the apple slice. It's not going to really stick to the bottom of the slice but will adhere to the top if you scoop lots. Place the apple slice stick up on the prepared baking sheet (at this point you can sprinkle your apple with hard toppings like nuts and sprinkles, if desired). Repeat with remaining apple slices. If you don't use all the sauce, it can be refrigerated and then reheated gently to coat more apple slices another time.
Measure the chocolate chips into a ziptop bag and gather them all together at one of the bottom corners. Put the bag into a microwave-safe bowl and microwave on high for 20 seconds. use your fingers to mix them around a bit and then microwave for 20 seconds more. Use your fingers to smoosh them a bit. Continue to heat and smoosh until most of hte chips are completely melted but some are still hard. At that point, do not heat it any more just smoosh around until all the chips have melted. Cut a tiny bit off of the bottom corner that the melted chocolate is closest to. Squeeze bag to drizzle chocolate onto apple slices.
This article originally appeared in October 2015 and was revised and republished in September 2016.