The Denver Omelet
Here's how to make the classic American diner omelet, the Denver Omelet, at home. It's loaded with green bell pepper, onion, ham and cheddar cheese.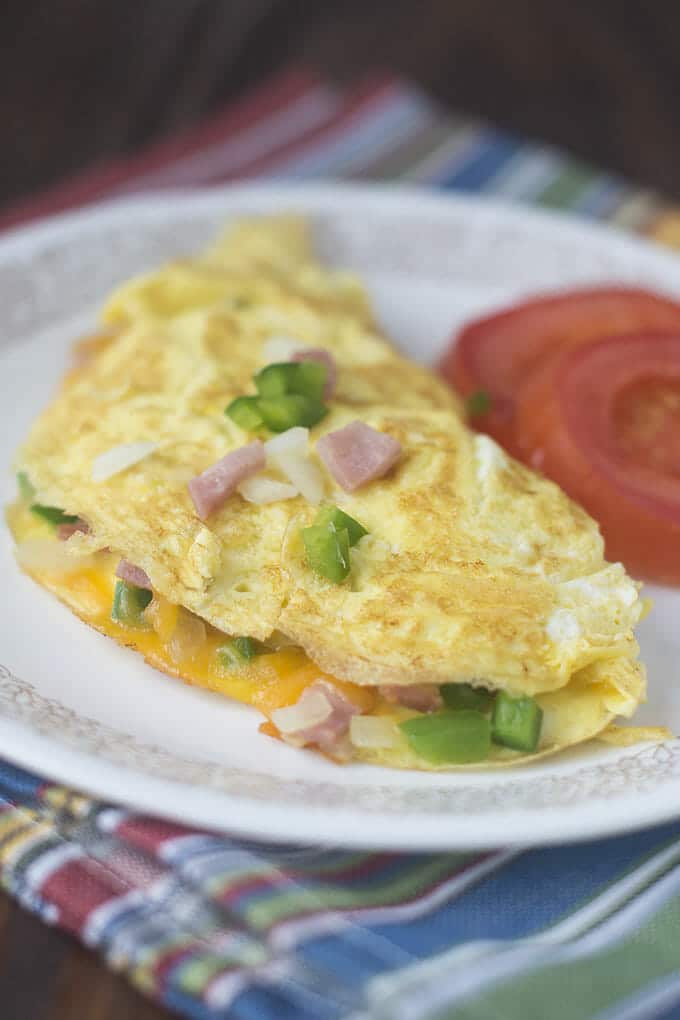 When we were planning this egg series, we had a French omelet on the list. None of us had ever actually made one before though. We tried. It was really annoying to do, and not that exceptionally great tasting in our opinions. Or not worth the effort. We decided to stick with what we know and go with the classic American diner omelet. The Denver Omelet was a natural one to turn to.
I'm giving instructions here for making any kind of American diner-style omelet, really. The difference is just in the ingredients that you use. For a Denver omelet, you use chopped green bell peppers, onions and ham. I had to include cheese as well, which is usually optional on a Denver, because me and cheese have a special bond.
Here's how you make an omelet:
Heat a teaspoon of cooking oil or butter in an 8-inch non-stick skillet over medium heat. Add your chopped ingredients. Almost all ingredients benefit from sautéing first. The only exceptions are diced tomatoes and chopped green onions, which should not be added at this stage but are best as garnishes on the top after the omelet is cooked.
Sauté ingredients until they're softened, 4-5 minutes. Then remove them from the skillet and put them on a plate. Wipe out the skillet.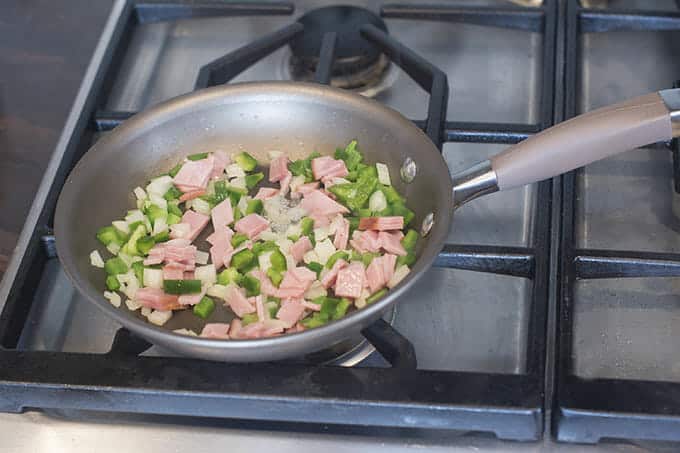 Meanwhile, crack the eggs into a bowl and whisk them until smooth (you don't want the yolks and whites to be separate at all here, unlike for the American-style scrambled eggs that we discussed the other day).
Heat another teaspoon of butter or oil in the skillet over medium heat. Pour in the eggs.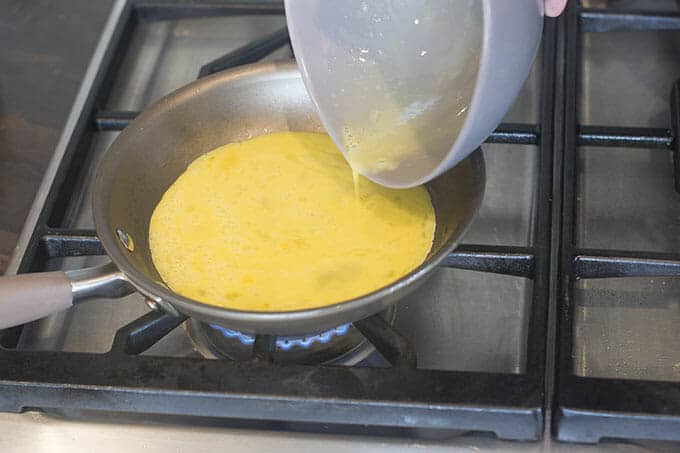 Let them sit in the pan for a minute and then when you notice them starting to congeal in places, stir.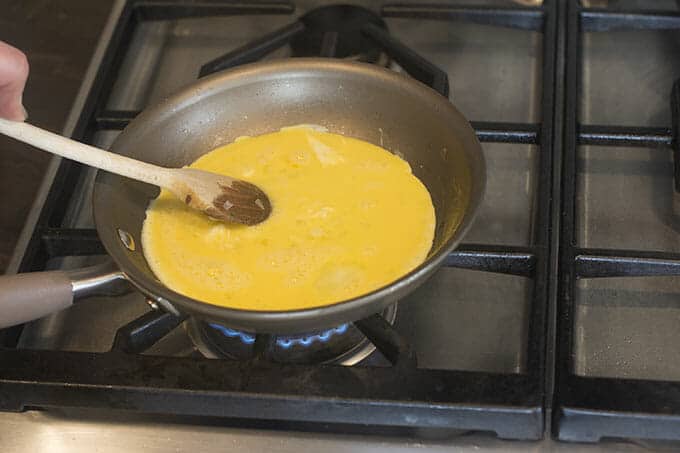 Let it all sit for a bit again. When the bottoms have congealed, scrape the egg to one half of the pan.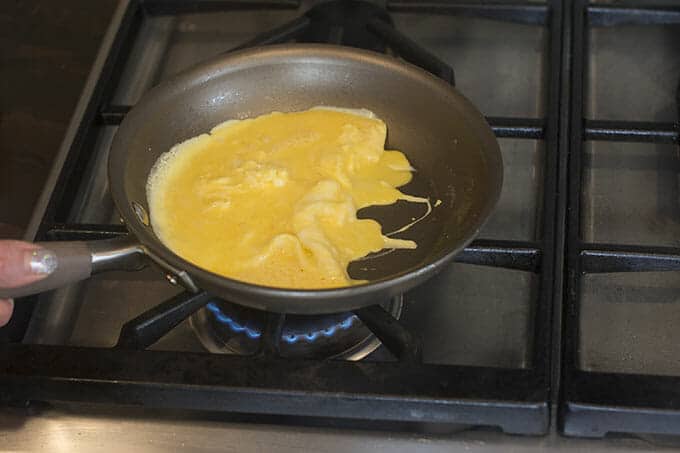 Tilt the pan to encourage the raw egg to move to fill the pan. Doing this helps the egg to set more quickly so that the bottom doesn't brown too much before all of the egg is cooked.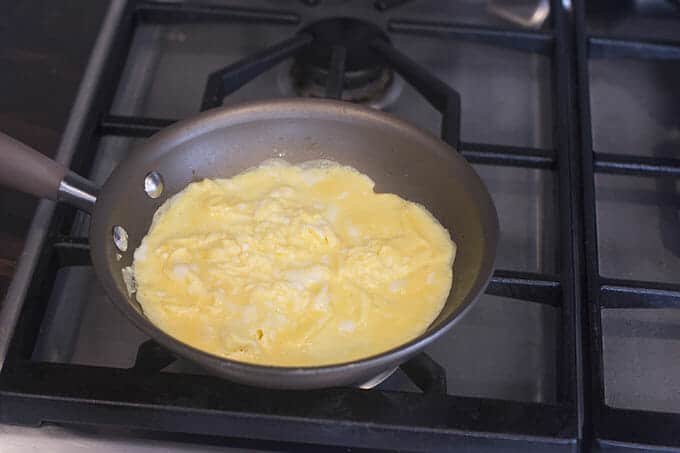 Once the top of the eggs is mostly set but just slightly damp, top half of the egg with the filling mixture.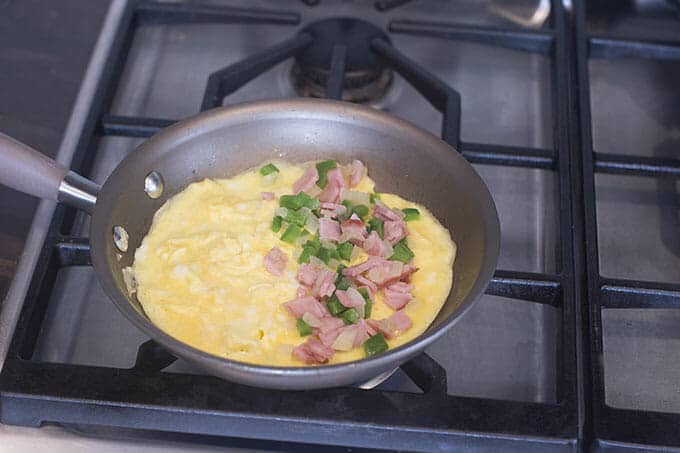 Sprinkle the filling with cheese, if using.
Using a non-metallic turner/spatula like this, fold the side of the egg that doesn't have filling on it up over the side that does.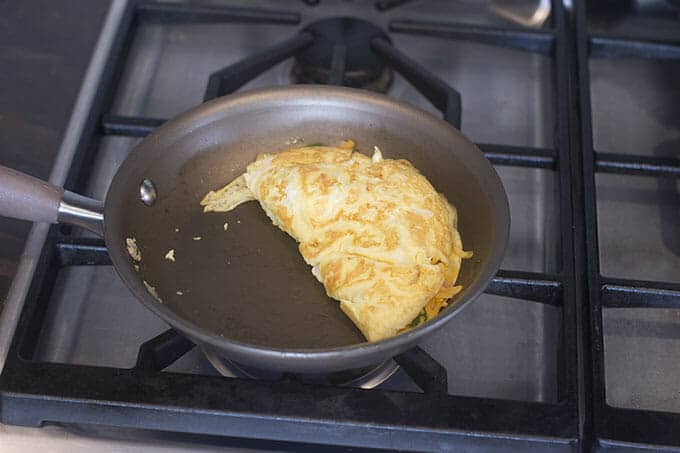 Transfer omelet to a plate and serve immediately.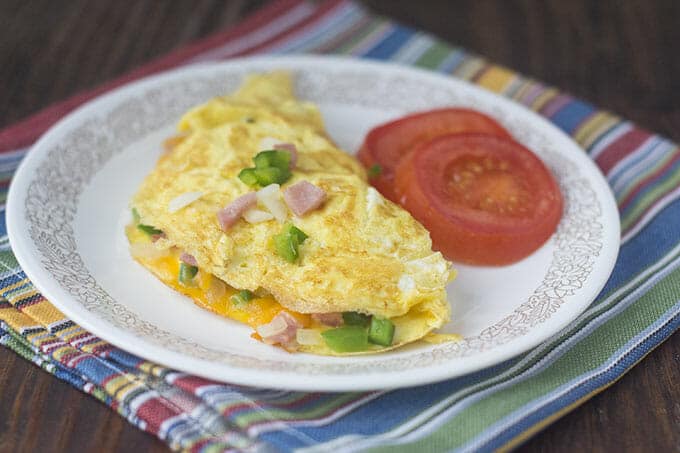 Print