Shredded Chicken Tacos make an excellent weeknight meal and can be ready in about half an hour. Grab your favorite taco fixings and let's go!
This recipe is perfect for a quick and simple Taco Tuesday, or any day of the week. While the chicken is baking in the oven, all of the ingredients can be prepped. Purchasing pre-cut ingredients, like shredded lettuce, diced tomato, and shredded cheese will help the prep move along faster. Soft flour tortillas don't need much to get them ready. Grab some sour cream, guacamole, and salsa and it's a full dinner.
You can read more about making this easy shredded chicken taco meal below, or click here to jump straight down to the recipe.
What Kind Of Chicken To Use?
I like to use chicken thighs for my shredded chicken taco recipe because they can cook at a high temperature while still staying tender and juicy.
If you prefer chicken breasts, or to do a combination of breasts and thighs, you may want to lower the oven temperature to 400°F and bake for 20-25 minutes. You can check that the internal temperature reaches 160°F with an instant read thermometer, or a digital probe thermometer like this, resting for 5 minutes before shredding will bring it up to the recommended safe temperature of 165°F.
Video: Tips For Shredding Chicken
The Chicken Seasoning
You can use homemade taco seasoning or buy it in a packet. The recipe calls for two tablespoons of taco seasoning, which is one ounce. That's the same amount contained in one taco packet, so you'll only need one package for this recipe.
If you don't want to mix up or purchase a taco seasoning blend, you can just season with some cumin, chili powder, garlic powder, and salt.
Three Ways To Heat Flour Tortillas
Heating the flour tortillas in the microwave for 30 or so seconds helps make them more pliable and easier to fill, and the warm tortillas, in my opinion, just taste better! Look for either 6-inch or 8-inch tortillas or pre-shaped flour taco shells. I put a pile of flour tortillas on a plate and top with a damp paper towel and then with an inverted plate before microwaving them. That steams them a bit, which is a really nice texture. Then, the plate on top helps to keep them warm for a bit until you need them.
You can also warm up the tortillas in a skillet on the stovetop. This toasts them a little bit, which adds a nice flavor. However, it's a bit more time consuming because you do them one at a time. No oil is needed, just use medium heat and cook them for about 20-30 seconds each side. Keep them warm in foil until ready to assemble and eat.
Of course, if you're cooking for a crowd, you want to have plenty of tortillas warm and ready to go at once. Use the oven in this case. Make stacks of around 6 tortillas and wrap them in foil. These can go into the oven (or toaster oven) at 300°F for 10 minutes.
Making The Shredded Chicken Tacos
To make the shredded chicken tacos, first preheat the oven to 425°F. Using a hot oven cuts down on the baking time, and since we're using chicken thighs, we don't have to worry about them becoming dry while baking at a higher temperature.
To a large bowl, add the chicken, oil, and taco seasoning. Toss the chicken until evenly coated.
Transfer the chicken to a sheet pan. If any of the thighs are folded in half or have rolled up into themselves, unfold or unroll them. Lay them flat on the sheet pan, leaving as much space between each thigh as possible. Place the pan in the oven and bake the chicken for 20 minutes, or until it's 160F inside and no longer pink.
Remove the pan from the oven and let it stand for about five minutes. Transfer the chicken to a cutting board, then using two forks, shred the chicken with the grain to create long strands. Transfer the chicken to a serving bowl.
Toppings For Chicken Tacos
While the chicken is baking, use this time to prepare the taco toppings. Shred the lettuce, dice the tomatoes, slice the green onions, and shred the cheese. If you've purchased pre-cut and pre-shredded ingredients, use this time to arrange them in bowls or on plates for serving.
As I've told you about on my other website in my Easiest Shrimp Tacos recipe, one of my favorite things to do is to use a Tex-Mex chopped salad kit, mixed up with the creamy dressing it comes with, as a taco topping. You just need that one topping, really,. and it's super-easy and so tasty!
Once your chicken is shredded, the toppings are ready, and the tortillas are warm, it's time to dig in! I hope you love this recipe! -Christine xo
Print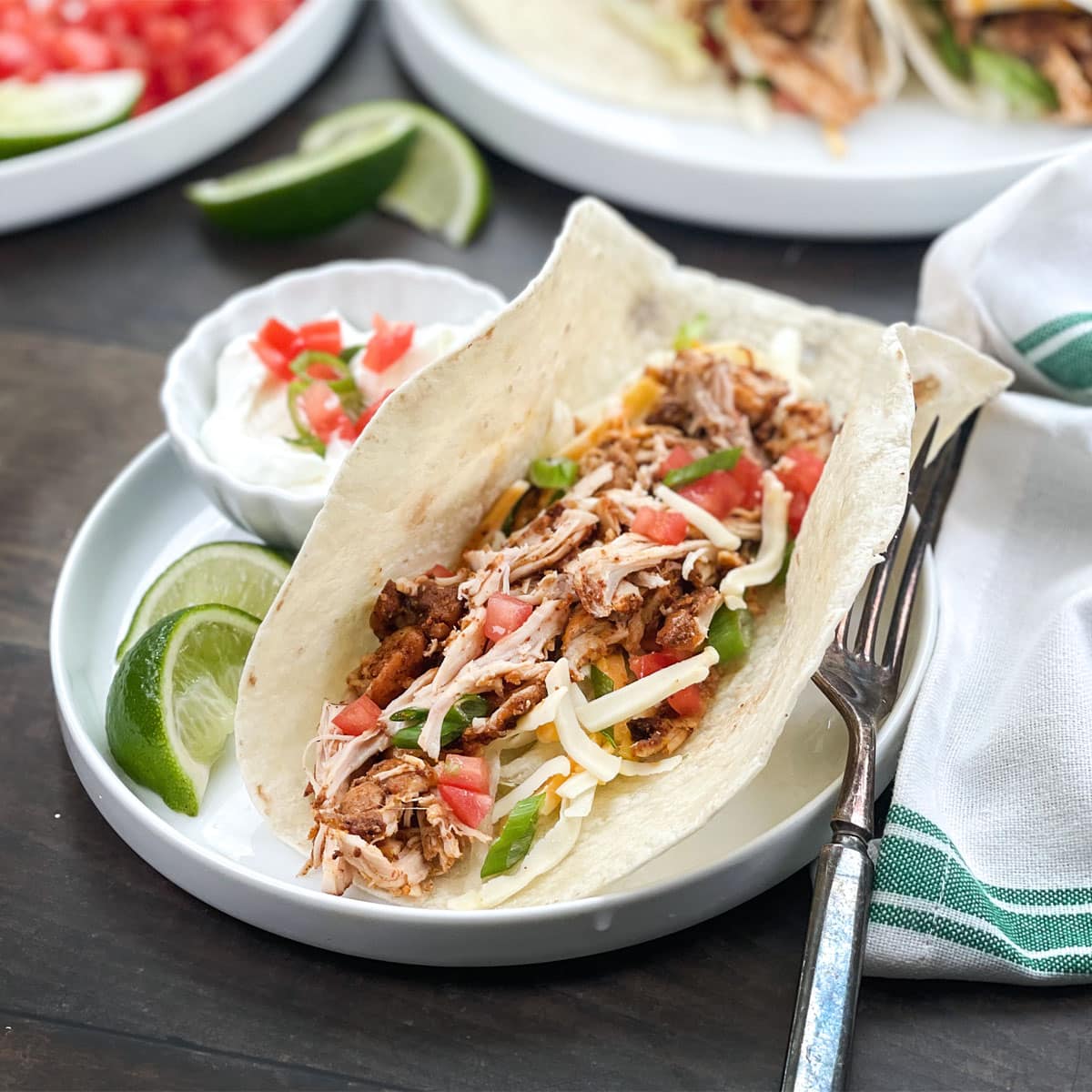 Shredded Chicken Tacos Recipe
Contributor: Christine Pittman
Listen to learn how to make this recipe, along with some great tips from Christine:
Author:

Prep Time:

10 minutes

Cook Time:

20 minutes

Total Time:

30 minutes

Yield:

4

servings

1

x

Category:

Entrée

Method:

Baked

Cuisine:

American
6

boneless, skinless chicken thighs (about

3 ounces

each)

1 Tbsp

. cooking oil

2 Tbsp

. taco seasoning*

12

(6 or

8

-inch) soft flour tortillas or taco shells

1/2

head iceberg lettuce, shredded

2 cups

shredded cheddar cheese

2

medium tomatoes, finely diced

3

green onions, thinly sliced
Preheat oven to 425°F.

To a large bowl add chicken, oil, and taco seasoning. Toss until chicken is evenly coated.

Transfer chicken to a sheet pan. Lay thighs flat on pan without overlapping.

Place pan in oven. Bake until internal temperature is 160F and no longer pink inside, about 20-23 minutes.

Remove pan from oven. Let stand 5 minutes.

Transfer chicken to cutting board. Using two forks, shred chicken with the grain to create long strands. Transfer chicken to a serving bowl.

Stack tortillas on a plate. Cover tortillas with a damp paper towel and microwave for 30 seconds. Remove plate from microwave. 

Serve warm tortillas with shredded chicken, lettuce, cheese, tomato, and green onion.
Love this recipe? I'd appreciate it if you could scroll down and add a *5 star rating* to help others know they'll love it as well!
Notes
*If using taco seasoning packets, you'll need one 1 oz. packet for this recipe, which is about 2 tablespoons.