Best Hasselback Potato Recipe
Note: This post may contain affiliate links. Thanks for supporting The Cookful!
Hasselback potatoes are the star of any dinner or get-together and are so easy to make.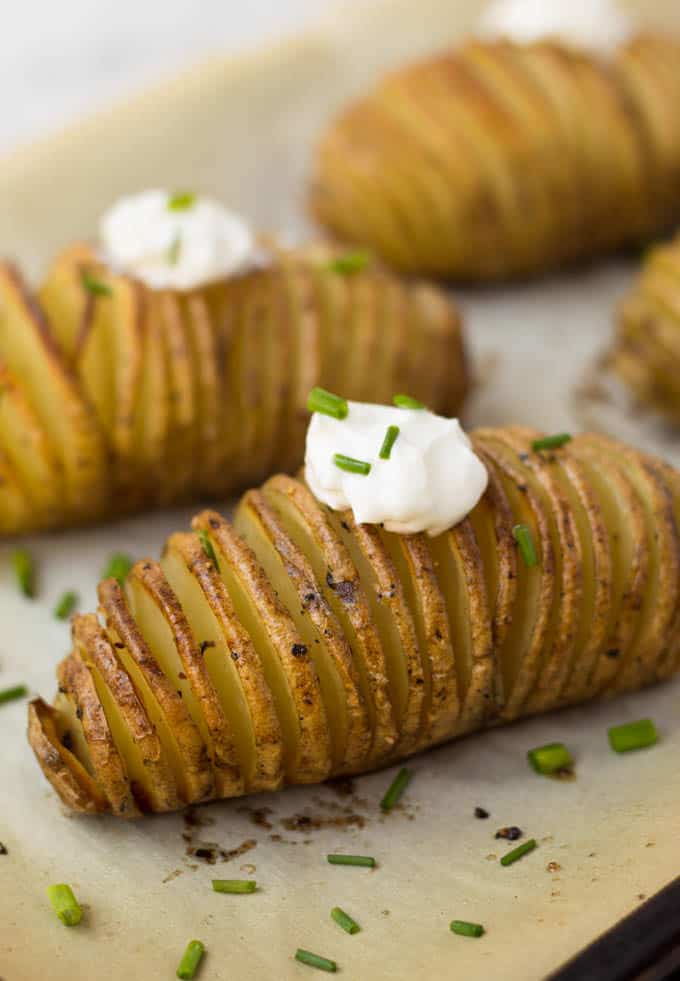 You may have seen recipes for Hasselback potatoes floating around the internet and dismissed them as complicated. I'm not surprised. They look like they require quite the chef to make, but I've got a secret I just have to share. They're super simple and take just a little patience.
The most complicated part of making Hasselback Potatoes – and the thing that makes them look amazing – is making those cuts. Our secret to making those beautiful cuts without slicing through the whole potato is to rest the potatoes on wooden chopsticks while cutting them.
The key for getting the perfectly crisp edges on your potatoes while keeping the soft interior is the long baking time on high heat and the second application of cooking fat. Once the layers have fanned out some, you want to reapply the fat, getting in every crevice, so the outside gets nice and crispy. Most potatoes will work, but russet and Yukon gold are known for their soft and creamy insides.
Note: This post may contain affiliate links. Thanks for supporting The Cookful!
Best Hasselback Potatoes
Yield: 4 servings
Prep Time: 5 minutes
Cook Time: 1 hour
Total Time: 1 hour, 5 minutes
Ingredients:
4 medium-sized russet potatoes, washed and dried
3 Tbsp. butter, slightly melted
1/2 tsp. salt
1/2 tsp. pepper
Optional toppings: fresh chives, sour cream, Greek yogurt
Directions:
Preheat oven to 425ºF and line a baking sheet with parchment paper.
Cut the potatoes. Rest one potato between two wooden chopsticks or two wooden spoons. Slowly slice the potato into 1/4-1/8 inch thick slices, stopping before you hit the bottom (the chopsticks should stop your knife). Be careful not to slice all the way through the potato. Repeat with the remaining potatoes.
In a small bowl, mix together the butter, salt and pepper. Rub the potatoes with half of the butter mixture. Place on the baking sheet and bake for 30 minutes.
Remove potatoes and coat with remaining butter mixture. By this time the layers should be starting to fan out. Make sure to get butter into all the spaces between the layers. Bake for another 30 minutes until crispy on the outside, yet soft in the middle.
Top with additional topping and serve immediately.