Healthier Sweet Potato Casserole
Sweet potato casserole gets a healthy makeover, without losing any of the taste.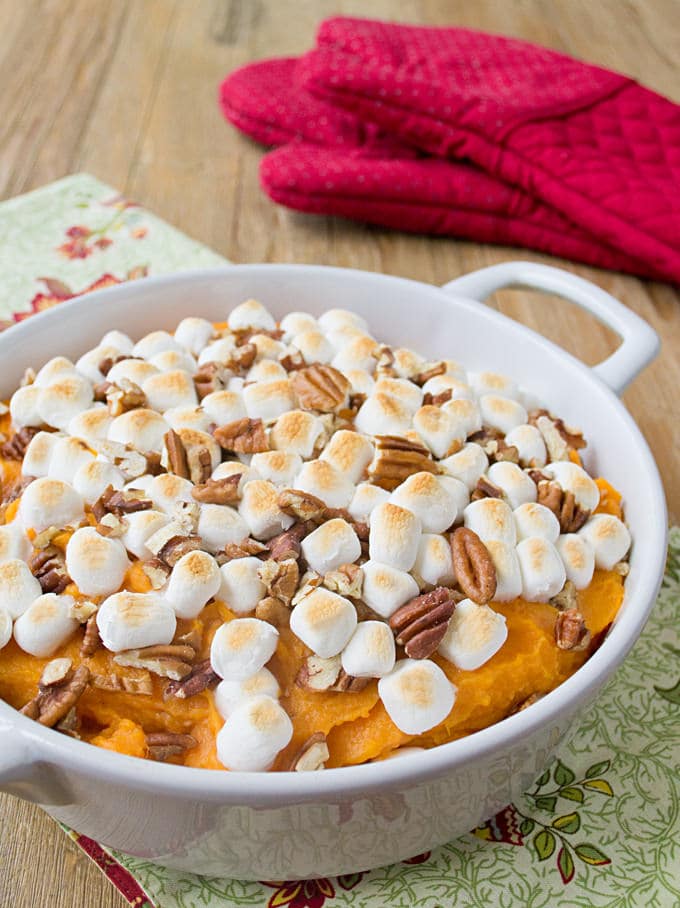 Yesterday we shared a classic sweet potato casserole recipe with you. Today, we've turned to our friends over at Produce for Kids for a healthier twist. It's also quicker since they boil their sweet potatoes instead of roasting them.
Their recipe has less butter and no added sugar (except in the marshmallows, which are optional). It still tastes great though and we know you're going to love love love this classic done healthy.
Healthy Sweet Potato Casserole
Yield: 6 servings
Prep Time: 10 minutes
Cook Time: 30 minutes
Total Time: 40 minutes
Ingredients:
6 sweet potatoes, peeled, cubed
1/4 cup fat free milk
2 Tbsp. unsalted butter
2 tsp. pumpkin pie spice
1/2 cup pecans, chopped
2 cups mini marshmallows
Directions:
Place sweet potatoes in large saucepan and cover with water. Bring to a boil and simmer 20-25 minutes, or until tender; drain.
Place potatoes, milk, butter and pumpkin pie spice in large mixing bowl. Beat with electric mixer until smooth.
Add sweet potato mixture to shallow baking dish, top with pecans and marshmallows. Place under preheated broiler 5 inches from heat; broil 2-3 minutes, or until marshmallows are lightly browned.
Recipe from Produce for Kids.
Disclosure: We have not been compensated in any way by Produce for Kids for today's article. They have given us permission to use their recipe with no conditions. However, our senior editor and the author of this article, Christine Pittman, has worked with them in the past on other compensated projects and will continue to do so.