How to Cook Chicken Thighs in the Instant Pot
Chicken thighs with or without bone, with or without skin, fresh or frozen – get the times needed to cook chicken thighs of any type in the Instant Pot. This is a great technique for when chicken thighs are on sale and you're doing meal prep for the week.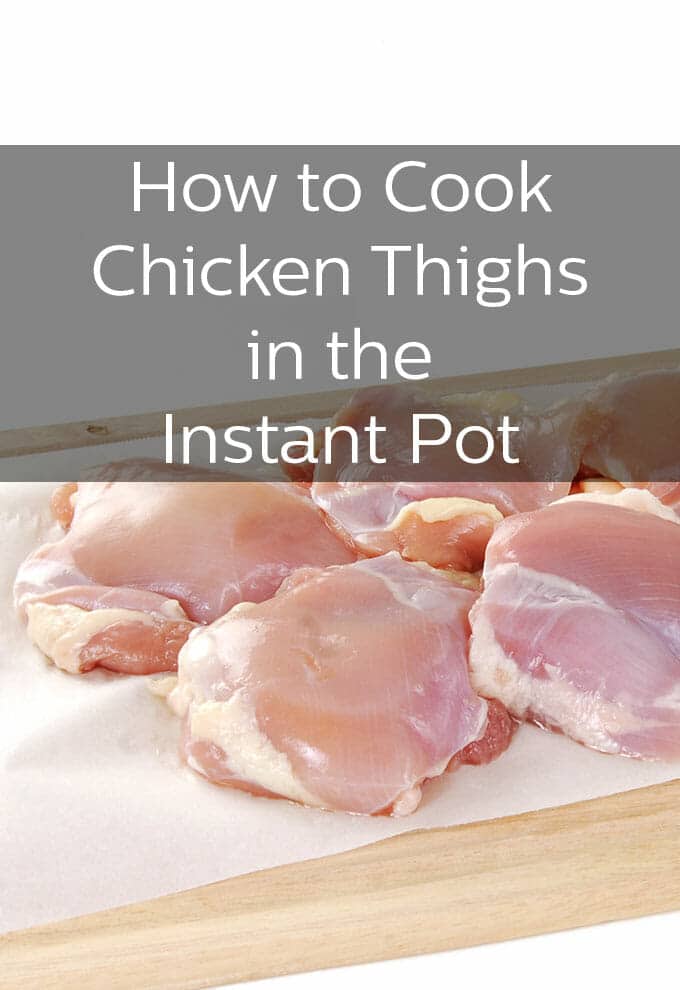 I really love chicken thigh meat. I find it much juicier and more flavorful than chicken breast. So when it's on sale at my grocery store, I load up on it.
My new favorite way to cook chicken thighs, especially if I'm doing food prep for the week, is to put it all into the Instant Pot. It comes out really juicy and tender and full of flavor. I mean it. If I put half an onion and some garlic cloves into the Instant Pot with that chicken, the meat seems to get penetrated by that flavor. Probably due to the high pressure of the Instant Pot cooking method.
What you're going to do is to season up your chicken thighs with salt and pepper and anything else you'd like.
Then put some water into the bottom of your Instant Pot insert. 1 cup is enough. I often put 2-4 cups because that water ends up deliciously flavored and I use it as stock or broth during the week. Note that if you use more water, the time the Instant Pot takes to get pressurized will increase. You still set your Instant Pot for the same number of minutes, all that changes is what the Instant Pot does, not what you do.
Optionally add half an onion and a couple of garlic cloves to the water. Celery and carrots work too. Put the trivet or a steamer basket on top of the water/veggies.
Put the thighs on top of the trivet. Seal the Instant Pot and set the valve to sealed. Set the Instant Pot to pressure cook on high for the time indicated below. Once it's done, let it do a natural release for 5 minutes before turning the valve to vent.
Note: You can use any kind of chicken thighs in the Instant Pot. Times are given for different types below.
Here are the cooking times for chicken thighs in the Instant Pot:
Bone-in skin-on thighs are great. You'll be setting the Instant Pot to pressure cook for 10 minutes with about 6-8 thighs in there. Note that you should remove the skin before serving. It will be limp.
Bone-in skinless thighs are also going to go for 10 minutes for 8 thighs.
Boneless skinless thighs only need 8 minutes for 8-10 thighs.
Frozen thighs of any kind: Freeze them individually, not in a big clump. Do everything as instructed but use your frozen thighs. For 8 frozen thighs of any type, go with 12 minutes.
Here are the instructions for cooking chicken thighs in the Instant Pot in printable form.
Print