How to Make the Best Tossed Salad
Who said tossed salad was boring? Trust me, try this and you'll be calling that person a liar. A total liar! It's the best darned tossed salad ever. Oh yeah. Our Salad Dressing topic is brought to you by Stonyfield Organic. Gotta love that healthy tasty yogurt!

The word on the street is that a well-emulsified salad dressing has the right balance for every mouthful, sticks to lettuce best and is superior in all ways. I'm not going to debate that point but I will say this, when I serve a big bowl of my directly-dressed tossed salad at a dinner party, it all gets eaten up. Every time. That's kinda rare for salad. The only other time that happens is if I serve my homemade Caesar salad. Other than those two, at the end of the night I usually find myself stuffing most of a bowlful of soggy greens down the garbage disposal.
So whether an emulsified dressing is technically better or not, I don't know. What I do know is that everyone loves this directly dressed tossed salad.
What do I mean by directly dressed? It's kind of like when in a restaurant you're given a bottle of oil and one of vinegar and you shake them onto your salad. Except, I promise, this is way way better than that. There is going to be tons of flavor going on here and you're going to really love it. Let's do it!
How to Make the Best Tossed Salad, Right in the Bowl
Step#1
Cut a clove of garlic in half and then rub the cut side all over the inside of a medium bowl. Don't skip this step thinking that it doesn't do anything. You're going to be seriously amazed by how much garlic flavor ends up in your salad.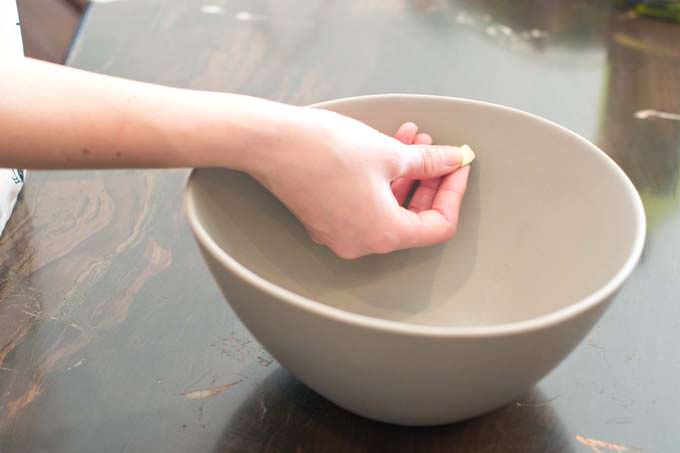 Step#2
Add greens to the bowl. For this, I like a basic spring mix. But any soft mild greens will do. Fill the bowl right up, a good 4 cups of greens.

Step#3
Add some soft herbs to the bowl. I like adding some dill usually. But chives, basil and flat leaf parsley are also great choices. Tear it by hand into small-ish pieces. How much you add is up to you but I usually do about a quarter cup of torn pieces.

Step#4
Add olive oil. You'll need about 2 tablespoons.
Step#5
And lemon juice, about 1 tablespoon. You can use wine vinegar (red or white) but I just don't think it's as good here.
Step#6
Add salt. Coarse salt. It has to be coarse salt. I use coarse kosher salt but coarse sea salt would be great too. Regular table salt will end up kind of grainy and overly salty on the leaves. You'll need about 1/2 teaspoon of nice coarse salt.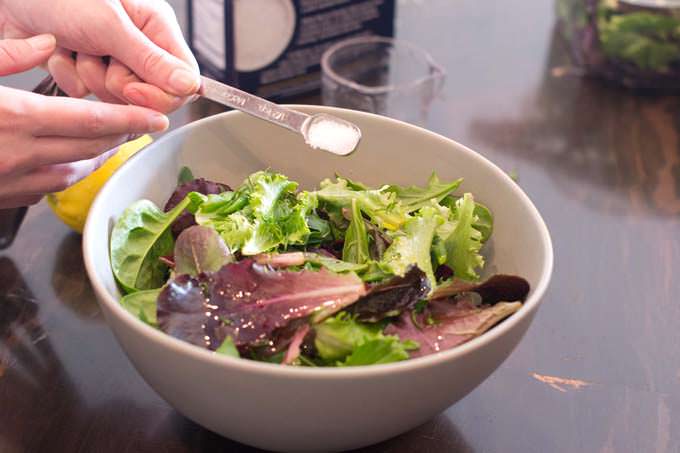 Step#7
Add black pepper. Coarse black pepper. Just like with the salt, you don't want fine grains. You'll want to add about 1/4 teaspoon of coarse pepper, just a couple of grinds will do it.
Step#8
Toss gently. I like to use some basic tongs for this.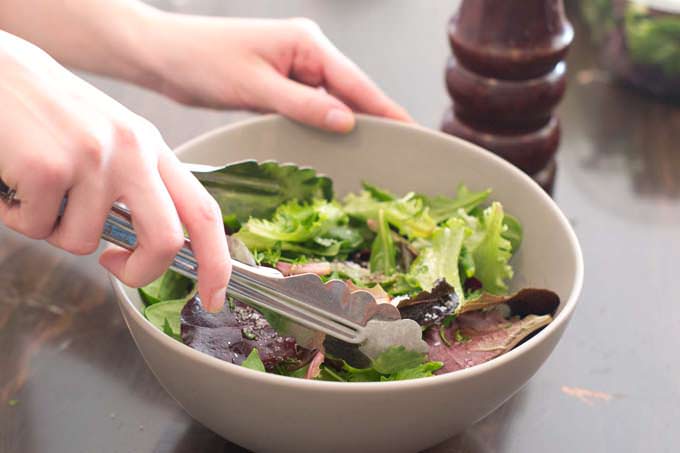 Step#9
I find that the salad shrinks a bit from the addition of the liquids and tossing. So I add in another handful or two of greens and toss again. Then taste it. Adjust anything you want more of. If there's too much of something, you can add more greens to counter it.
Step#10
And there it is. All ready to eat. I mean it. You're not going to believe how good this is.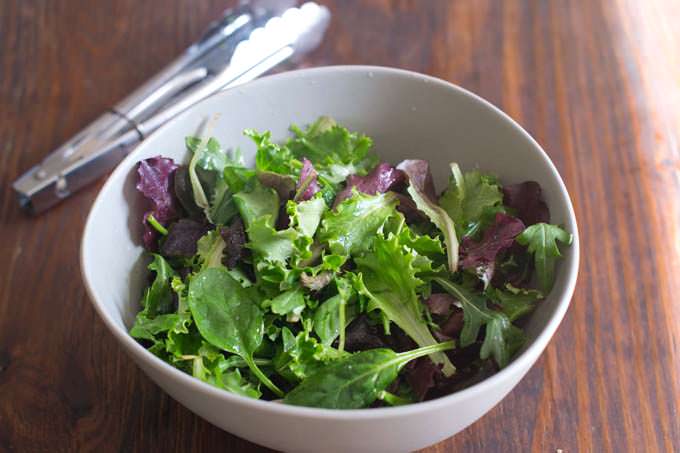 Here are the instructions in printable form for you.
Print