Knowing how to freeze strawberries properly means you can have your favorite strawberry dishes any time of the year.
Freezing strawberries is super easy. The only consideration you'll need to make is how you plan on using them. If you want to use them in smoothies (and you have a good high-powered blender), you can totally freeze them whole. If you want to use them sliced, then slice them before freezing.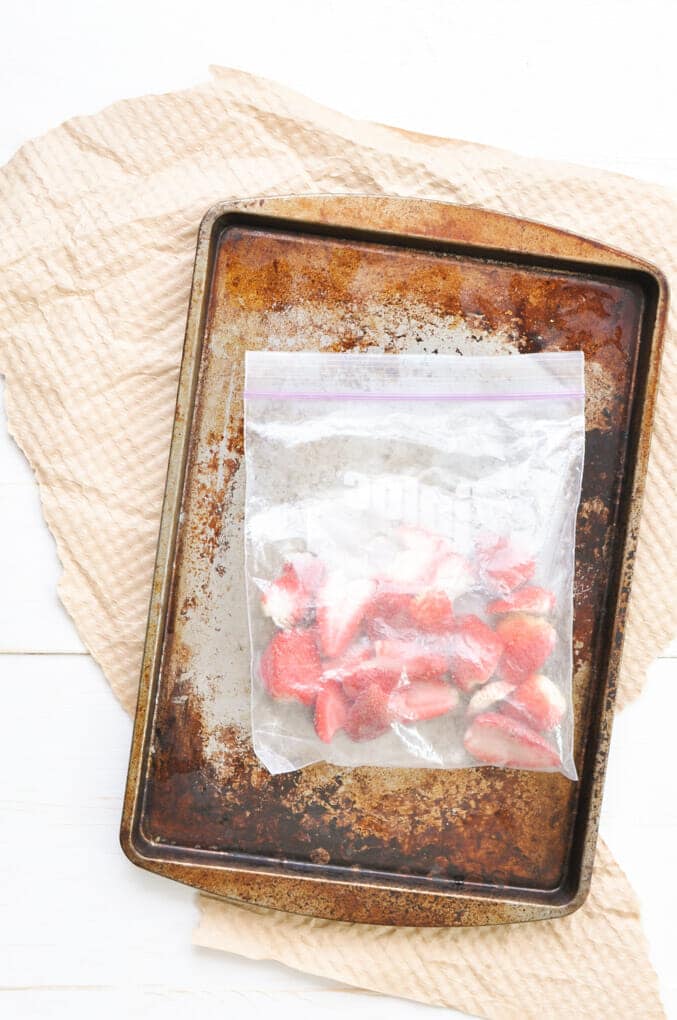 Preparing Strawberries For The Freezer
I recommend doing two things before freezing your strawberries. First, hull your strawberries prior to freezing. It's hard to handle frozen fruit, so removing everything you don't want to eat beforehand is vital to making these frozen berries convenient to use.
Second, lay the berries flat on a baking sheet and flash freeze them for about 2 hours before packaging them in a freezer bag. This way they don't freeze together in a solid lump.
If you plan on freezing a lot of food, investing in a FoodSaver might be a good option for you as they help preserve food in the freezer with less risk of freezer burn. (This one not only vacuum seals bag but has a handheld vacuum for marinating food and freezing in containers also.)
The berries should come off the baking sheet fairly easy and immediately be packaged into a freezer bag and put back in the freezer. If you have a silicone baking mat, that will make it even easier to remove the strawberries from the tray after their first freeze.
Ready to get started?
How To Freeze Strawberries
Wash berries then place on paper towels to dry completely.
Lay flat on a baking sheet, then place in freezer for at least 2 hours.
Remove berries from baking sheet and place in a freezer bag. Freeze until use.
Now you're ready to enjoy delicious strawberries anytime!
This post originally appeared in June 2018 and was revised and republished in April 2022.