Learn the steps and secrets to making delicious chicken cutlets. They're so versatile and easy to make once you know how.
Breaded chicken cutlets are fairly easy to make, they just take a few steps. Once you know how to make them, you'll do it all the time because they're really versatile. We've got them here as part of our Chicken Parmesan series but really, they belong in so many other places too. Learn the steps for how to flatten out chicken breasts and how to bread them and then cook them below.
How To Prepare Chicken Cutlets
Step #1
Put a chicken breast between two sheets of plastic wrap. This is to keep things cleaner since the plastic wrap will stop the chicken from splattering. Get out a flat meat mallet and get ready for a smack down!
Step #2
Pound the breast working from the middle outwards until it is about ¼ of an inch thick. This can yield a very large cutlet. You can always cut it in half before breading it if it's too big for your purposes.
Step#3
Transfer chicken with plastic to another surface. You can stack these chicken and plastic wrap layers and then the chicken pieces don't stick to each other. Now your chicken cutlets are ready for breading.
How To Bread Chicken Cutlets
Step #4
Preheat oven to 400°F.
Measure flour into a large shallow bowl or pie plate. Crack some eggs into a second shallow bowl. Measure plain dry breadcrumbs into a third. Note that you can season the breadcrumbs and also the flour. But only put salt in one of the two, otherwise the coating will be too salty.
Step #5
Now you're going to bread the chicken. This process of using flour, egg and breadcrumbs to bread something is called "to paner". That's a fancy French word. You can totally just say "to bread," that's cool with me.
Lay a flattened chicken piece flat in the flour. Flip it over. The dampness from the chicken will cause the flour to adhere creating a fine white dusting all over. Once coated, lift it out and shake it off to remove any excess flour.
Step #6
Transfer chicken to the egg bowl. Let it sit with one side in egg for a moment and then flip. What's happening here is that the wet egg is soaking into the flour and forming a thick wet layer on the outside of the chicken.
Step #7
Lift the chicken out and allow excess egg to drip off.
Step #8
Lay the chicken flat in the breadcrumbs. Scoop breadcrumbs from around the sides of the bowl up and onto the chicken. Use your hands to press down on the breadcrumbs to help them adhere. Flip the chicken and repeat. Arrange breaded chicken cutlets in a single layer on a large plate, or separate layers with plastic wrap.
Cooking Your Breaded Chicken Cutlets
Step #9
Get out a large skillet. I love my big cast iron one. It's really heavy and really really big and really really really amazing. Coat the bottom of the skillet with 1/8 inch of vegetable oil. Heat over medium heat until the oil is very hot and shimmering. Add two breaded chicken cutlets. Cook until brown underneath, 2-3 minutes.
Step #10
Use tongs to flip them over. Cook until the underside is brown, another 2-3 minutes.
Step #11
Transfer browned cutlets to a rack set over a baking sheet. Bake at 400°F until cooked through and firm to the touch, 8-10 minutes.
Step #12
Eat! Or use the breaded chicken cutlets as the basis for another dish, like Chicken Parmesan. Then eat! Ha!
Print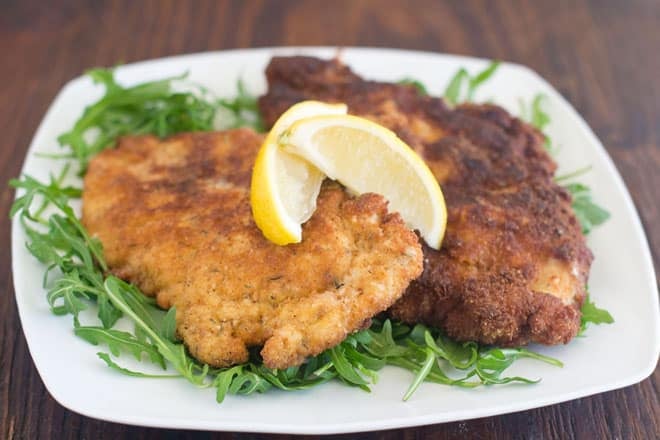 Breaded Chicken Cutlets
Contributor: Christine Pittman
Learn the steps and secrets to making delicious chicken cutlets. They're so versatile and easy to make once you know how.
Author:

Prep Time:

30 minutes

Cook Time:

10 minutes

Total Time:

40 minutes

Yield:

4

servings

1

x

Category:

Entrée

Method:

Stovetop

Cuisine:

American
4

(6oz.) boneless skinless chicken breasts

1

and ½ cups plain dry breadcrumbs

1 tsp

. dried thyme

½

lemon, zested

½ tsp

. salt

¼ tsp

. ground black pepper

½ cup

all-purpose flour

2

eggs
vegetable oil
Instructions
Put a chicken breast between two sheets of plastic wrap. Use a flat meat mallet to pound it to ¼ inch thick. Repeat with remaining chicken breasts.
In a large shallow bowl, combine breadcrumbs, thyme, lemon zest, salt and black pepper. Into another shallow bowl, crack eggs and beat to combine. Into another shallow bowl, add flour.
Preheat oven to 400°F.
Dredge a chicken piece in flour, coating lightly on all sides. Then put it into the eggs, coating it fully. Place it onto the breadcrumb mixture. Use your fingers to mound breadcrumbs on top of chicken piece then press down to adhere crumbs to the chicken. Flip and repeat. Place chicken on a large plate. Repeat with the rest of the chicken pieces.
 Set a wire rack over a baking sheet.
In a large skillet add enough vegetable oil to cover the bottom completely by about ⅛ inch. Heat skillet over medium until very hot shimmering. Add two chicken breasts in a single layer and cook until brown underneath, about 2-3 minutes. Flip and brown on the other side. Transfer to rack. Repeat this cooking step with the other two breasts.
Transfer chicken, rack and baking sheet to the oven and bake until cooked through and firm, about 8-10 minutes.
Notes
This recipe originally appeared on COOKtheSTORY. We have permission to publish it here.
This post originally appeared in May 2017 and was revised and republished in August 2022.