How to Make Latkes
Potato latkes are traditional for Hanukkah and are the perfect comfort food for any other time of the year.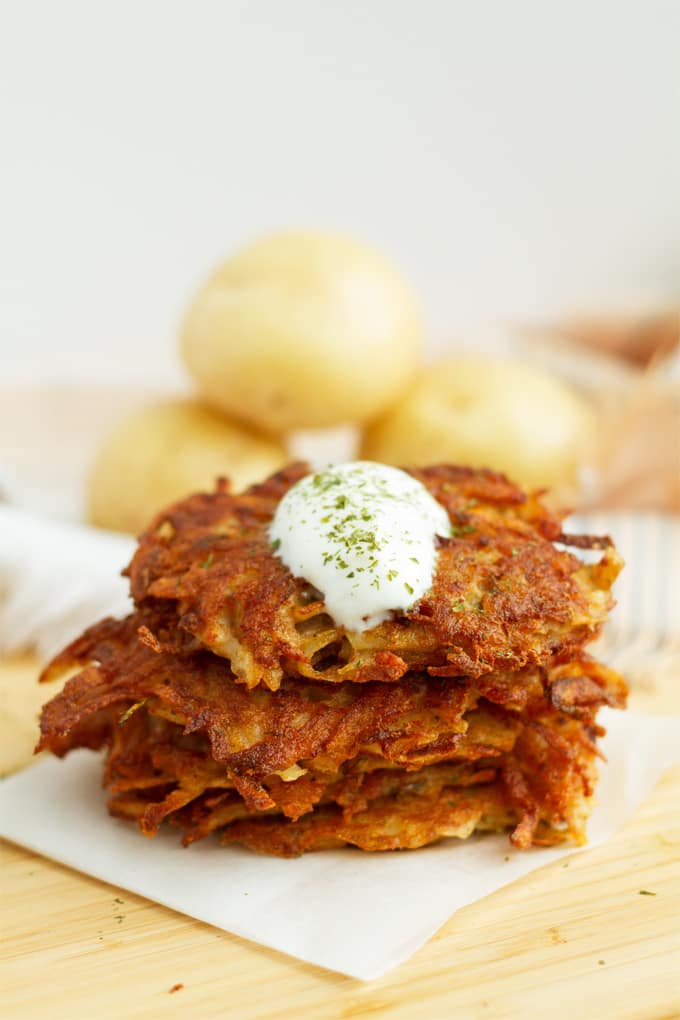 Yesterday I shared an updated version of my traditional Potato Pancake recipe, and today I'm sharing a crispier potato latke. Latkes are the perfect comfort food and are a traditional food served at Hanukkah. They are easy to make with no special skills required. That makes them not only great for the holiday season but also for any weeknight. They take just a few simple ingredients that you probably have in your pantry so they also work great anytime.
The best part about potato latkes is that they're versatile and can be seasoned however you prefer. You can stick with the usual onion, salt and pepper or you can season them with your favorite fresh herbs. Depending on what seasonings you use, you'll want to top them with applesauce or sour cream. Both are beloved traditional latkes toppings so go crazy and try both.
Latkes
Yield: 8 - 10 potato latkes
Prep Time: 15 minutes
Cook Time: 40 minutes
Total Time: 55 minutes
Potato latkes are traditional for Hanukkah and are the perfect comfort food for any other time of the year.
Ingredients:
1.5 lb. potatoes, peeled (about 5 medium-sized potatoes)
1 egg
3 Tbsp. whole wheat flour
1 Tbsp. dill (fresh or dried)
1/2 tsp. paprika
1/2 tsp. salt
1/4 tsp. onion powder
1/2 cup oil for frying (less or more)
Directions:
Shred potatoes into a large bowl on the largest holes on the grater. Add egg, flour, dill, paprika, salt and onion powder. Mix all ingredients with a spoon.
In a large skillet heat about 2 - 3 tablespoons oil until hot. Scoop about 2 tablespoons potato mixture for each potato latke into the oil and reduce heat to medium-low. Add more latkes if you have space in the skillet but do not overcrowd them (4-5 at a time in a large skillet is best). Cook on one side until well-browned and crisp underneath, about 3 - 5 minutes. Flip and cook until crispy on the other side as well, 3-5 minutes.
Remove latkes to a plate lined with a kitchen towel to drain off excess oil. Serve immediately or keep warm in a 200°F oven.
Add more oil to your skillet and repeat the cooking until all potato pancakes batter is used. Add more oil whenever necessary to help brown the latkes.