The best homemade hash browns are made with freshly shredded russet potatoes and are crispy and soft all at the same time.
I don't know about you, but I could eat potatoes every day and not get tired of them. There are so many ways to make them, just look at this list of delicious potato recipes, and hash browns top the list for us because they are so easy to make. There are only a few ingredients, and if made right, there is so much happiness when you take a bite of these little crispy yet soft shreds of deliciousness.
Before I show you how to make them, there are a few key elements you need to achieve hash brown perfection:
The Potato. Russet potatoes are the best for making the perfect hash browns because they are higher in starch and contain less moisture. The second best choice is an all-purpose potato such as Yukon gold.
Texture. Hash browns should be nice and crispy on the outside, and the crispiest hash browns become that way because a good portion of the moisture has been removed from them.
The Pan. A skillet is the best way to fry these little shreds of potatoes. Choose one that heats evenly which results in well-browned and crunchy potatoes, like a cast iron skillet.
The Fat. Butter. What else is there to say? If you are vegan, olive oil is second best.
Do. Not. Stir. Don't be tempted to stir too often. Let those potatoes sizzle away on top of the stove. Here's how you make them….
Step 1
Shred the potatoes using a box grater (like this one) or a food processor (we love this one). My preference is the food processor because it grates the potatoes into uniform pieces. Once grated, place the shredded potatoes on top of a towel or a few layers of cheese cloth.
Step 2
Roll the potatoes up in the towel/cheese cloth and squeeze a few times over the sink to release the water. Remember, the drier the better.
Step 3
Unravel the towel and set potatoes aside while the pan heats.
Step 4
Spread a thin layer of potato shreds in a heated pan with melted butter or oil and sprinkle with sea salt and pepper. Let them sizzle. Even though it's tempting, don't stir.
Step 5
When golden brown on the bottom, turn and let them sizzle some more – add a little more butter if necessary.
Print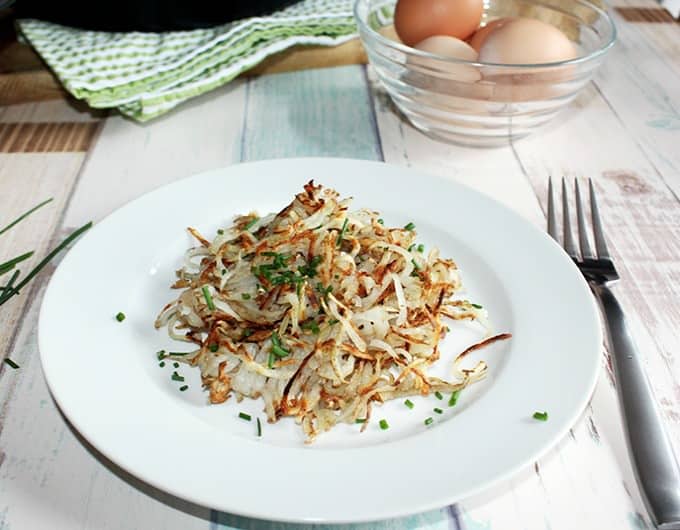 Hash Browns
Contributor: Anne Lawton
The best homemade hash browns are made with freshly shredded russet potatoes and are crispy and soft all at the same time.
Author:

Prep Time:

15 minutes

Cook Time:

15-20 minutes

Total Time:

35 minutes

Yield:

2

servings

1

x

Category:

Side Dish

Method:

Stovetop

Cuisine:

American
1

lb

. russet potatoes (about 2 large)

1

and 1/2 Tbsp. unsalted butter or olive oil – divided
Dash of sea salt
Dash of cracked pepper
Instructions
Shred potatoes using a box grater or food processor.
Place potato shreds on top of a towel or cheese cloth. Roll up and squeeze over the sink to release as much liquid as possible. Unwrap towel and set potatoes aside.
Pre-heat a skillet over medium-high heat. Once hot add 1 tablespoon of butter and swirl in pan. Once butter has melted, add the potatoes then sprinkle salt and pepper on top and spread them thin, press them down and then let them sizzle for three minutes. Reduce heat to medium and continue to cook (don't stir).
After about 5 minutes, check to see if potatoes are turning golden by peeling up a small portion from the edge of the pan. If they aren't ready to flip yet, continue to check until they reach a golden brown color.
Once potatoes have turned golden brown, flip them over in sections – you may need to use that extra half tablespoon of butter at this point. After potatoes have been flipped over, allow them to sizzle for about 5 to 8 minutes more or until golden brown on both sides. Serve as is, or top with green onions, chives or your favorite herb.