5 Decadent Milk Infusions to Upgrade Your Hot Chocolate
Infuse huge flavor into your Hot Chocolate with a few simple steps.
Our favorite thing about making homemade hot chocolate is that you can flavor it a bajillion different ways just by throwing things you have around the kitchen into some warm milk. Whole spices, tea, coffee, fruit, shoe leather… you name it, you can make your hot chocolate taste like it.
Milk infusions are the key to super special hot chocolate, and it's ridiculously easy to do. Plus it'll only take you an extra 15-30 minutes of waiting while you steep your ingredients in the milk. Patience is a virtue, and it totally pays off. Promise.
We came up with five variations for you to try this winter, ranging from the simple but classic Star Anise & Cloves to the tropical (Passion Fruit & Ginger) and the ultra-trendy Hazelnut & Burnt Vanilla Bean for all you hipsters out there. If you don't want to give up your tea or coffee for hot chocolate, why not marry the two with our Spicy Coffee or Lemon Earl Grey varieties? Chocolate and caffeine are a sure bet for a great morning. And yes, we definitely advocate for morning cocoa.
Here's the recipe with variations below:
Hot Chocolate Milk-Infusions Base Recipe
Ingredients:
2 cups whole milk (non-dairy milks work, too)
Infusion Ingredients (see Infusion Varieties, below)
2 tablespoons unsweetened cocoa powder
2 tablespoons granulated sugar
Directions:
In a small saucepan, bring milk to a bare simmer over medium-low heat. Remove the pan from the heat and add your infusion ingredients. Cover the pan and let steep for 15-30 minutes (see recommended times for each variety below). Return the pan to medium heat and whisk in cocoa powder and sugar until dissolved and the hot chocolate is steaming. Divide between two mugs and serve immediately.
Infusion Varieties:
Star Anise & Cloves: 1 whole star anise pod + 6 whole cloves (steep 15 minutes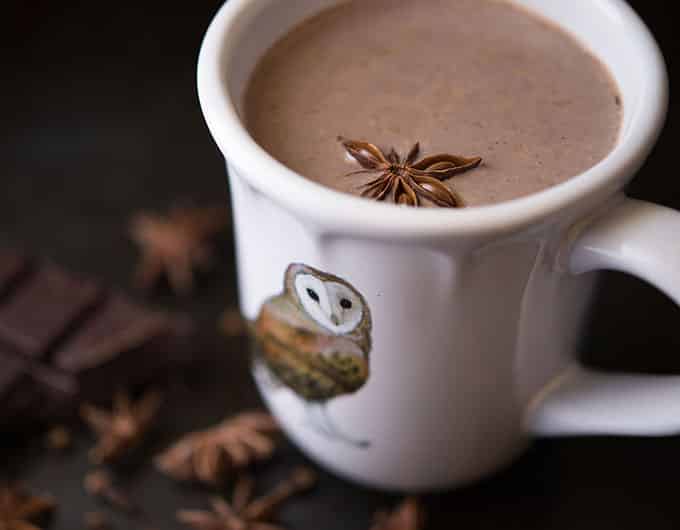 Lemon Earl Grey Tea: 2 tablespoons Earl Grey tea + 1 large slice lemon rind (steep 15 minutes)
Spicy Coffee: 2 tablespoons espresso beans + ½ teaspoon red pepper flakes (steep 20 minutes)
Ginger Passion Fruit: Pulp and seeds from ½ passion fruit + 1-inch slice of fresh ginger (steep 30 minutes)
Hazelnut & Burnt Vanilla Bean: ⅓ cup chopped toasted hazelnuts, skins removed + 1 vanilla bean, split in half lengthwise and torched in a flame (steep 30 minutes)