You can make spaghetti and meatballs in one pot, saving time and dishes. It can be ready in 30 minutes, making it the perfect meal any day of the week.
Spaghetti and meatballs is a classic favorite dish. And now you can make it quicker than ever. Plus, the clean up is easier since we're making this in one pot. Perfect for busy weeknights. Here are some of our tips for making the very best spaghetti and meatballs a one pot meal.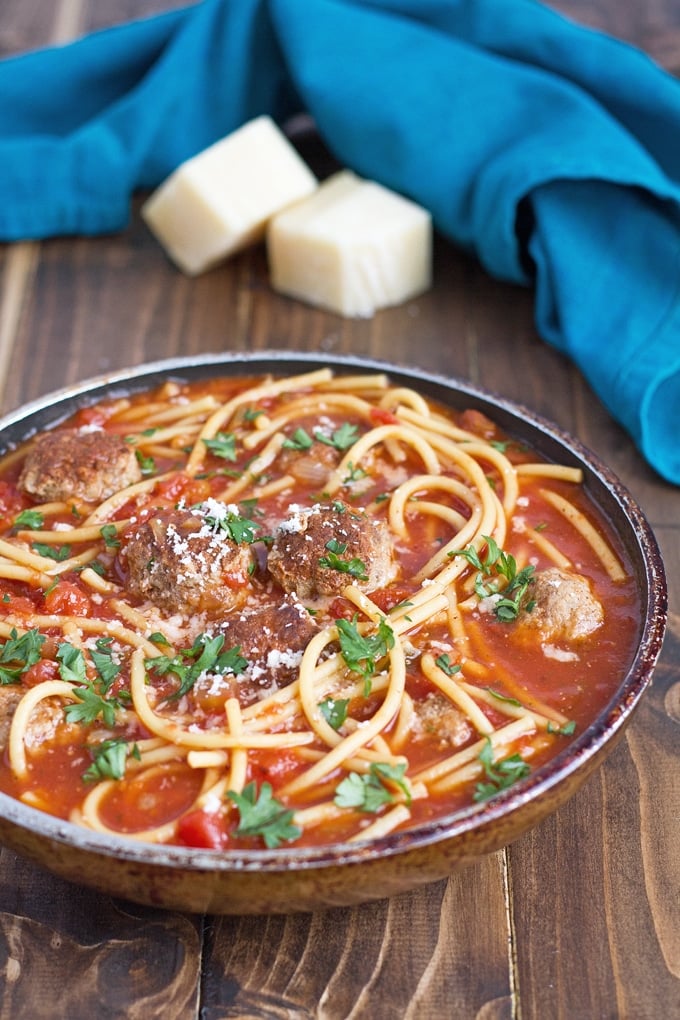 What Kind Of Meatballs Should I Use?
You can buy your favorite brand of meatballs at the store for convenience (especially on busy weeknights), or you can make your own traditional meatballs.
If you prefer homemade meatballs, you can make them ahead of time or make these quick one-ingredient Sausage Meatballs. Once they are cooked, set them aside.
Can You Cook Raw Meatballs In Spaghetti Sauce?
Yes, you can, but you should make the sauce first, then immerse meatballs into the sauce and cook them for about 5-8 minutes until fully cooked.
Cooking the meatballs this way will change the texture though. Instead of the crispier texture they get from baking they will stay soft.
How Long Does The Spaghetti Take To Cook?
You need to break spaghetti into 2-3 pieces and immerse the pasta fully into the sauce. Cook it for about 13-15 minutes until the spaghetti is soft.
How Do You Know If The Spaghetti Is Done?
The best way to make sure the pasta is cooked is to taste it. It should be cooked al dente or somewhat firm. Don't overcook the pasta, otherwise it will become gummier the longer it sits.
How To Cook One-Pot Spaghetti And Meatballs:
Make sure you heat the pan and oil before adding ingredients to it to cook.
Cook the meatballs before starting the rest of the dish if the meatballs are raw.
Cook the vegetables until they are somewhat soft, about 5 to 6 minutes.
You can omit the crushed red pepper if you don't want any heat to the dish.
It's important to break the spaghetti into 2-3 smaller pieces so it cooks properly.
Print
One Pot Spaghetti and Meatballs
Contributor: Ilona Orzechowska
You can make spaghetti and meatballs in one pot, saving time and dishes. It can be ready in 30 minutes, making it the perfect meal any day of the week.
Author:

Prep Time:

8 Minutes

Cook Time:

22 Minutes

Total Time:

30 minutes

Yield:

6

Servings

1

x

Category:

Entrée

Method:

Stovetop

Cuisine:

Italian
1

lb. store-bought meatballs or traditional meatballs

1 Tbsp

. cooking oil

1

onion, chopped

1

small green bell pepper, chopped

2

garlic cloves, minced

1 tsp

. dried basil

½ tsp

. dried oregano

½ tsp

. crushed red pepper flakes (optional)

1 tsp

. salt

½ tsp

. black pepper

3

and ½ cups low-sodium stock (beef, chicken or vegetable)

1

(14.5 oz.) can diced tomatoes

1 cup

tomato sauce

12 oz

. dry spaghetti, broken into

2

–

3

pieces

1 Tbsp

. Parmesan cheese
Instructions
Cook store-bought meatballs according to the package instructions. You can also cook homemade traditional meatballs or 1-ingredient sausage meatballs for this recipe. Set aside.
Add oil to the pot. Add onion and bell pepper. Cook on medium heat for 5-6 minutes until softened.
Add the garlic, basil, oregano, and red pepper flakes. Cook and stir for 30 seconds.
Add salt, black pepper, stock, diced tomatoes, and tomato sauce. Heat to a simmer, stirring frequently. Add spaghetti.
Reduce the temperature to keep it at a low simmer, stirring often until the pasta is cooked, 13 -15 minutes.
Once the pasta is cooked, stir in meatballs and heat through.
Garnish with Parmesan cheese.