We're sharing the differences between potato pancakes and potato latkes so you can choose the right recipe.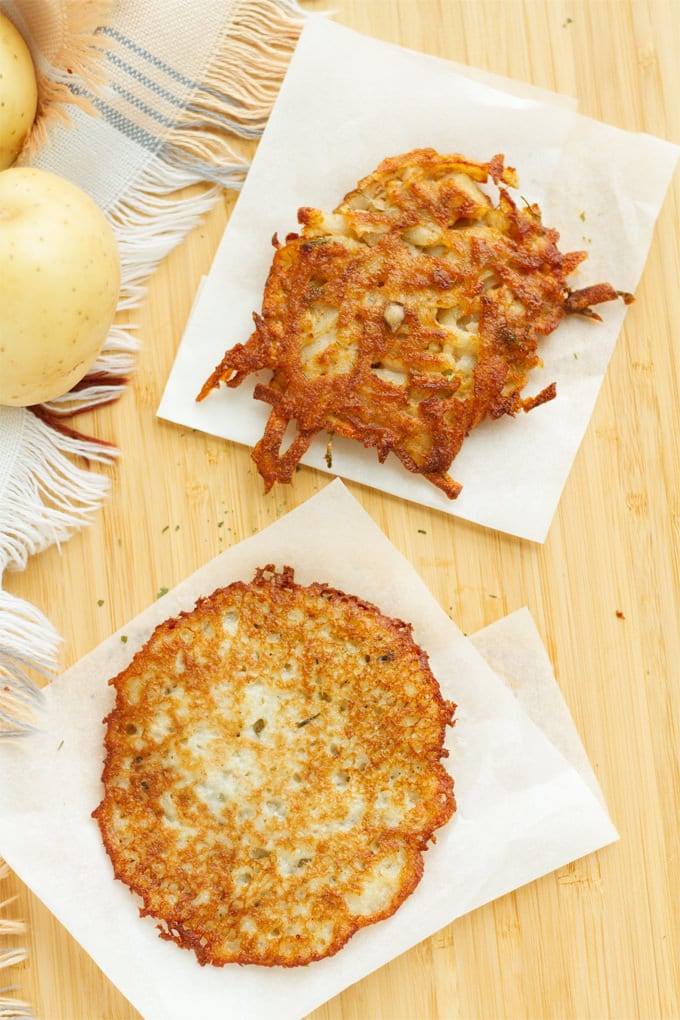 Potato pancakes or potato latkes? Which should you make? Is there really any difference? There are some significant differences and we're sharing them so you aren't disappointed in the outcome the next time you make them. By the way, we have both the perfect potato pancake and potato latke recipe for you.
Preparation
Potato pancakes require a little more time in preparation. They have to be grated on the finest (smallest) holes of the grater. It requires more precision to prepare them and takes longer to grate them to the mushy consistency you need to for pancakes. Potato latkes are shredded on the largest holes of the grater and they take less time. Both of them require similar ingredients, including eggs which help bind everything together. Some people use a higher ration of batter to potato for their pancakes than I do, which can also give a lighter fluffier texture to the pancake.
Texture
Either way you make them, potato pancakes have a softer texture. Because the potatoes are finely grated the batter appears pulpy and watery. Once they are fried they are generally softer and fluffier like traditional pancakes. Potato latkes on the other hand are crunchy. Because you grate the potato into larger shreds, you still get more of the potato's natural texture, which helps them fry up with the delightful crunchiness latkes are known for.
Taste
Potato pancakes and potato latkes both have an incredible potato taste and depend on the seasonings you mix in with them to give them variations in flavor.
Cook
Potato pancakes cook in about 3 – 4 minutes on each side, while potato latkes take 4 – 5 minutes on each side – both on low-medium heat. Therefore, potato latkes require a little longer time to cook. I've also noticed potato pancakes splatter more around the pan making a little more mess since it is more of a batter while potato latkes don't splatter so much.
Look
Potato pancakes are more rounded than potato latkes and you can make them uniform more easily. On the other hand, potato latkes are also rounded, but you'll notice shredded pieces of potato sticking out here and there. Finally, potato pancakes are thinner, while potato latkes are thicker.