Pumpkin Pie Trifle
Does Pumpkin Pie seeming a bit boring? Lose your mind and go crazy with Pumpkin Pie Trifle instead. You'll love how easy it is.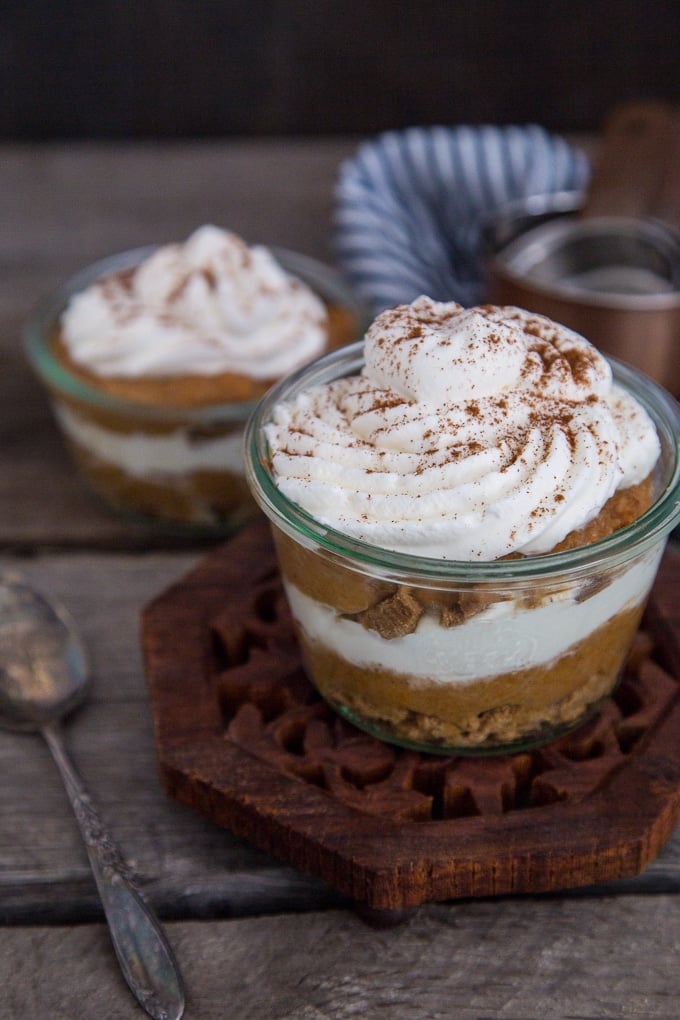 I'm sure you've had pumpkin pie before, but have you ever had it in the form of a trifle? The layers are so beautiful in comparison to your run-of-the-mill pie, plus it's less hassle to make when you're already preparing a feast. It's a refreshing change and something a bit different that you can serve to your guests during holiday parties.
The trifle has all the makings of a pie. It's just layers of pumpkin pie parts. You start with a base, in this case: Pie crust. If you are so inclined, feel free to use something else such as shortbread cookies. The end result won't be any less delicious.
After you lay down your base, add the pumpkin pie filling. This is made in a similar manner as the pie itself and is baked without the crust. You could even make a double batch and serve a second pumpkin pie dessert in custard cups. Soooo fancy!
I used frosting piping bags with frosting tips to separate the layers from each other, but if you don't have any of that you can use a plastic baggie and snip one of the corners. You could also just spoon the whipped cream and pumpkin pie custard into your serving dish. While we give you the easiest whipped cream recipe out there right in the recipe, may we suggest you try one of these whipped cream variations for a twist that will knock your guests socks off!
You can make the trifle in three different ways so choose whichever fits your cooking style best:
Make an entire pumpkin pie and turn it into a trifle by separating the filling from the crust.
Make the crust yourself the night before or buy pre-made crust from the store and bake it.
Make the whipped cream and pumpkin pie filling and use shortbread cookies as the base.
Whichever way you make these trifles, they'll be a super-memorable part of your holiday party!
Print
This post originally appeared in November, 2015 and was revised and republished in November, 2018.