It's pumpkin time! Get the carving done so you can move onto the important part. The seeds! We've got everything you need to know to make the best pumpkin seeds ever. Ever!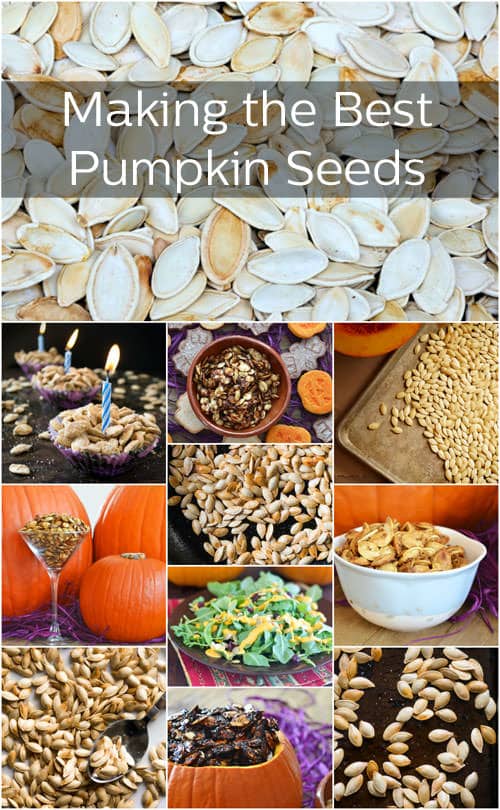 That's right. It's that time of year again. Pumpkin time! Last year we went on a pumpkin pie extravaganza and told you all about how to make the best Fall-flavored tarts. We had loads of recipes, tips and how-to's. It was a blast. This year we had to return to that favorite squash but we decided to go inside and focus on the seeds.
I don't know about you but I have so many positive happy associations with pumpkin seeds. As a kid my mom would roast them when we were busily carving our jack-o'-lanterns. It was a fun family time and the smell of pumpkin seeds roasting in the oven instantly brings it back.
In college I held several jack-o'-lantern carving parties. I would invite a group of girlfriends over to let our angsty creative spirits loose on some pumpkins. Ani DiFranco played on the stereo while we wielded knives, sipped on hard cider and crunched on roasted seeds. We were pretty badass, right? Ha!
So you've gotta know that I had a blast putting together this Pumpkin Seed series. I know you're going to love it too. There are delicious and innovative recipes coming your way, a great how-to post and a comparison of pumpkin seed cooking methods. Head over here daily to see all of our Pumpkin Seed articles as they appear.
Okay, let's get roasty and toasty!
Christine 😉