Pumpkin Slab Pie for a Crowd
Having a big gang over for Thanksgiving? Don't panic, there's no need to make multiple pies. This one Pumpkin Slab Pie feeds up to 24 people. Yowzers!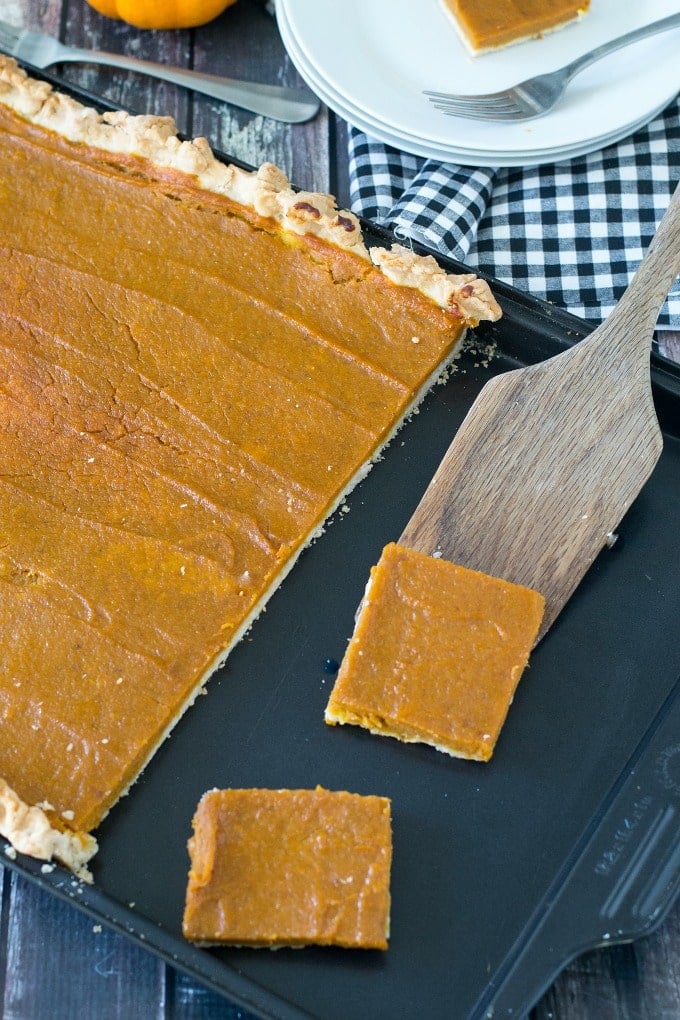 Our Classic Pumpkin Pie recipe is our go-to. But sometimes a regular pie isn't big enough. You know? You're lucky if you get eight slices from one pie and what if someone wants seconds? If you're feeding a crowd (or just plain love pie) making a slab pie is the way to go.
A slab pie is a thin pie (not deep-dish), baked in a large baking sheet or jelly roll pan. Because of that big pan, you can get 24 servings from the single pie. That's a whole lotta pie!
Since this is a thinner pie with less filling than we usually expect, an amazing crust is an absolute requirement. I've included a great recipe for yah.
Dig in and get ready to enjoy a piece of pie or two, or 24!
Pumpkin Slab Pie
Yield: 24 servings
Prep Time: 30 minutes
Cook Time: 40 minutes
Total Time: 1 hour 10 minutes
Ingredients:
Crust
3 cups all-purpose flour
1 Tbsp. sugar
1 tsp. salt
1 ½ cups shortening
1 large egg
5 Tbsp. ice cold water
1 Tbsp. white distilled vinegar
baking spray
Filling
1 can (15 oz.) pumpkin purée
1 can (12 oz.) evaporated milk
2 large eggs
¾ cup sugar
1 ½ tsp. pumpkin pie spice
½ tsp. salt
Directions:
Crust:
Combine flour, sugar and salt in a large bowl. Using a pastry cutter cut in shortening until mixture resembles coarse meal. Add in egg, water and vinegar and gently mix together until dough is formed. Wrap dough in plastic wrap and chill for about 15 minutes.
Preheat oven to 350ºF. Lightly spray a 10x15x1-inch jelly roll pan with cooking spray and set aside.
Once dough has chilled, roll dough on a generously floured surface into a 12x17-inch rectangle. Using a spatula carefully lift dough and transfer to prepared baking sheet.
Press the dough into the bottom and sides of pan. Tuck any excess dough in and pinch edges together as desired.
Filling:
In a medium bowl, mix pumpkin purée, evaporated milk, eggs, sugar, pumpkin pie spice and salt until smooth and blended. Pour filling into prepared pie crust.
Bake for 35-40 minutes until center is set. If edges of crust become to dark, cover the edges with aluminum foil. Allow pie to cool for at least 1 hour. Once cool cut into squares.
This post originally appeared in November 2015 and was revised and republished in November 2016.