Fennel has a mild licorice flavor that is delicious paired with Parmesan cheese.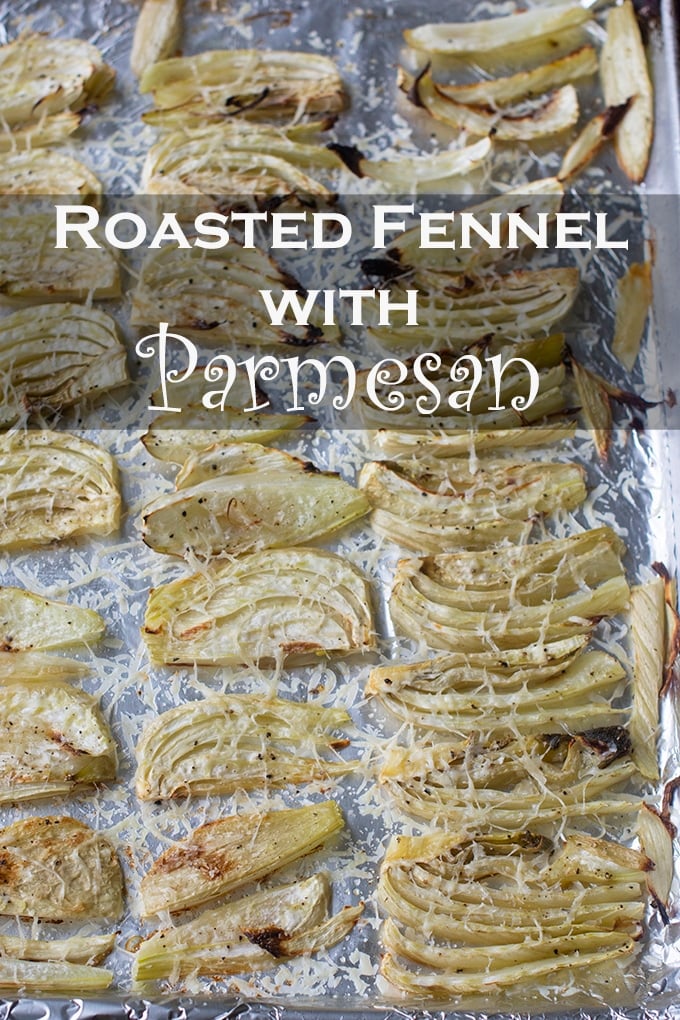 I really love fennel, especially when it's roasted like this. The only thing better is if it's topped with Parmesan cheese. There's something about the mild licorice flavor of fennel that just goes so well with Parmesan.
How to Cut the Fennel
Fennel is a root vegetable with a large bulb on the bottom and stalks and fronds on the top. The fronds have a dill flavor but with some licorice flavor to them. The fronds are wonderful on salads or as a garnish, but they're not good when cooked.
For this recipe you'll be using the bulb.
You'll cut the fennel bulb up like this.

Except for this recipe you shouldn't remove the core so that when you slice it the core can hold the other bits together.
How to Roast Fennel
Cover a baking sheet in aluminum foil and rub it lightly with oil. Arrange the slices of fennel on the pan in a single layer, like this:
Drizzle or mist the fennel slices with more oil and then sprinkle them with salt and pepper. I like to use this oil mister. Bake at 400°F until they're softened and just starting to brown in places, about 40 minutes.
Adding the Parmesan Cheese
Take the fennel out of the oven and turn on the broiler. Sprinkled the fennel with 1/4 cup of shredded Parmesan and then put it under the broiler. Broil until the Parmesan is melted. Take the fennel out and sprinkle it with a couple pinches of coarse salt.
Dig in and enjoy!
Christine xo
Print
Roasted Fennel with Parmesan
Contributor: Christine Pittman
Fennel has a mild licorice flavor that is delicious paired with Parmesan cheese.
Author:

Prep Time:

10 minutes

Cook Time:

40 minutes

Total Time:

50 minutes

Yield:

6 servings

Category:

Side Dish

Method:

Baked

Cuisine:

American
2 medium fennel bulbs

2 Tbsp. olive oil

½ tsp. coarse salt

¼ tsp. pepper

¼ cup shredded Parmesan cheese
Instructions
Preheat the oven to 400°F.

Line a large baking sheet with foil. Lightly grease the foil.

Trim the frond and stalks off of the top of the fennel bulb and discard them (or save the fronds for future use). Slice the bulb into ¼ inch slices.

Put the slices in a single non-overlapping layer on the prepared pan. Drizzle with the olive oil.

Season with the salt and pepper.

Bake until softened, 35-40 minutes. Remove from the oven.

Turn on the broiler.

Sprinkle the Parmesan over the fennel. Broil the fennel until the cheese is melted, 2-5 minutes.

Sprinkle the fennel with a few pinches of coarse salt.