Shepherd's Pie Stuffed Potatoes
Less dishes, less time and it's practically handheld! Shepherd's Pie Stuffed Potatoes are my new dinner option.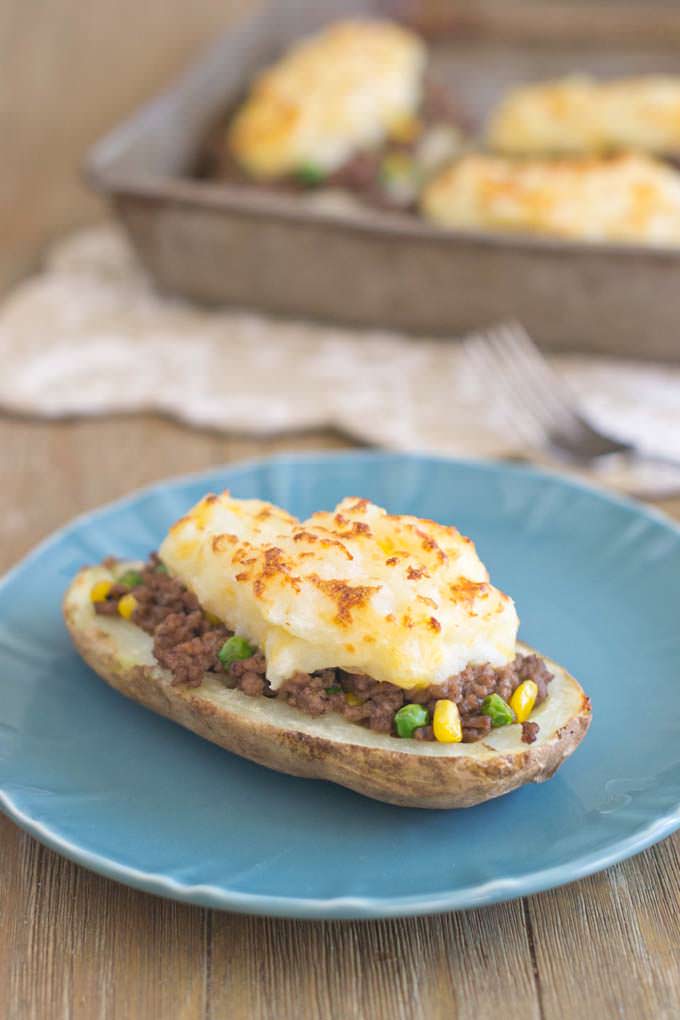 One of the only draw backs of making shepherd's pie is the amount of time it takes to make everything. Peel potatoes, mash potatoes, cook the meat, then bake eeeeverything together. When I have time, I love it. I pop on some Depeche Mode (keeping with that British theme, and my own retro groove thing) and sing and cook.
However, when time is of the essence, like, Downton Abbey starts in half an hour, this recipe is perfect. Plus it's British inspired, so you could be eating something similar to what Mrs. Patmore is cooking.
To make this easy shepherd's pie variation you bake potatoes in the microwave, cut them in half and then scoop out the filling. That gets mashed up with a bit of cheese. Fill the potato shells with a hearty meat mixture and then top with the mashed potatoes. Broil just to brown the tops a bit.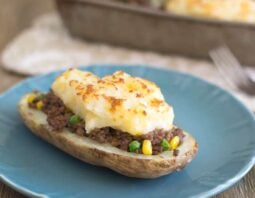 Shepherd's Pie Stuffed Potatoes
Yield: 2 Servings
Prep Time: 5 minutes
Cook Time: 25 minutes
Total Time: 30 minutes
Ingredients:
2 large russet potatoes
1 Tbsp. oil
3/4 lb. ground beef
1/2 tsp. salt
1/4 tsp. black pepper
1/4 tsp. garlic powder
1/4 tsp. onion powder
1 Tbsp. flour
1/2 cup beef broth
1 Tbsp. Worcestershire sauce
1/4 cup frozen corn, defrosted
1/4 cup frozen peas, defrosted
1 Tbsp. butter
1/2 cup shredded cheese
1/4 tsp. salt
2 Tbsp. milk
Directions:
Preheat broiler.
Stab each potato in a few places with fork. Put them on a plate and in the microwave. Cook on high 5 minutes. Poke on both sides with fork. If it goes in easily, potatoes are done. If not, flip and cook for an addition 1-2 minutes.
In medium skillet, heat oil over medium heat. Add ground beef and stir to break up. Add salt, pepper, onion powder and garlic powder. Cook stirring occasionally until cooked through, about 7-8 minutes. Drain off fat if needed.
To meat add flour and stir in. Cook 1-2 minutes. Add beef broth and Worcestershire sauce and stir to combine. Stir occasionally until it reaches a simmer. Cook until thick, about 2-3 minutes. Stir in corn and peas.
Cut potatoes in half and scoop out middle, keeping a 1/2 inch edge. Place potato filling in bowl.
To the potato add butter, shredded cheese, salt and milk. Mash.
Fill hollowed out potatoes with meat filling. Top with mashed potatoes.
Place on baking sheet and broil until the tops are brown, about 3-4 minutes.