Slow Cooker Lemon Chicken
Learn how to make the classic lemon chicken in the slow cooker. It's never been easier or tastier!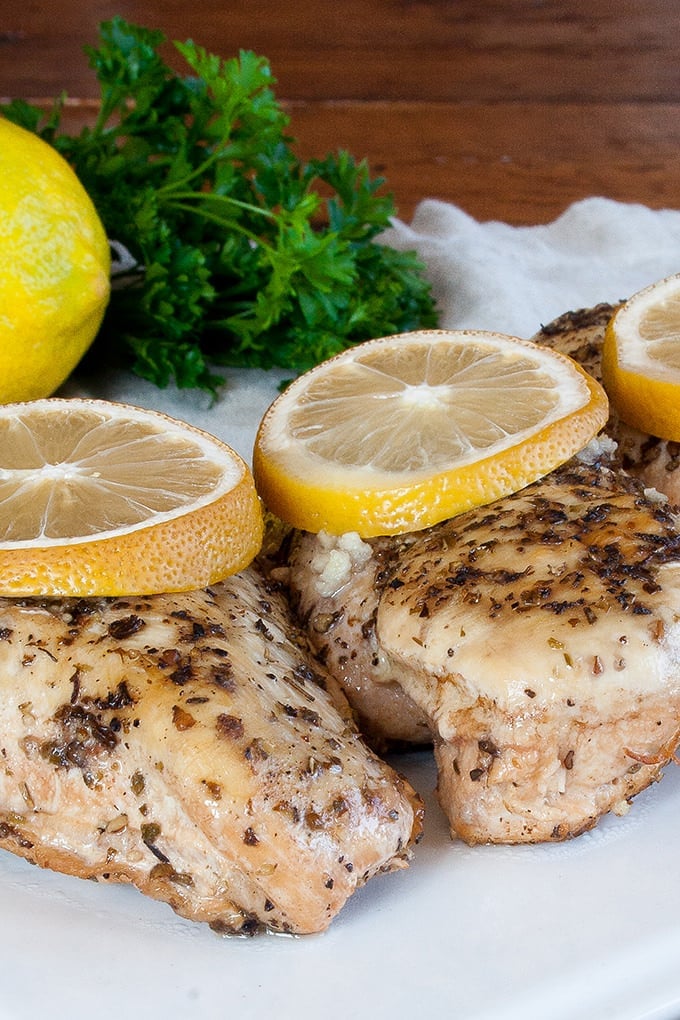 Set it and forget it! While we know this phrase from the classic rotisserie chicken infomercial of the 90s, it so accurately describes the best feature of slow cookers. And like everyone in today's busy world, I can certainly use more recipes where I can "set it and forget it". Bonus points for leftovers that make tomorrow's lunch the best meal of the week. 
Oregano, garlic and lemon juice make this slow cooker lemon chicken dish memorable with bright flavors and juicy chicken. If you add one extra step to your preparation, the results will increase tenfold. All you have to do is brown the chicken in olive oil or butter first to lock in those juices, then let the slow cooker do the rest. If you have an Instant Pot it's even easier since you can brown the chicken right in it then set the slow cooker feature.
Traditionally Lemon Chicken is served with rice or pasta, but it's equally good with a big salad and a side of green beans. If you want a little more lemon on your plate you could make these Lemon Pepper Green Beans. Don't forget the crusty bread and a glass of Sauvignon Blanc. Dinner is served!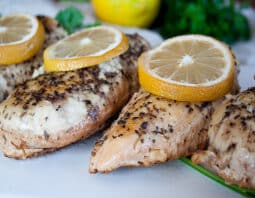 Slow Cooker Lemon Chicken
Yield: 4 servings
Prep Time: 15 minutes
Cook Time: 4 hours
Total Time: 4 hours 15 minutes
Ingredients:
4 boneless, skinless chicken breasts 
1 tsp. dried oregano 
3/4 tsp. salt 
1/2 tsp. pepper 
2 Tbsp. olive oil 
1 cup chicken stock 
2 Tbsp. lemon juice 
2 garlic cloves, minced 
Fresh parsley 
Directions:
Spray the slow cooker with cooking spray. Trim any fat off chicken breast and pat dry. 
In a small bowl, mix together oregano, salt and pepper. Rub mixture over the chicken breasts. 
Heat skillet to medium heat and add 1 tablespoon olive oil. Sear 2 chicken breasts until brown – 2 minutes per side. Repeat with the remaining olive oil and chicken. Add chicken to slow cooker. 
Mix together chicken stock, lemon juice and garlic. Pour over chicken breasts. 
Cook on low for 3.5 hours. Baste chicken with juices and continue cooking for an additional 30 minutes. Serve with an extra lemon wedge and fresh parsley.