Strawberry Milkshakes
There's nothing like scooting your chair up to the counter at an old fashioned diner and ordering a thick creamy Strawberry Milkshake…except making one at home.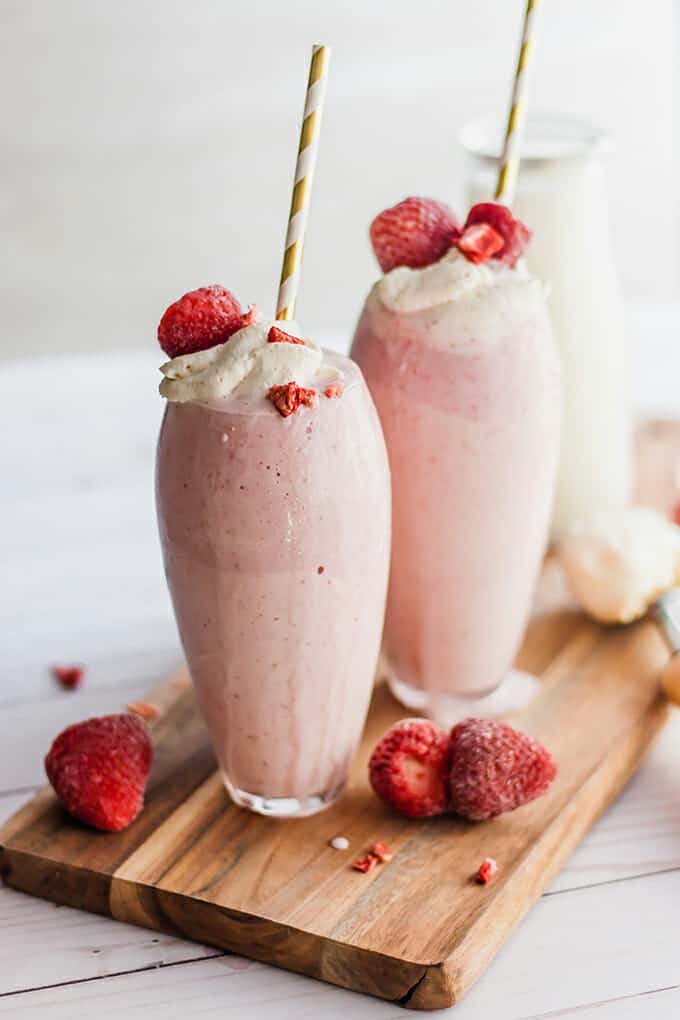 One day while we were sitting at the diner sipping our milkshakes, we wondered how they get so creamy and decided to do some research so we could make them at home. Well, we've done the research and we found the perfect way to make your own restaurant-style, thick strawberry milkshake right in the comfort of your own home. Aren't we awesome?
The secret is to use a little bit of strawberry syrup to really bring out that strawberry flavor, and to use a combination of milk and heavy whipping cream with vanilla ice cream. If you really want to amp up that strawberry flavor you can swap out vanilla ice cream for some Homemade Strawberry Ice Cream. (Oh yeah!)
Now that we've done the research and have the proper ratios down to a science, it's time to share so you can enjoy them at home. I bet the kids will love being surprised with them after a long day of school. Or, even better, how about throwing an old timey burger joint-style party with burgers and milkshakes? Check out our Vegetarian Burger Recipes and don't forget to invite us.
Strawberry Milkshakes
Yield: 2 servings
Prep Time: 10 minutes
Total Time: 10 minutes
Ingredients:
2 and 1/2 cups whole frozen strawberries
6 scoops vanilla ice cream (about 3 cups)
1/2 cup milk (we used 2%)
1/2 cup heavy whipping cream
1/4 cup strawberry syrup
1 tsp. vanilla
2 Tbsp. whipped cream
Directions:
Add the strawberries, ice cream, milk, heavy whipping cream, strawberry syrup and vanilla into a blender.
Process until smooth and creamy. You may have to scrape down the sides a few times.
Divide between two glasses and top with whipped cream!