The Best Strawberry Pie Ever!
Everyone declares it's the best Strawberry Pie ever and we know your family will agree. Just don't tell anyone how easy it is to make!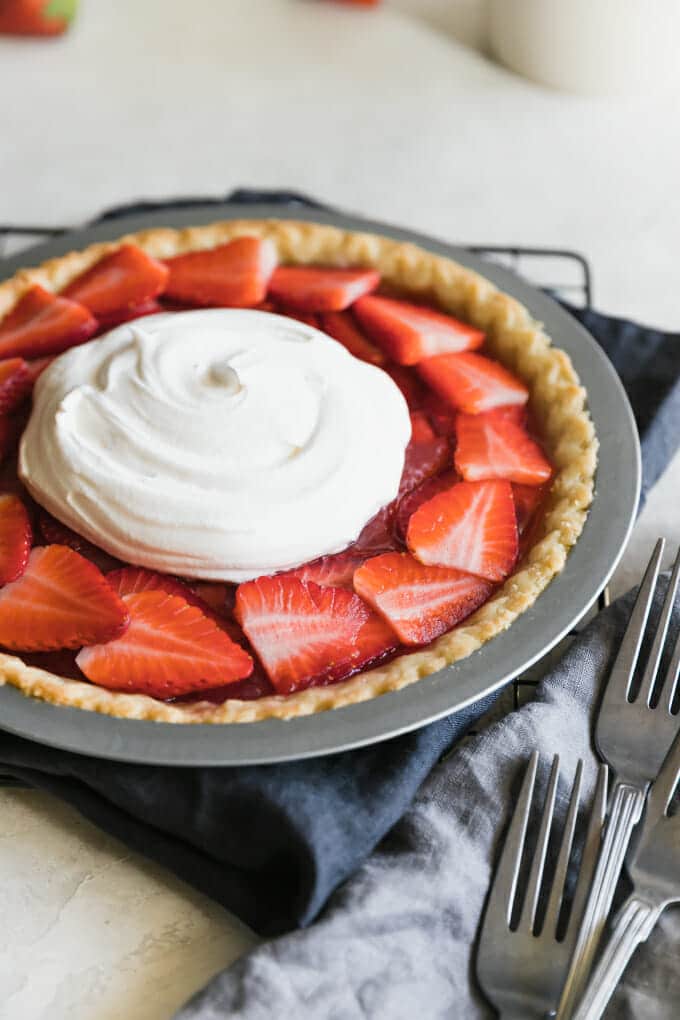 Have you ever wanted to make a pie at home but felt intimidated by all the work? What if it comes out all wrong? Well, I'm here to tell you­ YOU CAN DO IT!
There are a lot of strawberry pie recipes out there but I'll proudly claim that this is the best strawberry pie recipe ever made. Here's why.
This recipe is foolproof. Not only does it come together fairly easy, it also tastes truly scrumptious. Not too sweet, not too tart, it's just right. Plus, it's also the perfect texture.
Lastly, a lot of recipes say to use gelatin and I'm personally not a fan of that. Strawberries stuck in gelatin jail is not my idea of the best strawberry pie ever. I'll keep my strawberries in gelatin for recipes like Strawberry Pretzel Salad. I prefer strawberries that are bright red, fresh, ripe and overflowing off the sides of the slice in a deliciously thick glaze. YUM!
Oh, also… PRO TIP: Keep the pie crust from getting soggy from the strawberries by adding a tablespoon of butter to the strawberry mixture. Works like a charm.
Are you ready to make the simplest and best strawberry pie you've ever made at home? Promise you'll LOVE it.
Strawberry Pie
Yield: 8 servings
Prep Time: 10 minutes
Cook Time: 15 minutes
Total Time: 25 minutes
Ingredients:
1 (9­-inch) store-­bought pie pastry crust or your favorite pie crust recipe
4 cups sliced fresh strawberries
3/4 cup sugar
1/2 cup water
2 Tbsp. cornstarch
1 Tbsp. unsalted butter
Whipped cream and more fresh strawberries for garnish and serving
Directions:
Preheat oven to 400°F. Bake pie crust for 8-­10 minutes. Let cool.
In a saucepan combine strawberries and sugar. In a bowl, whisk together water and cornstarch until smooth and add it to the saucepan. Bring to a boil over medium-high heat stirring constantly. Add butter and continue to cook and stir until thickened. Remove from the heat and let cool slightly.
Arrange strawberries from mixture on the pie crust then pour the rest on top into the pie crust. Chill for 2 hours or more. Garnish with fresh strawberries and whipped cream.