Chocolate Covered Strawberries are a real crowd-pleaser and the way to go when you need dessert in a hurry.
Whether you're looking for an easy date night dessert, a great transportable dish for a picnic or looking to spoil your significant other, Chocolate Covered Strawberries make an easy dessert. Not only are they tasty, but with these tips and tricks, you're guaranteed to make the perfect little dessert every time.
Aside from Strawberry Crisp, Chocolate Covered Strawberries are one of my favorite desserts. Not only are they easy to make, but I find them to be one of the most diverse desserts you can make by simply changing up the toppings.
If you're on the hunt for a quick dessert for a romantic dinner date, a picnic in the park, a baby shower dish, bridal shower or just looking for a quick dessert to whip up for your friends, Chocolate Covered Strawberries are a go-to.
Tips To Make Chocolate Covered Strawberries.
Start with good quality chocolate. Semi-sweet baking chocolate chips work just fine for this recipe, but regular or white chocolate can be used interchangeably depending on your tastes.
Wash and thoroughly dry your strawberries. After washing, make sure the strawberries are very, very dry. The chocolate won't stick to wet strawberries and you'll end up having a sad, soggy looking dessert. Pat dry strawberries with a paper towel.
Making the perfect chocolate. If you are using a double boiler to melt your chocolate, do not let any water come in contact with the chocolate. Getting the chocolate wet will make it seize or become very thick and you won't have that glossy, melted chocolate you are looking for.
An alternative method to the double boiler is to melt the chocolate in the microwave for increments of 30 seconds, stirring after every session. IF you want to go through some extra steps and make your chocolate extra shiny, you can temper it after melting. Learn how to temper chocolate here. But it's really not as necessary for strawberries as for other things.
Add that perfect shine. Once melted, add a teaspoon of a neutral oil like vegetable oil or grapeseed oil. Coconut oil will be fine, however you will end up with a coconut flavor to your chocolate. Adding a neutral oil like vegetable oil gives your chocolate a beautiful shine.
Don't remove the strawberry stem. In order to fully coat your strawberries, you'll need part of the strawberry to hold onto. Leaving the green stem makes it easier to coat the strawberries, or you can use a skewer to gently poke into the strawberry to hold onto.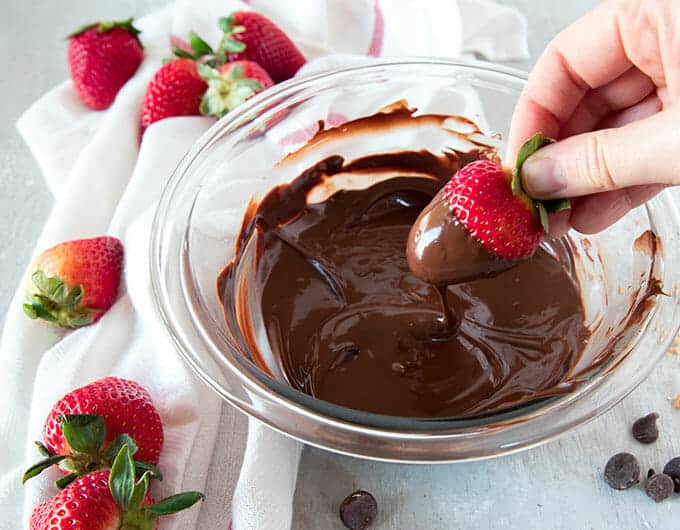 Choose your toppings. I love classic chocolate. However, be creative with your toppings!
Coconut would go perfectly with a bridal shower theme, as would just a drizzle of white chocolate. Colored sprinkles and finely chopped peanuts are great options and pink or blue sprinkles would be great for a baby shower.
Use a nonstick surface. To avoid your strawberries sticking to the tray, use a non-stick silicone baking mat (like this one), or use parchment paper. A surface that can easily peel away means your chocolate won't stick and you'll end up with perfectly coated strawberries.
Storage tips. Chocolate covered strawberries are best eaten shortly after they have been made. They do not store well in the fridge as they gather moisture.
If you do need to store them, store them in an airtight container lined with paper towel to soak some of the extra moisture. By following these simple tips and tricks, you'll have no trouble making this delicious, easy and cute dessert!
Print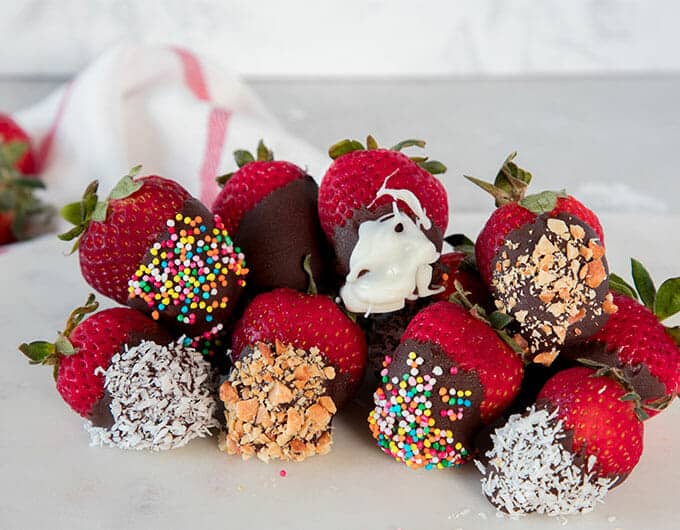 Chocolate Covered Strawberries
Contributor: Georgina Walker
Chocolate Covered Strawberries are a real crowd-pleaser and the way to go when you need dessert in a hurry.
Author:

Prep Time:

45 minutes

Cook Time:

15 minutes

Total Time:

1 hour

Yield:

16

(approx.)

1

x

Category:

Dessert

Method:

Stovetop

Cuisine:

American
1

lb

. strawberries, stems on

6

oz

. chocolate chips

1 tsp

. grapeseed oil (or other neutral oil such as vegetable oil)
Toppings: melted white chocolate (melt around 3 oz.), shredded coconut, finely chopped peanuts, sprinkles, or anything else you choose.
Instructions
Wash and thoroughly dry strawberries with paper towel.
Melt chocolate – place chocolate in a heatproof bowl and set over a pot of hot water that is gently simmering. Melt chocolate, stirring occasionally. Alternative option – place chocolate in a microwave-safe bowl and microwave in increments of 30 seconds, stirring after each time until melted and smooth.
Add grapeseed oil to chocolate and stir well to combine.
Line a tray with parchment paper or a silicone non-stick mat. Pick up strawberry by the stem and gently dip into the chocolate, coating about half of the strawberry. Dip into desired topping, wait until set and drizzle with melted white chocolate. Repeat with remaining strawberries.
Refrigerate 30 minutes until chocolate is set.
Serve immediately, or store in an airtight container.
This post originally appeared in June 2018 and was revised and republished in April 2022.