Homemade Tofu Burger
These homemade tofu burgers are spiced up with fun and tasty quick sriracha pickles. Our Vegetarian Burger Topic is brought to you by Produce for Kids, your healthy family resource for nutritious meals.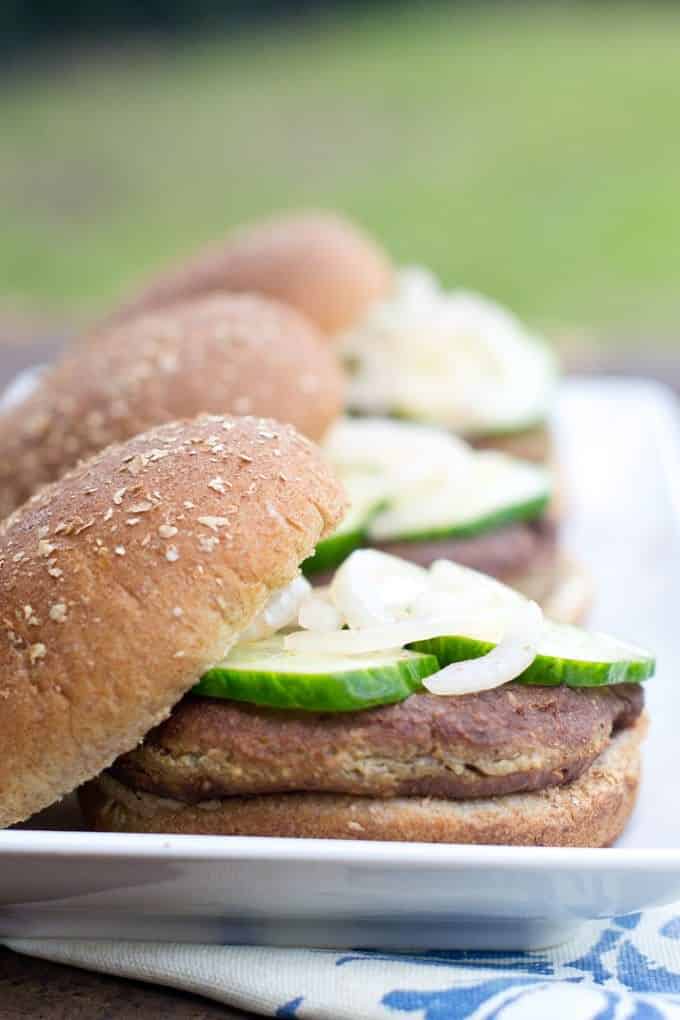 Tofu burgers. The quintessential menu item offered to vegetarians at BBQ's, restaurants, and cook-outs. It's a nice gesture to give options, however from what I've seen, most places keep their tofu burgers in the back of the freezer next to the ice cream and the 5 pound bag of freezer burnt mixed vegetables.
So when our editor-in-chief, Christine, suggested making a homemade tofu burger I was excited. Yes, this is bound to be better than those frozen things! But ummm…how does one make a tofu burger?
The block of jiggly soybean paste stared up at me from its watery container. Deep breaths. It's O.K.. You can do this. You can do this.
I did some research and discovered that it's not that difficult really. We tried a few different things and settled on our favorite. A tofu burger patty made with nuts and mushrooms in the food processor. It's faster to put together than pre-heating your oven for those pesky frozen ones.
This burger requires a two-step cooking process to ensure that everything is cooked through. Pan searing the patties adds a great crunch on the outside then they're finished in the oven to cook through.
The patties are pretty amazing, if I do say so myself. But what I love more is the kicked-up quick pickle that Christine made to top the burger. It adds crunch as well as so much flavor.
Print
Disclosure: Produce for Kids has provided giveaway items and social media promotion in exchange for mentions in the Vegetarian Burger Series. Also, the senior editor of this site is a paid brand ambassador for Produce for Kids. All opinions are ours and honest, always.
This post originally appeared in July, 2016 and was revised and republished in August, 2016.