Goodbye cracks, hello perfection. We're helping you make the perfect cheesecake every time.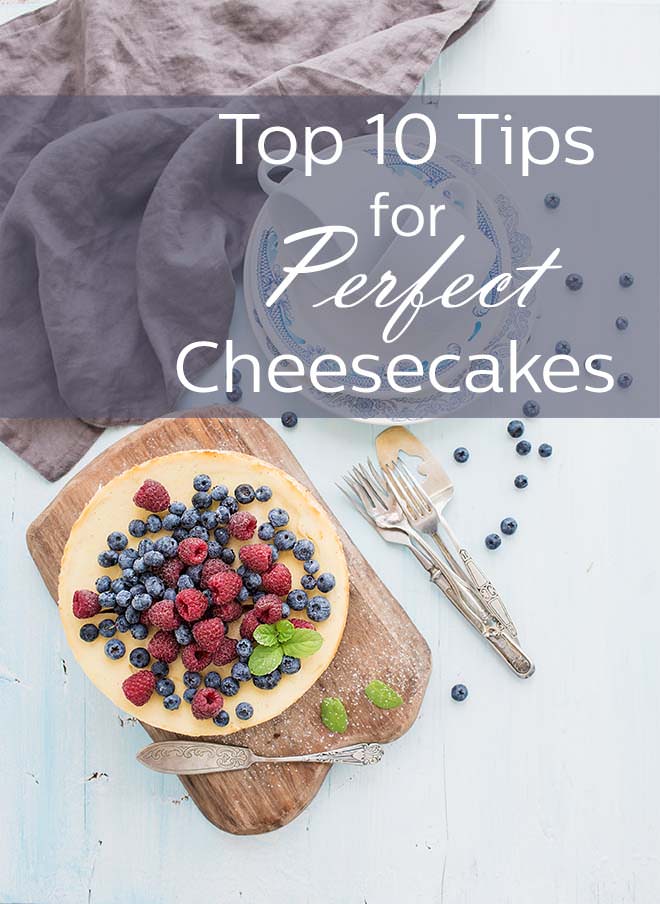 Cheesecake is the dessert of dreams but it can be persnickety. From cracked tops to being stuck in the pan, making a cheesecake can be a nightmare.
Fear not. We rounded up 10 tips for making a perfect cheesecake. But don't stop here! Once you've seen how to make the perfect cheesecake, check out our tips for making the perfect graham cracker crust.
Follow directions. I know this seems like a no-brainer, but seriously, read the directions carefully, more than once, and then follow them. The cheesecake creator gods know their stuff!
Speaking of following directions, you know how recipes call for softened cream cheese? This is a must. Softened cream cheese prevents a lumpy cheesecake. Let it soften on the counter for at least an hour before starting.
Cheesecake isn't a diet food. Use full-fat cream cheese. It adds flavor and texture.
Whip your filling for a couple minutes more than the recipe recommends. The filling will be velvety.
Add a bit of flour or cornstarch to your batter. This helps the cheesecake bake evenly and can prevent cracks.
Always, always, always use a springform pan. (Here's one we like.) Cheesecakes will fall apart if you don't use one. Butter the bottom and sides of the pan to make it easier to remove the cake.
Use a water bath when cooking. The hot water steam helps the cheesecake bake evenly.
Cheesecakes crack. It happens. If your perfect cheesecake cracked during baking, just spread sour cream over the top of your cooled dessert. No one will know.
Don't overbake your cake. You want it to be set along the edges and slightly jiggly in the center. It will continue to set as it cools.
Don't rush cutting and serving. Many recipes call for letting a cheesecake come to room temperature before cutting. This absolutely makes it easier to cut and improves the taste. For best results, pour more coffee and wait an additional half an hour (1.5 hours total) before digging in.