Watermelon Lemonade Wine Slush
If you can't take the heat, get out of the kitchen and move into the backyard to cool off with a refreshing watermelon lemonade wine slush.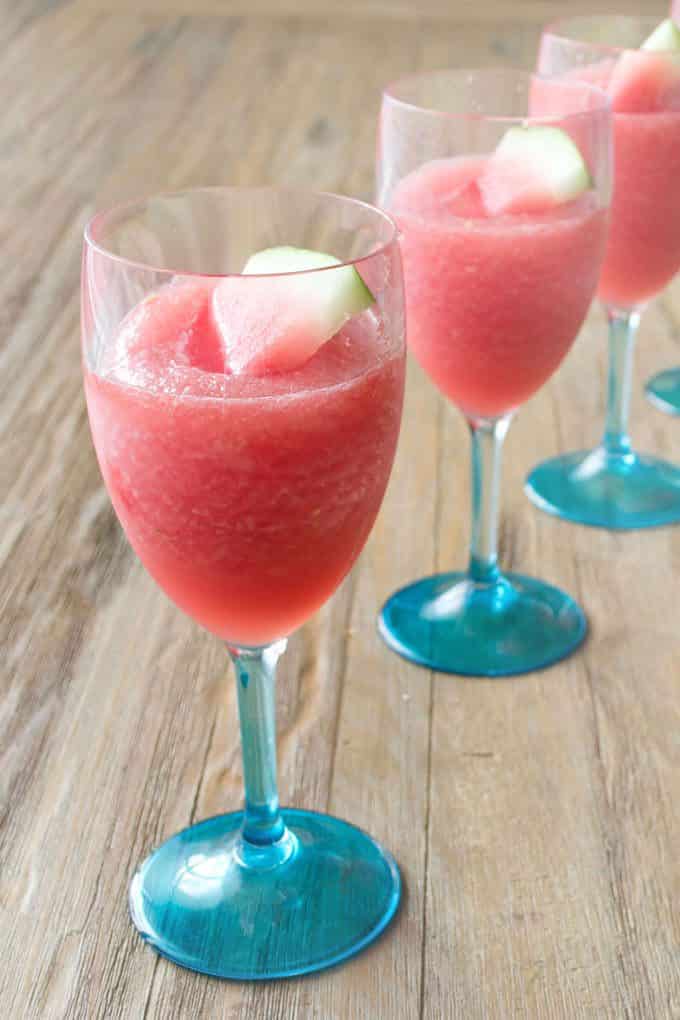 Watermelon is such a great fruit to enjoy in the summertime, especially when it's in frozen form! You can either buy a whole watermelon which can sometimes be tricky. To find a ripe melon look for the yellow spot (that's the spot where the melon touches the ground when it is growing) and examine the color. If it's a creamy yellow and the watermelon feels heavy for its size, it's ripe!
Or you can buy the pre-cut melon cubes from the produce department. I personally prefer the pre-cut cubes because they are convenient and you can visually inspect how ripe the melon is.
Once the watermelon cubes are frozen, pop open your favorite bottle of white wine. I prefer something sweet like a Riesling but you can go with any white wine that you enjoy drinking. Blend them together with some lemon juice and sugar and you're good to go.
Try out this watermelon lemonade wine slush at your next neighborhood BBQ or even a quiet night with your sweetie, each of you with a glass in your hand and your eyes on each other. Ha! I'm so sappy! Have a great day 🙂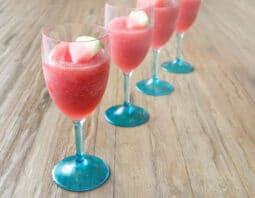 Watermelon Lemonade Wine Slush
Yield: 6
Prep Time: 10 minutes
Total Time: 5 hours 30 minutes
Ingredients:
4 cups of watermelon cubes
2 lemons, juiced
2 Tbsp. sugar
1 bottle of very cold white wine (anything that you like to drink), plus more for serving
Directions:
Put the watermelon cubes into a plastic zip top bag and then into the freezer until frozen, at least 2 hours.
Put the watermelon, wine, lemon juice and sugar into a blender and whiz it around until smooth. Serve immeidately or, if you want it more slushie, pour the mixture into the plastic bag and put it into the freezer. Leave it there until it's good and frozen, squishing it now and then, at least 3 hours.
Transfer the frozen mixture into a wine glass filling it 2/3 full. Top with a bit more wine, if desired.