Kettle corn is a treat from the Gods, or in history's case, the pioneers. Who knew?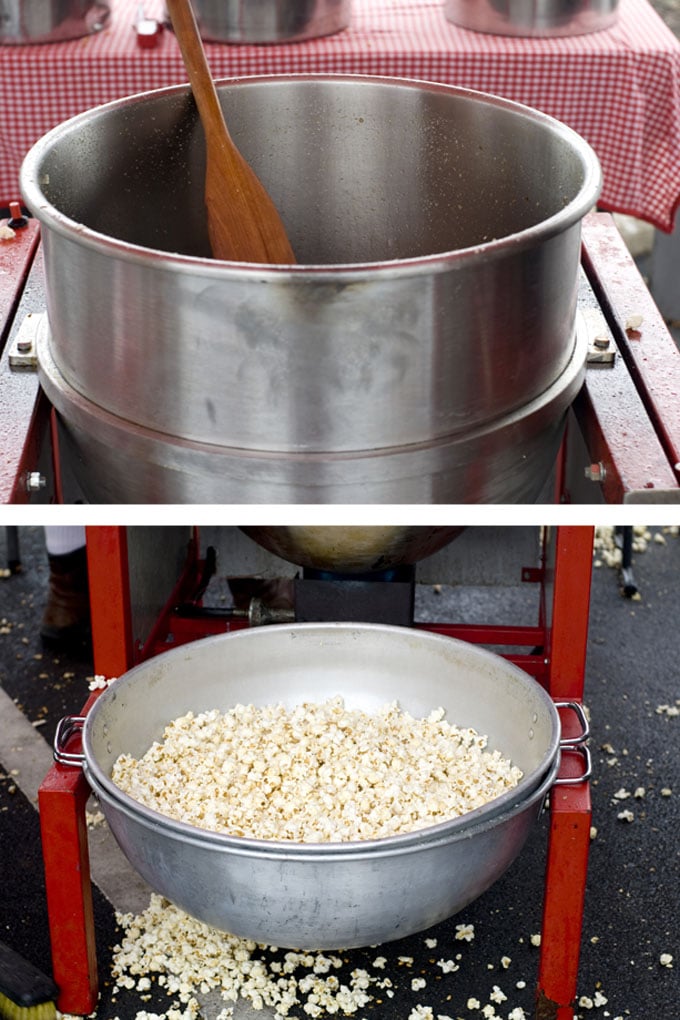 One of the whiffs in the air at a carnival or fair is Kettle Corn. I've always been interested in learning the secrets behind this fun treat and, really, what makes it different than regular old popcorn. So I found out.
Kettle Corn was first introduced in the early 1700's when pioneers threw leftover corn kernels into large cast-iron kettles of lard. They would add a sweetener– honey or molasses, and then cook the mixture over an open fire. Once the corn was popped the pioneers would munch on handfuls of those sweet puffs.
What makes Kettle Corn unique is the added sugar which creates a crust around the popcorn. The popcorn is rapidly stirred, letting the sugar cook. The sugar mixes with the oil creating a syrup which glazes the popcorn and creates the crust.
Today Kettle Corn is made with a large kettle, a mixing paddle (it looks exactly like a boat oar. Actually, maybe they even use a boat oar. I didn't find out), and an extremely hot burner. Once the popcorn is popped, the kettle is flipped onto a slotted table. The kernels fall through the small holes, leaving the puffs on the table to cool.
To prevent oil burns, operators wear long gloves and protective eye gear. Who knew popcorn was such a dangerous business? But really, the popcorn jumps around sporadically and the operator is right there constantly watching to make sure the kernels don't burn. Most Kettle Corn operators like to use Mushroom kernels, making that signature "Marie Antoinette hair piece" popcorn.
O.K., I just have to say that researching this did not curb my kettle corn craving. It just made it stronger! Look for me at a fair near you. Or, I'll be making some popcorn on the stove, which is my favorite way, and adding a touch of sugar.