These Instant Pot Red Beans and Rice are full of great flavor and, even better, it all cooks at the same time in your Instant Pot.
Creamy red beans over fluffy white rice is a New Orleans tradition. The beans were cooked over the fire all day on Mondays while the women were out doing the laundry. Even now it's on most restaurant menus and home tables to start the week.

In this recipe you'll cook both the beans and rice in your Instant Pot. But instead of being mixed together, they are cooked in 2 separate layers.
How Do I Cook Two Different Recipes At The Same Time In My Instant Pot?
There are lots of ways to do this, but over the years I've come to love one method the best. You will need a rack that's between 2 to 3 inches tall, that gives you enough room in your model and size Instant Pot to add a stainless steel container on top to cook your second dish.
There are combos that stack covered stainless steel containers on top of one another, but in fact you aren't using your pressure cooker to its fullest and they take much longer to cook food. That's why I've veered away from using them.
Just remember to put the fastest cooking dish on the top and the one that needs more time on the bottom. So in this recipe that's the beans on the bottom and rice on the top.
What Do I Need To Cook Layered Electric Pressure Cooker Meals?
A rack – you want the legs to be longer than the one that comes with your Instant Pot, between 2 to 3 inches. I've gotten some good ones in my local Asian market, but you can get them on Amazon too.
A stainless insert like this one, you could also use another oven safe dish. Just make sure that the lid will close properly when it's in the IP on top of the taller rack. Or use one of the stainless pans from a combo like this one that fits into an 6 or 8 quart Instant Pot.
A food-safe silicon sling also makes things easier, so that you can safely remove the hot pan after cooking.

There are racks, inserts, and other Instant Pot accessories that fit different size Instant Pots. You will need a 6 or 8 quart Instant Pot to contain the amounts called for in this recipe.
Want To Speed Up The Red Beans and Rice Prep?
Well, how about you skip the veggie sauté? Instead use onion powder, garlic powder, and ground celery seed. You'll get all of the flavor without the cutting and sautéing! Just place all the bean recipe ingredients in the Instant Pot, then layer in the rack and the container with the rice.
What If I Don't Have Dried Beans?
I do have 15-minute vegan red beans that uses canned kidney beans on my blog Healthy Slow Cooking. You cook it on your stove-top and will need to steam some rice (you can even make rice in the Instant Pot) or you can use leftover rice from your fridge.
Print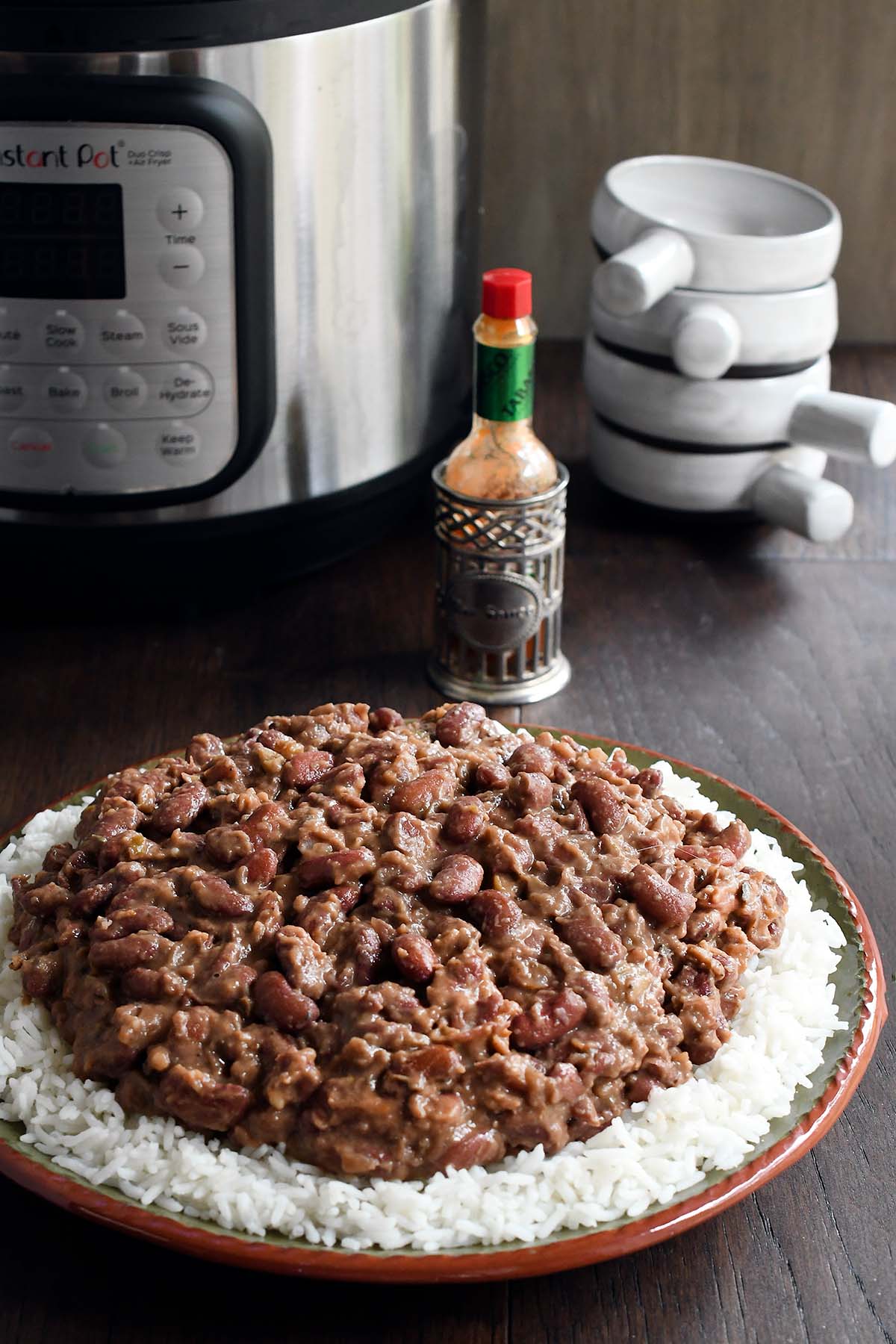 Instant Pot Red Beans and Rice
Contributor: Kathy Hester
It's always the perfect time for perfectly cooked kidney beans in a creamy sauce that's full of great flavors served over fluffy rice. It's inexpensive, filling, good for you, and it even tastes good. Yes, this recipe wins dinner and everything cooks at the same time to make it easy on you.
Use a 6 or 8 quart Instant Pot.

Author:

Prep Time:

15 minutes

Soaking Time:

8 hours

Cook Time:

11 minutes

Total Time:

8 hours 26 minutes

Yield:

8

servings

1

x

Category:

Entrée

Method:

Instant Pot

Cuisine:

American
1

(1 lb.) bag dry red kidney beans or small red beans

2 Tbsp

. olive oil

1

and 1/2 cups minced onion

1 cup

minced green bell pepper

1 cup

minced celery

3 cups

water

2

bay leaves

1 tsp

. dried oregano

1 tsp

. smoked paprika

1 tsp

. dried thyme

1/2 tsp

. dried basil

1/2 tsp

. ground cayenne pepper

1/8 tsp

. ground allspice

2 cups

long grain white rice

2

and 1/4 cup water

2 Tbsp

. nutritional yeast, optional

1

and 1/2 tsp. Salt

1/4 tsp

. ground black pepper

Your favorite vinegar based hot sauce like Tabasco or Louisiana, for serving
Place the dry beans in a large bowl that's at least twice the size of the dried beans, and fill about ¾ full with water. Let the beans soak for at least 8 hours. Or you can quick-soak the beans if you want to make this recipe now.

Heat the olive oil on high sauté until warm, then add the onions and sauté until translucent. Add the bell pepper and celery, then sauté 3 minutes more. Turn the Instant Pot off.

Add the kidney beans, water, bay leaves, oregano, smoked paprika, thyme, basil, cayenne pepper, and allspice. Stir well.

Place in your tall stainless steel rack on top of the bean layer. Check to make sure your stainless steel pan

fits on top and that you can close the top with it on!

Remove and add rice to your small pan. Then place a food safe silicone band

around to make this easy to remove or take 2 aluminum foil pieces about 2 feet each, roll up lengthwise and make a cross. Then set the pan in the middle.

Add the water and place on top of the rack using the silicone band or aluminum foil sling. Note: if using the sling, fold over the handles to make them easy to get to after cooking.

Close the lid and cook on high pressure for 11 minutes. Let the pressure release naturally for 15 minutes, then release the rest of the pressure manually.

Remove the rice container by the foil handles or the band using a pot holder and place on a trivet or other heat proof surface.
Serve beans over the rice with lots of hot sauce on the side.