Having a batch of creamy and flavorful beans is the basis of any quick and easy meal. These Instant Pot Refried Beans make that easier and more delicious than ever.
Refried beans are so easy to make and you can make so many great meals once you have them made. Here's the thing – they can be healthy and taste amazing too!

Traditional refried beans have lard in them and others have other oils that you might be avoiding. Mine has a little bit of olive oil to sauté the onion, but uses herbs and spices for their base flavor.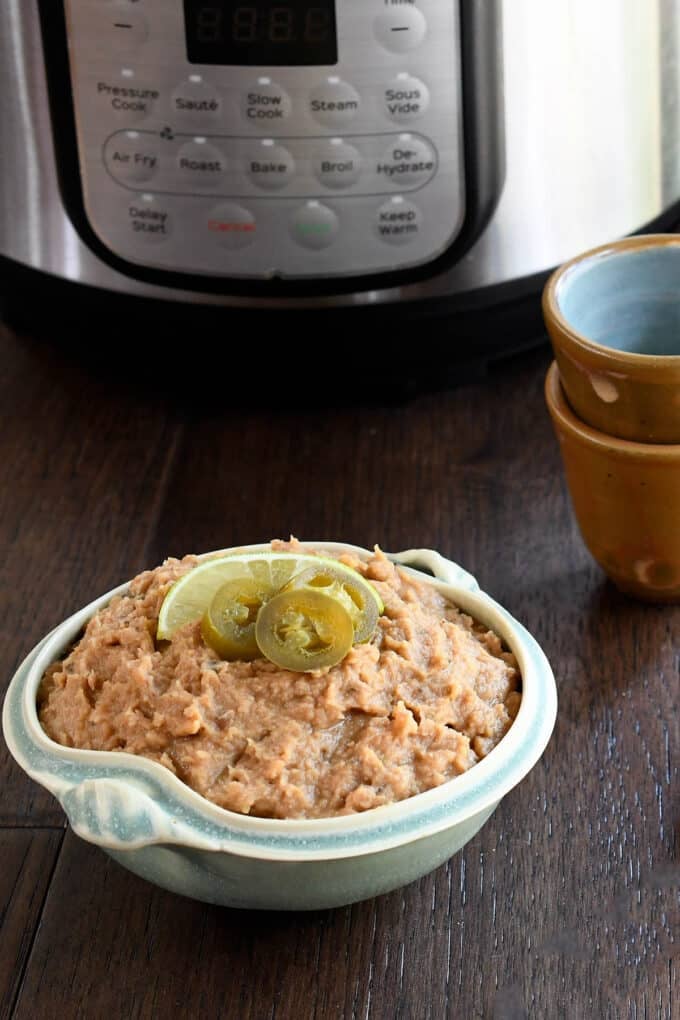 What Beans Can I Use To Make Refried Beans?
We use pinto beans in this recipe and tons of heirloom beans are a great swap for them, but in addition to those options, black beans and mayacoba (or canary beans) are traditional beans used for refried beans.
Heirloom varieties that work in this recipe:
Rio zape
Borlotti or cranberry beans
Vaquero
Anasazi
Rattlesnake
Moro
I like to try out new beans and play around with the seasonings. You can even make your own homemade chili powder by removing the seeds and stems from guajillo and ancho peppers that are mild. Then dehydrate in your oven or a dehydrator until brittle and grind in a spice grinder or repurposed coffee grinder.
What Other Flavorings Can I Use?
I love the zing from the pickled jalapenos and lime juice, but you could do many other flavor combos.
Try adding a seeded and stemmed ancho chili that you chop into the dried beans to create an amazing flavor, but you'll need to puree the mixture if you add them.
Other flavor ideas:
Chili powder
Lime juice
Mexican oregano
Cumin
Even salsa makes a great variation!
Should Refried Beans Be Smooth Or Chunky?
All refried beans can be left a little chunky, but I think it's important to the texture to smash about half of them to create a creamy textured base.
Personally, I love using my immersion blender to blend them smooth with just some flecks of green from the jalapenos.
I Don't Like Spicy Foods. Can I Leave Out The Jalapeno?
There's a small amount of pepper to bean ratio, so the final result is quite mild. If you don't have any on hand you could add 1/2 teaspoon of apple cider vinegar to give it a little tang or add the juice of a whole lime instead of half.
Where's The Refried Part?
Surprise! We are skipping the refried part and going straight to the make-my-bean-taco part of the story. Since we are mashing or blending the beans we get the same texture without all the added oil and effort.
What Can I Make With Instant Pot Refried Beans?
That's the best part – you can make so many things!
Tacos – use corn or flour tortillas
Nachos – you could even air fry cut corn tortillas to make them healthier
Burritos – or get extra healthy and use collards or lettuce to wrap them up
Enchiladas – make an easy sauce with dried chilies
Use them as a side – top with vegan cheese or sour cream
Add them to a sandwich
Make a dip by adding in vegan sour cream and non dairy cheese
Anything else you think of!
Print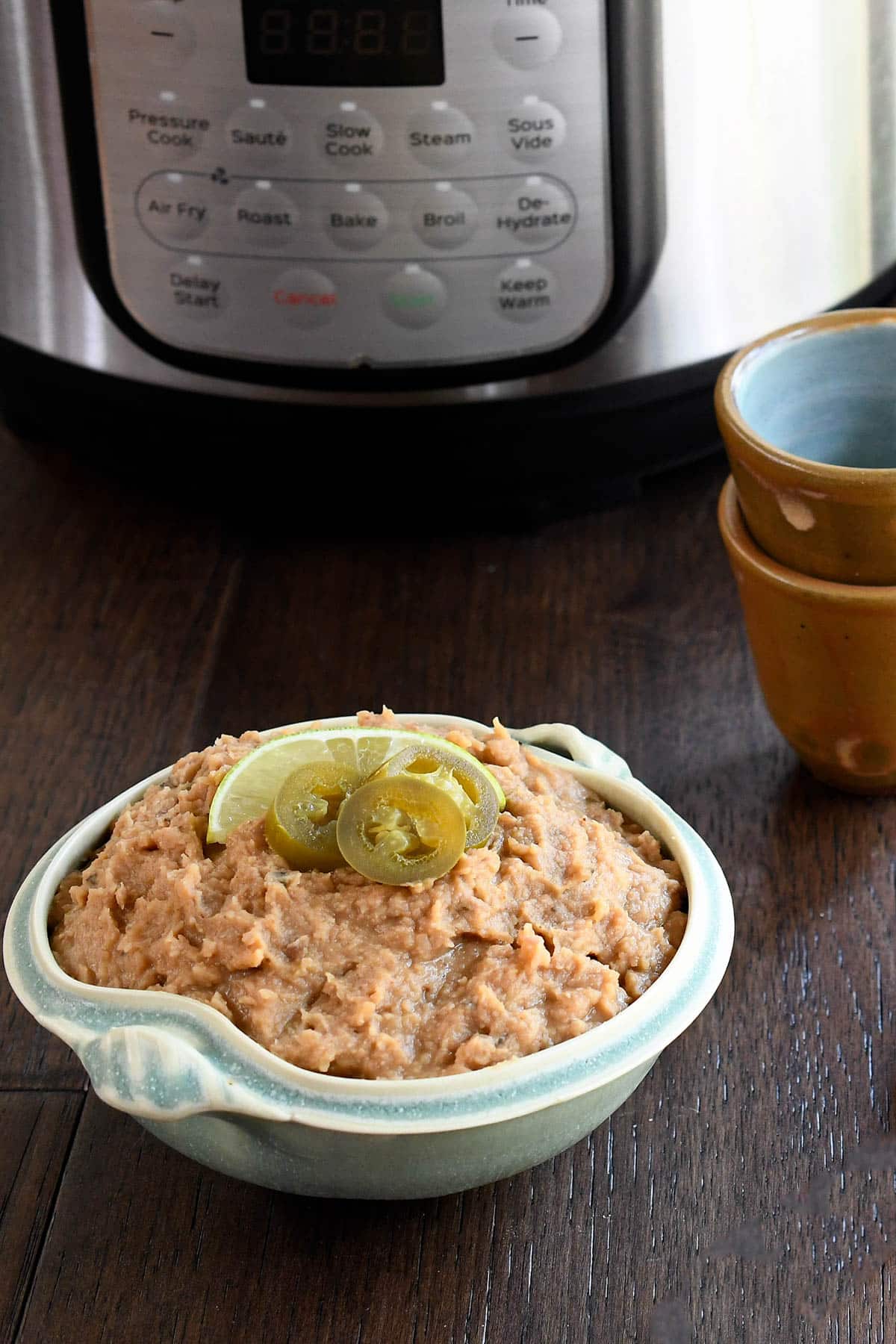 Instant Pot Refried Beans
Contributor: Kathy Hester
I'm never without refried beans in the house. I keep them in single servings portions in the freezer, and make them at least one a month. Having a batch of creamy and flavorful beans is the basis of any quick and easy meal.
Use a 6 or 8 quart Instant Pot or halve recipe and cook in 3 quart.
Author:

Prep Time:

15 minutes

Soaking Time:

8 hours

Cook Time:

15 minutes

Total Time:

8 hours 30 minutes

Yield:

8

servings

1

x

Category:

Side Dish

Method:

Instant Pot

Cuisine:

Mexican
1

and 1/2

cups dry pinto beans

8 cups

water, divided

2 Tbsp

. olive oil

1 cup

chopped onion

2 tsp

. chili powder

1 tsp

. ground cumin powder

1 tsp

. garlic powder

1 tsp

. smoked paprika

3 Tbsp

. chopped pickled jalapenos

1 Tbsp

. Mexican oregano or marjoram

1 tsp

. salt
Juice of

1/2

a lime
Instructions
Place the dry beans in a large bowl that's at least twice the size of the dried beans, and fill about 3/4 full with water, around 6 cups. Soak for 8 hours.

Drain the soaked beans and set aside.

Heat the olive oil in your Instant Pot on high sauté until warm, then add the onions and sauté until translucent. Add the chili powder, cumin powder, garlic powder, and smoked paprika and sauté until fragrant, about 1 minute. Turn the IP off. 

Then add the remaining 2 cups of water, soaked beans, pickled jalapenos, and Mexican oregano. Cook on high pressure for 15 minutes, then let the pressure release manually for 15 minutes.

You can mash the beans with a potato masher to give the refried beans some texture or use an immersion blender to blend them smooth.