Calling all candy-lovers! This is the coolest thing ever. And the prettiest. Take your vibrant candy apple coating and make dazzling candies.
Candy apples are a fun treat but they don't keep well. And I don't know many people who could eat more than one on any given day. Recently when I made a batch (here's my easy method for how to make classic candy apples) I decided to not coat very many apples. Just three, one for me and each of my kids.
I didn't want to waste the rest of the candy syrup though. So here's what I did.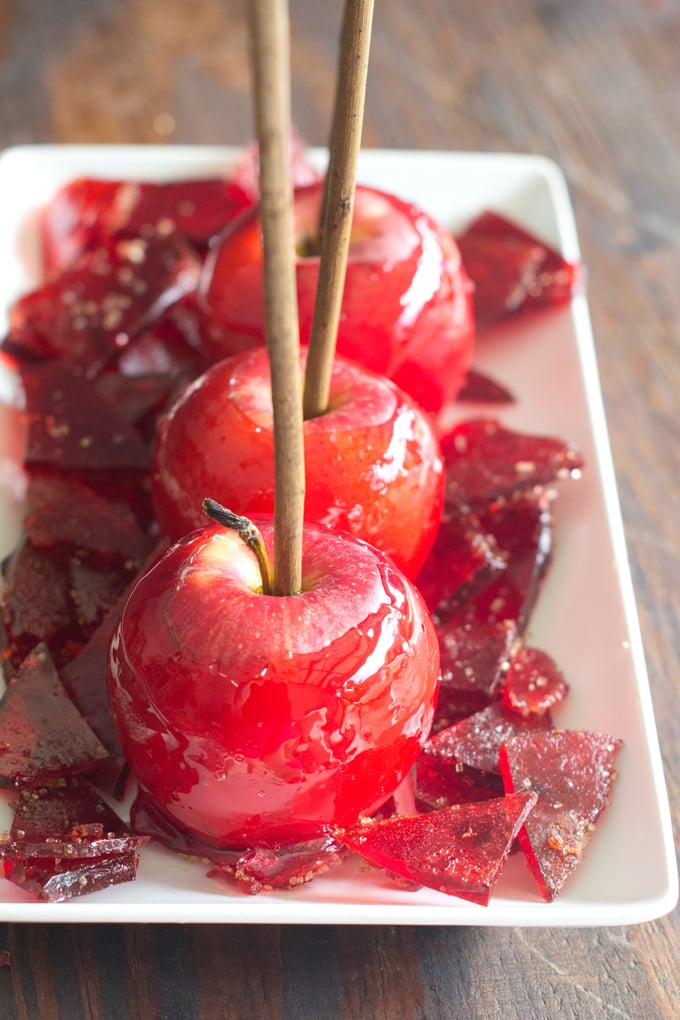 Using Leftover Candy Apple Coating
I prepared a baking sheet by putting parchment on it and spraying it with baking spray.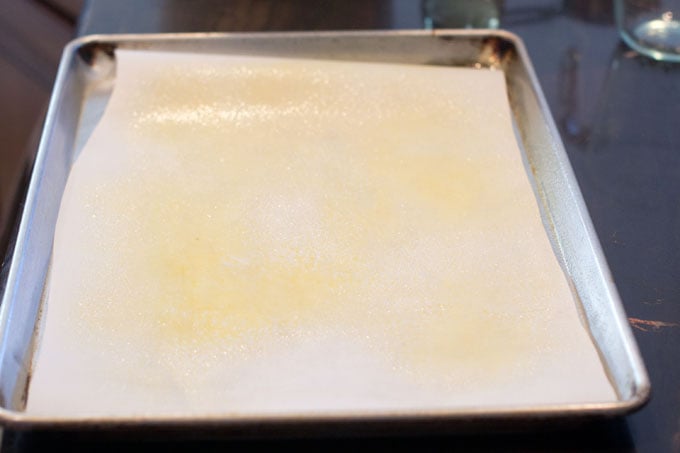 Then I mixed together 1/4 cup of demerara sugar with 1 teaspoon of pumpkin spice. I sprinkled that onto the parchment.
Then I poured the rest of my candy syrup onto the parchment and tilted the pan around to spread it out.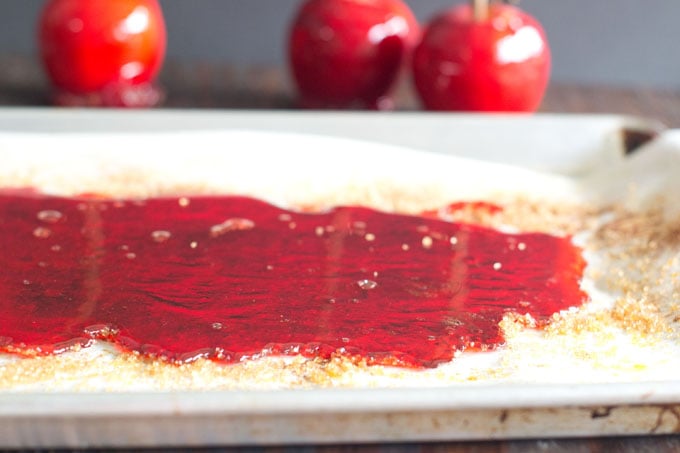 If you want extra sparkly demerara on your candy, once it has set for a moment and is less hot, sprinkled some of the sugar mixture from the sides of the pan onto the top of the candy.
Once it has set and is cool, peel it off of the parchment paper.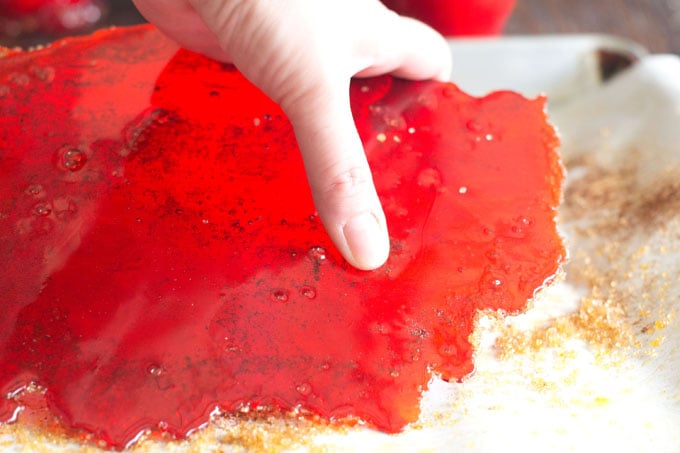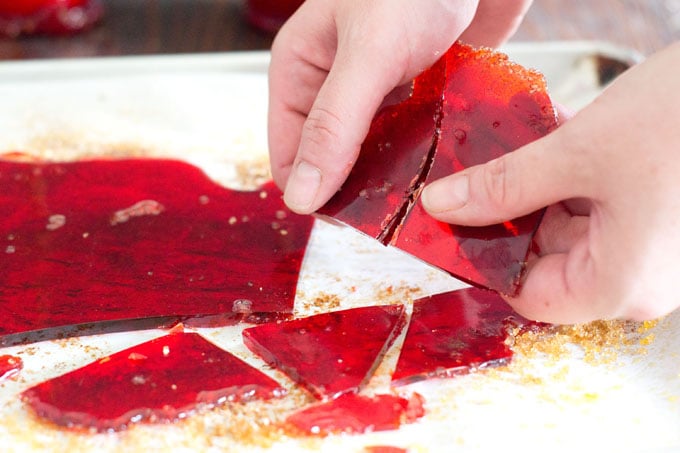 Use your hands to break it into pieces.
Eat it!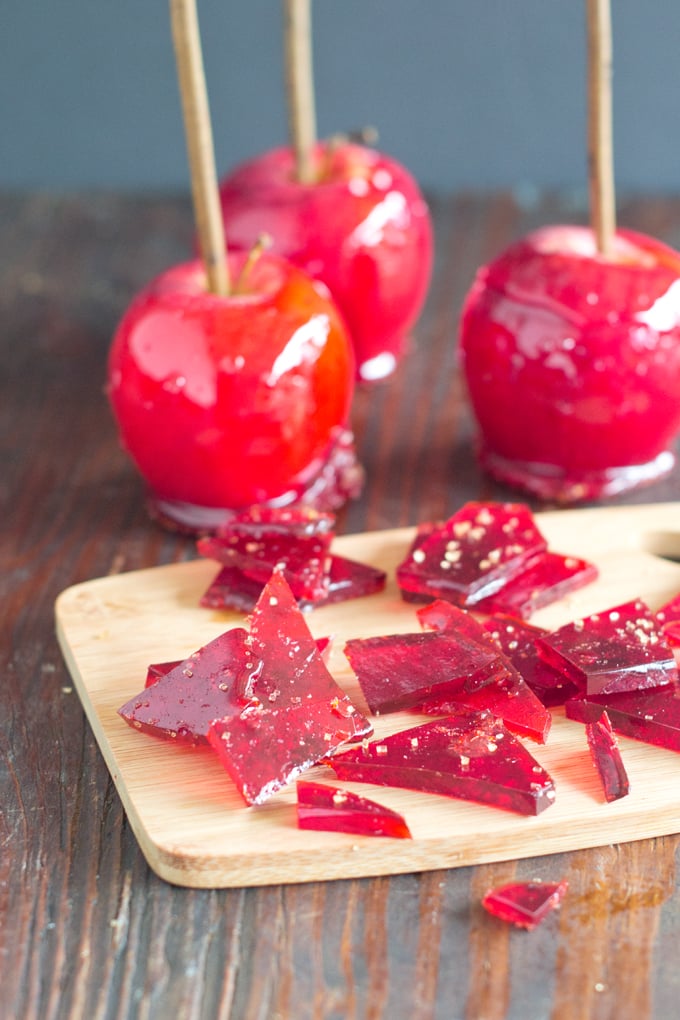 The printable version of this recipe is below. Just click Print. I've written the instructions as though you were making a batch of just candy. But go ahead and stick some apples on sticks and swirl them in there before you pour it on the pan.
Our Candy Apple Tutorial with step-by-step pictures is over here.
Note that this candy method works with homemade candy apple syrup as well as with syrup made using a store-bought candy apple kit. Those kits work out pretty well.
Print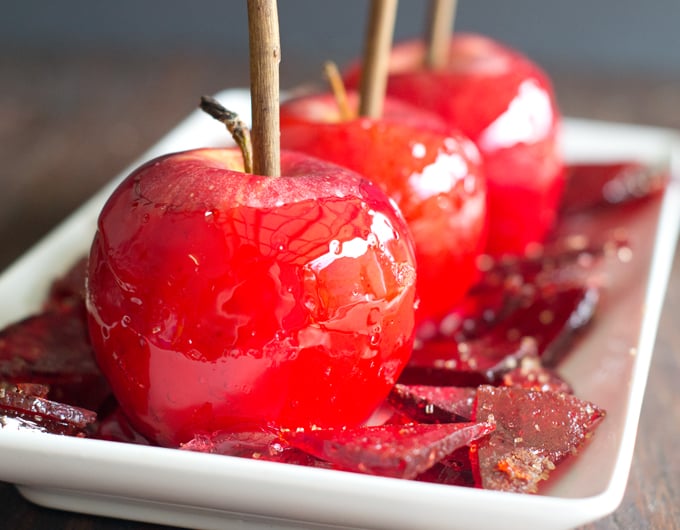 Candy Apple Candy Recipe
Contributor: Christine Pittman
Calling all candy-lovers! This is the coolest thing ever. And the prettiest. Take your vibrant candy apple coating and make dazzling candies.
Author:

Prep Time:

5 minutes

Cook Time:

20 minutes

Total Time:

25 minutes

Yield:

16

servings

1

x
2

cups

sugar

3/4

cup

water

1/2

cup

light corn syrup

1/2 tsp

. red gel food coloring
baking spray

1/2 tsp

. cinnamon extract (optional)

1/4

cup

demerara sugar (optional)

1 tsp

. pumpkin spice (optional)
SPECIAL EQUIPMENT
In a heavy-bottomed saucepan mix together sugar, water, corn syrup, food coloring and extract (if using). The mixture will be bright red.
Set up your candy thermometer so that the tip is in the mixture and is not touching the bottom of the pot. Put it over high heat and bring it to a boil. Leave it bubbling on high until it gets to be between 300ºF and 310ºF. It will take around 20 minutes but keep your eye on it. It gets really fast at the end.
While the sugar mixture is coming to temperature, line a baking sheet with parchment paper and spray it with baking spray. Mix together the demerara sugar and pumpkin spice (you can leave out the pumpkin spice if you want. What's crucial for the pretty sparkly effect is the sugar). Sprinkle the sugar mixture onto your prepared pan.
When your candy mixture is at 310ºF, take it of the heat. Pour it onto your prepared baking pan. Be careful because that sugar syrup is very hot. It will cool and harden within a few minutes. If you want, after it has cooled for a few seconds, sprinkle with sugar mixture at the edges of the pan that didn't get coated in candy already. Peel off the parchment if it stuck at all (it shouldn't have) and break it into pieces using your hands.
This article originally appeared in October 2015 and was revised and republished in September 2016.