How To Make Caramel Apples
Who knew that making homemade caramel apples was so easy? Now we know and we think you should find out too!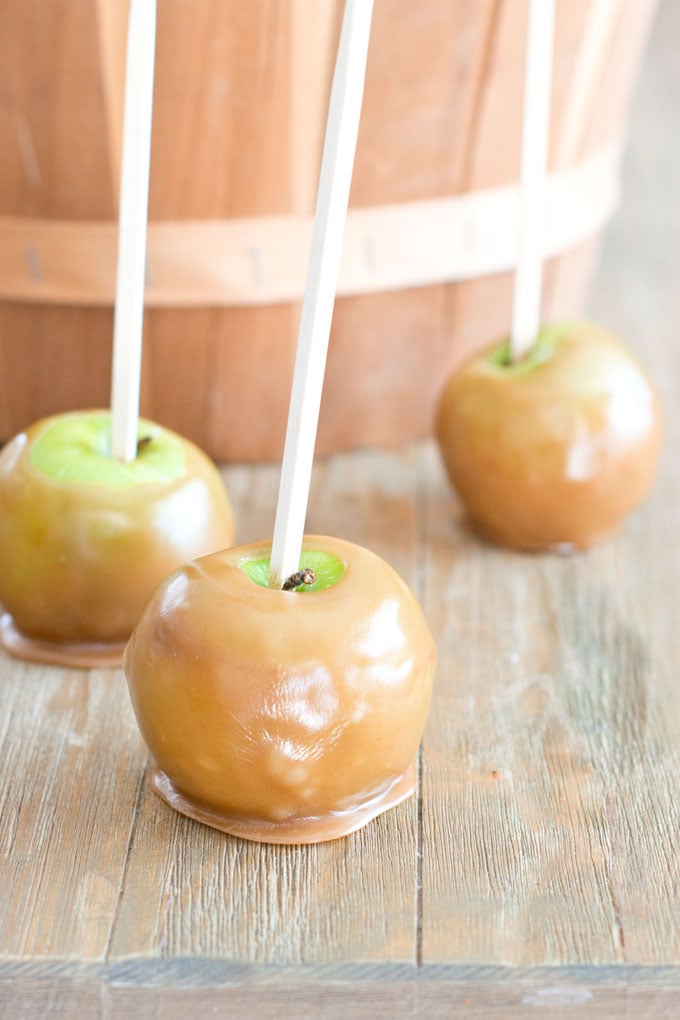 We've been talking a lot about candy apples. Now it's time to turn to their gooier cousins, caramel apples. These guys are even tastier (imho!) than candy apples but are just as easy to make. The basic procedure is the same for candy apples, just with different ingredients and a different cooking temperature. Head over here for a step-by-step guide to making candy apples, with pictures so that you have a better idea how to do the below recipe.
For the caramel apples, what you do is mix together heavy cream, corn syrup, unsalted butter and sugar and then heat it on high until it's bubbling. Then keep heating it on high until it reaches 244-248ºF (the firm ball stage of candy-making). Note that I don't find this to be a dark enough caramel. I advise you to use a spoon to push aside the frothy bubbles at the top of your pot (carefully) and check the color of the syrup underneath. If it's really pale, let it go a bit longer. It's going to be fine if you caramel reaches the hard ball stage (think nougat) between 250-266ºF.
When the caramel is the right color and temperature, remove it from the heat and (again, carefully!) add a bit more heavy cream and some vanilla. Swirl it around. Dip in your stick-stabbed apples and hold them over the pot to get rid of some drips. Then place them on a greased parchment paper to harden. Or, before they harden, dip them in your favorite toppings. We have exciting topping ideas on this site. Head over here for a bunch of classic chocolate bar-inspired toppings. Yum!
Print