Who knew that making homemade caramel apples was so easy? Now we know and we think you should find out too!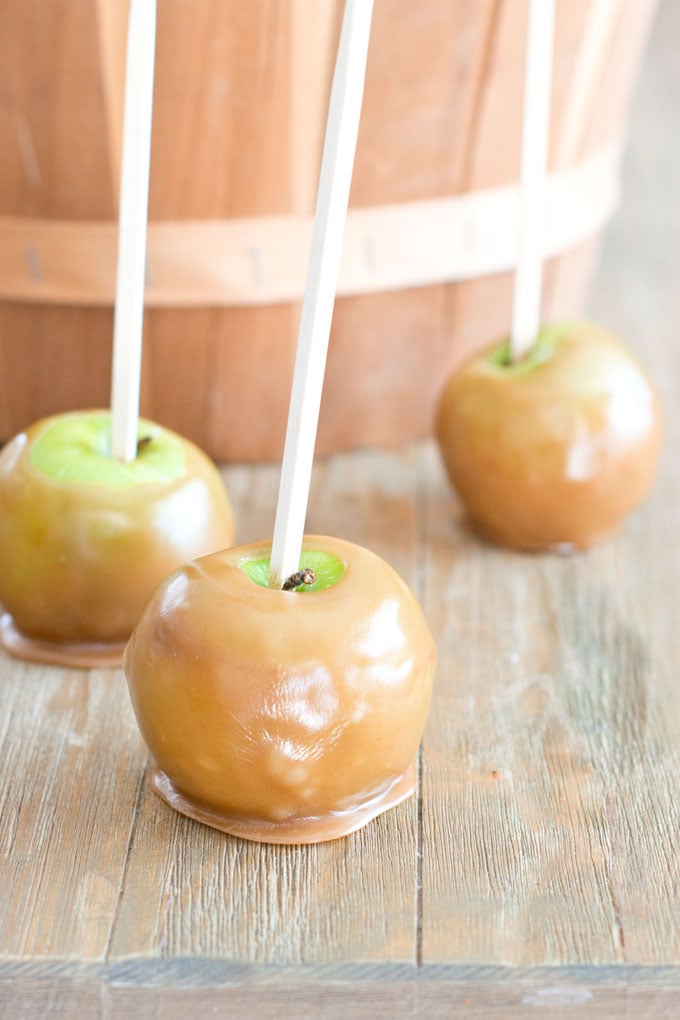 We've been talking a lot about candy apples. Now it's time to turn to their gooier cousins, caramel apples. These guys are even tastier (imho!) than candy apples but are just as easy to make. The basic procedure is the same for candy apples, just with different ingredients and a different cooking temperature. Head over here for a step-by-step guide to making candy apples, with pictures so that you have a better idea how to do the below recipe.
For the caramel apples, what you do is mix together heavy cream, corn syrup, unsalted butter and sugar and then heat it on high until it's bubbling. Then keep heating it on high until it reaches 244-248ºF (the firm ball stage of candy-making). Note that I don't find this to be a dark enough caramel. I advise you to use a spoon to push aside the frothy bubbles at the top of your pot (carefully) and check the color of the syrup underneath. If it's really pale, let it go a bit longer. It's going to be fine if you caramel reaches the hard ball stage (think nougat) between 250-266ºF.
When the caramel is the right color and temperature, remove it from the heat and (again, carefully!) add a bit more heavy cream and some vanilla. Swirl it around. Dip in your stick-stabbed apples and hold them over the pot to get rid of some drips. Then place them on a greased parchment paper to harden. Or, before they harden, dip them in your favorite toppings. We have exciting topping ideas on this site. Head over here for a bunch of classic chocolate bar-inspired toppings. Yum!
Print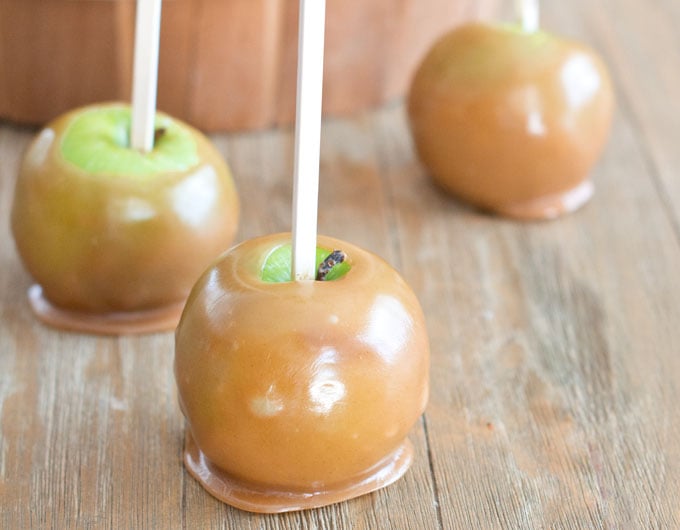 How To Make Caramel Apples
Contributor: Christine Pittman
Who knew that making homemade caramel apples was so easy? Now we know and we think you should find out too!
Author:

Prep Time:

10 minutes

Cook Time:

15 minutes

Total Time:

25 minutes

Yield:

6

servings

1

x
1 cup

heavy cream, divided

3/4 cup

dark corn syrup

1/2 cup

unsalted butter, cut into pieces

1 cup

sugar

1 tsp

. vanilla
baking spray

6

apples
SPECIAL EQUIPMENT
Instructions
In a heavy-bottomed sauce pan mix together 3/4 cups of the heavy cream, the corn syrup, butter, sugar and vanilla. Attach a candy thermometer to the pan and make sure the tip is in the syrup but  not touching the bottom or side of the pan. Heat on high over high heat until it reaches between 244-248ºF. At that point, use a spoon to carefully move away some of the light froth on top to see the color of the syrup below. If it's a dark enough caramel color for you, like peanut butter is ideal, remove it from the heat. If not, let it heat a bit longer until that color is reached. Remove from heat. Carefully add the remaining 1/4 cup cream and the vanilla. Swirl gently to combine.
While the caramel is cooking, put parchment paper on a cooking sheet. Spray it with baking spray. Wash and dry the apples. Insert sticks through stem end. If the sticks are long, go ahead and push them all the way into the apple, without going through the other end. if they're shorter, halfway into the apple works.
Wait for the caramel to stop bubbling. Then hold an apple by the stick and roll it in the sauce. You may need to tilt your pan to make the sauce deep enough to coat the apple. Once coated, hold the apple over the pan and shake gently to remove excess sauce. (At this point you can dip your apple in toppings like nuts and sprinkles, if desired). Place the apple stick up on the prepared baking sheet until it has hardened. Repeat with remaining apples. If you don't use all the sauce, it can be refrigerated and then reheated gently to coat more apples.