Push yourself way beyond lollipop sticks to make those candy apples more fun and festive than ever.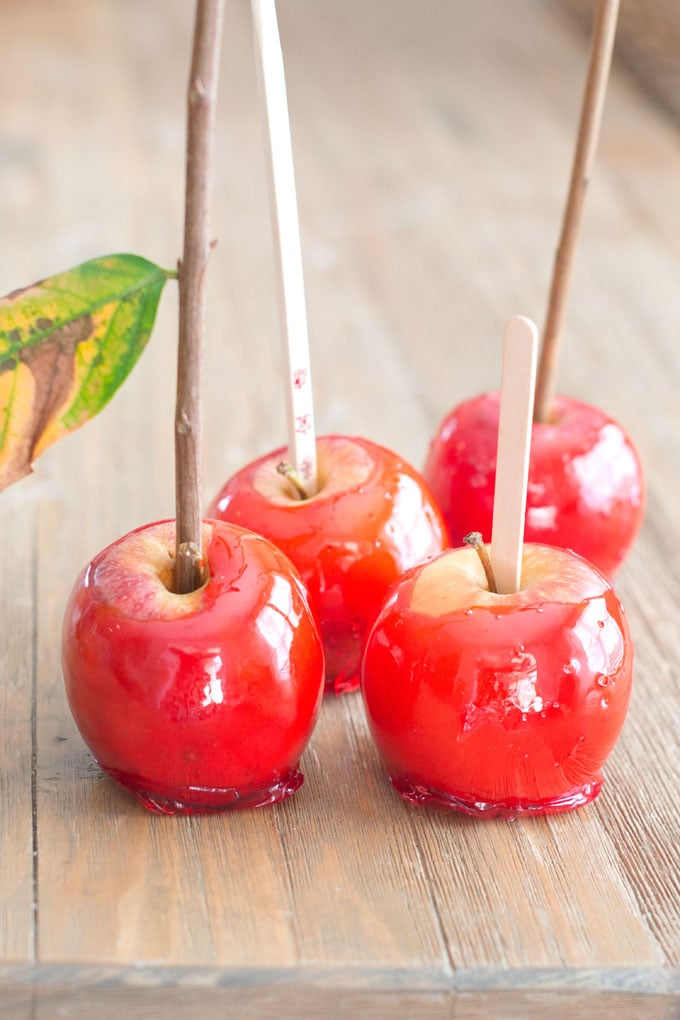 So there I was at the grocery store buying supplies for a full day of candy-apple making. I was planning to test a bunch of candy apple recipes and test out some store-bought candy apple kits (here's a test of store-bought caramel apple kits too) The grocery store had everything I needed. Except popsicle or lollipop sticks.
I asked one of the employees and he told me that they only carry them in the summer when people are making popsicles. Say what? I live in Florida. We make popsicles all year long! But whatever. No popsicle sticks to be found. I therefore had to get creative (or drive further to the craft store. Creativity won out).
Here are some ideas that I came up with.
First, if you get a Candy Apple Kit or Caramel Apple Kit, these come with popsicle sticks. These are just your regular typical popsicle sticks. Like this.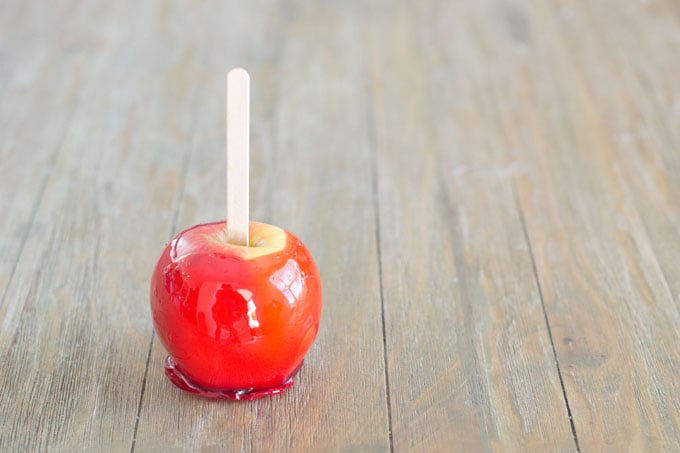 You can also order special candy apple sticks online. These are long round dowels that are pointed at one end, to make the insertion into the apple easier, we suppose. But it's never hard to get the sticks in so it's not really that big of a deal.
Now, if your store doesn't have popsicle sticks and you're not using a kit and you didn't order special sticks online (and you don't want to make a special trip to the craft store) what can you use?
Chopsticks
You can get the basic wooden ones that you get wrapped in paper at Chinese and Japanese restaurants. They don't sell these at my grocery store but they do give them away for free in the Seafood Department where they have some sushi that you can buy.
What they do sell are sets of 6 plastic chopsticks, like this: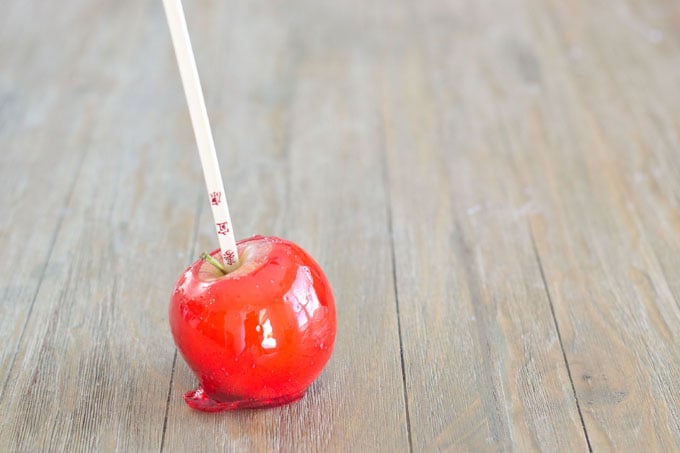 These insert easily into the apples, are nice and long so you can go right in and still have a long handle and they're reuseable. You can, in fact, have them in your silverware drawer to use as chopsticks and then pull some out for candy apples whenever the mood strikes.
Tree Branches
Head outside and survey the trees. To use a tree branch you need it to be thin enough to hold as a handle (and to be cut off the tree easily too!) but sturdy enough to support the weight of an apple.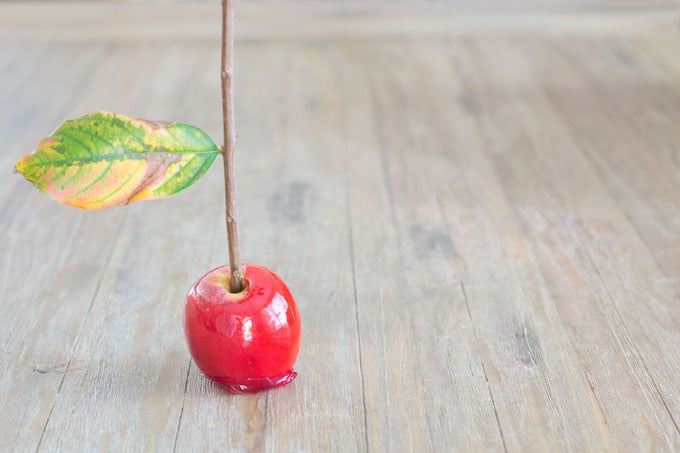 We were a bit worried about food-safety when randomly choosing branches from trees. What if a tree branch was toxic or something. But since the branch goes into the middle of the core, it never touches the part of the apple that people eat. We've decided that it should be fine but you should be aware that this could be an issue.
If you don't want to scour the neighborhood for branches, you might already have some in your house. In my living room I have a vase with tons of tall decorative branches stuck in it. I snagged one of those and broke it into 3 pieces.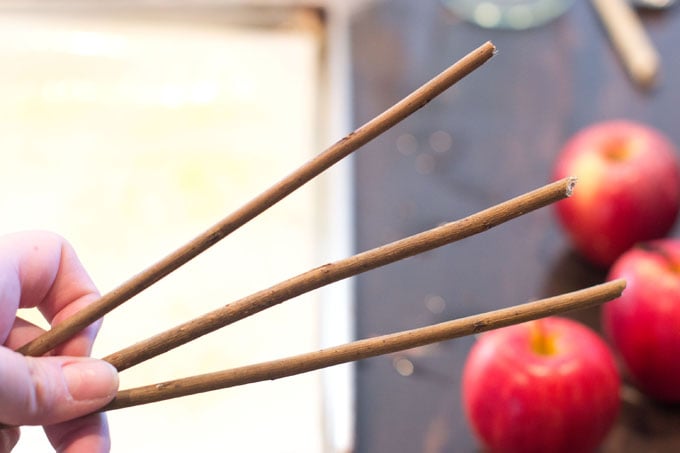 It works perfectly.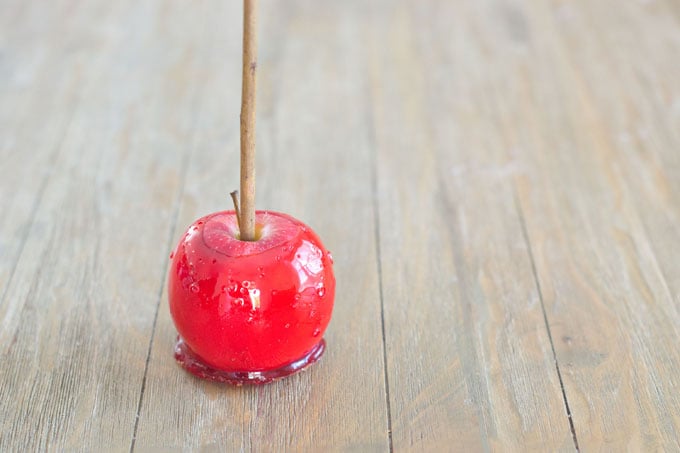 There you have it. Some alternatives to popsicle sticks. And I do want to say this: Even if you can get your hands on popsicle sticks, these alternatives are preretty fantastic. Here they all are together.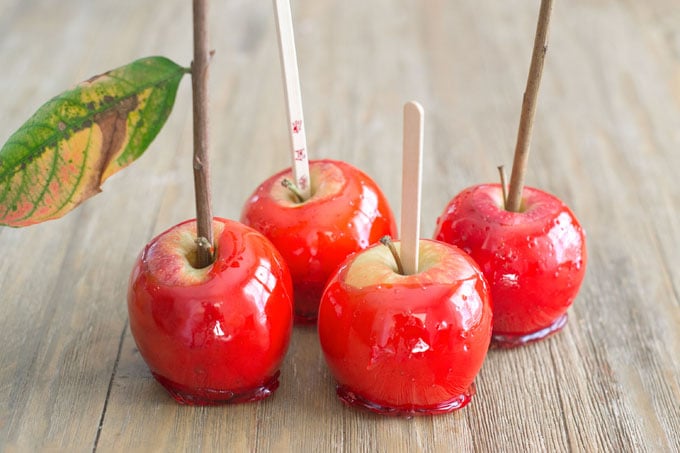 Which is your favorite? Do you have other ideas for things that can be used as candy apple sticks? Do tell!
This article originally appeared in October, 2015 and was revised and republished in September, 2016.