Classic Fried Chicken
You really can make Classic Deep Fried Chicken like Gramma used to make. Check out our tips for making it without a ton of prep work. No dip in this egg batter then dip in that flour mixture mess here!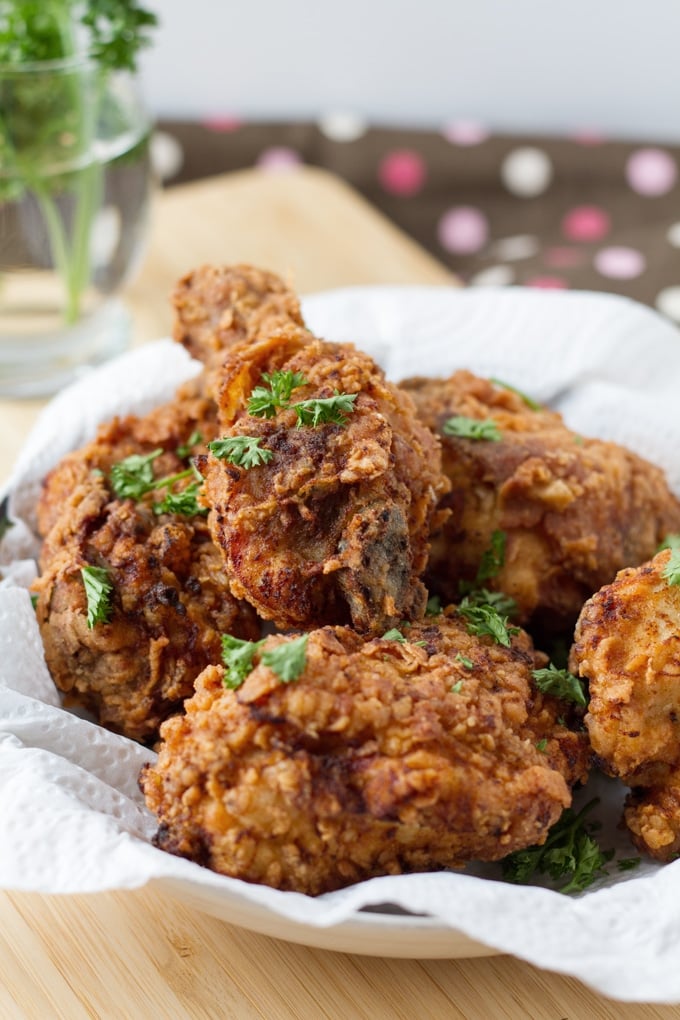 There's always a bit of a mess when it comes to deep frying chicken but we're making homemade fried chicken as simple as possible. You can totally buy a whole chicken and cut it up into 10 pieces – 2 wings, 2 thighs, 2 legs, and each breast gets cut in half for a total of 4 breast pieces. Or, you can save yourself the time and hassle and buy 4 pounds of whatever cut of chicken you want. Like all chicken drumsticks. Or thighs. Or breasts. Yup, that means you can make a whole batch of your favorite pieces of fried chicken. You're the one making it so make it the way you like it best!
You'll start by marinating the chicken pieces in buttermilk and hot sauce for a minimum of 3 hours (or better, marinate them overnight or all day while you're at work). Once they've been marinated you'll coat each piece in delicious seasoning with spices like paprika, garlic powder and nutmeg.
Instead of having you dip chicken pieces in flour then egg, we've put the flour and spices in a bag and you just add the chicken to that and shake. Just like shake 'n bake but this is flour instead of crumbs, so you get that crispy classic coating that you crave daily. You know you do. Mmmmm.
I always recommend using a thermometer (like this one) when you deep fry chicken so you know the oil is the right temperature (350°F) to cook the inside of the chicken without burning the outside crust. Then, to know that the chicken is cooked through, use a different kind of thermometer, an instant-read thermometer. You'll be golden! Ha!
Print