These no fuss drop biscuits are fantastic with any meal – breakfast, lunch, or dinner. They're super easy and only require three ingredients.
As much as I absolutely love biscuits, it took me an embarrassingly long time to figure out that I can make them with just three ingredients. Yes, one of them is self-rising flour, which a few folks consider cheating. But any true Southerner will tell you that they have always have a bag of self-rising flour in the pantry. It's not cheating, it's smart! Add butter and buttermilk and you have yourself warm fluffy drop biscuits with minimal work.
What Is Self-Rising Flour?
Don't confuse self-rising flour with all-purpose flour, cake flour, or a pre-made biscuit mix like Bisquick. Self-rising flour is all-purpose flour that is pre-mixed and blended with salt and baking powder. All-purpose flour and cake flour do not have salt or baking powder in it. Bisquick has salt and baking powder in it, but it also has sugar and vegetable oil included. They are not interchangeable.
Because self-rising flour has salt and baking powder already mixed in, it makes making biscuits incredibly easy. With only three ingredients and less than 30 minutes, start to finish, you can have homemade fresh drop biscuits!
Can You Substitute For Self-Rising Flour?
Yes, you can! If you don't have self-rising flour in the pantry and you don't want to buy a bag of it, you can make your own. Just place 2 cups of all-purpose flour in a bowl and add 1 tablespoon of baking powder and ½ teaspoon of salt. Take a balloon whisk and stir vigorously until all the ingredients are blended. Use this in place of the self-rising flour in the recipe.
But if you do find yourself making drop biscuits often, it's worth getting a bag of self-rising flour just so you can skip that step.
Grating The Butter
Some recipes instruct you to cut the butter into small bits, then use your fingers to smash the butter into small flat pieces. Other recipes suggest using a food processor to blitz the butter into pieces. Both are fine methods but I like to grate my butter! You get small thin pieces of butter flakes that are still solid enough to disperse into the flour. This makes for a rich and flaky drop biscuit, one that has the ideal fluffiness.
I like to dip my butter into the flour first, before grating. This coats the butter and prevents it from melting and sticking to my fingers as I grate it. If the butter starts to melt and stick, I just stick it back into the flour and roll it around more to coat it.
Do I Have To Use Buttermilk?
I like the tang of buttermilk in my biscuits but if you don't have buttermilk you can substitute plain milk instead. Expect the biscuits to have less tang and not rise as high.
You can also make a buttermilk substitute, by stirring in 1 tablespoon of white vinegar to the milk and then using that instead. The vinegar will add a touch of acidity to the batter, giving it a similar tang and lift that buttermilk would.
Print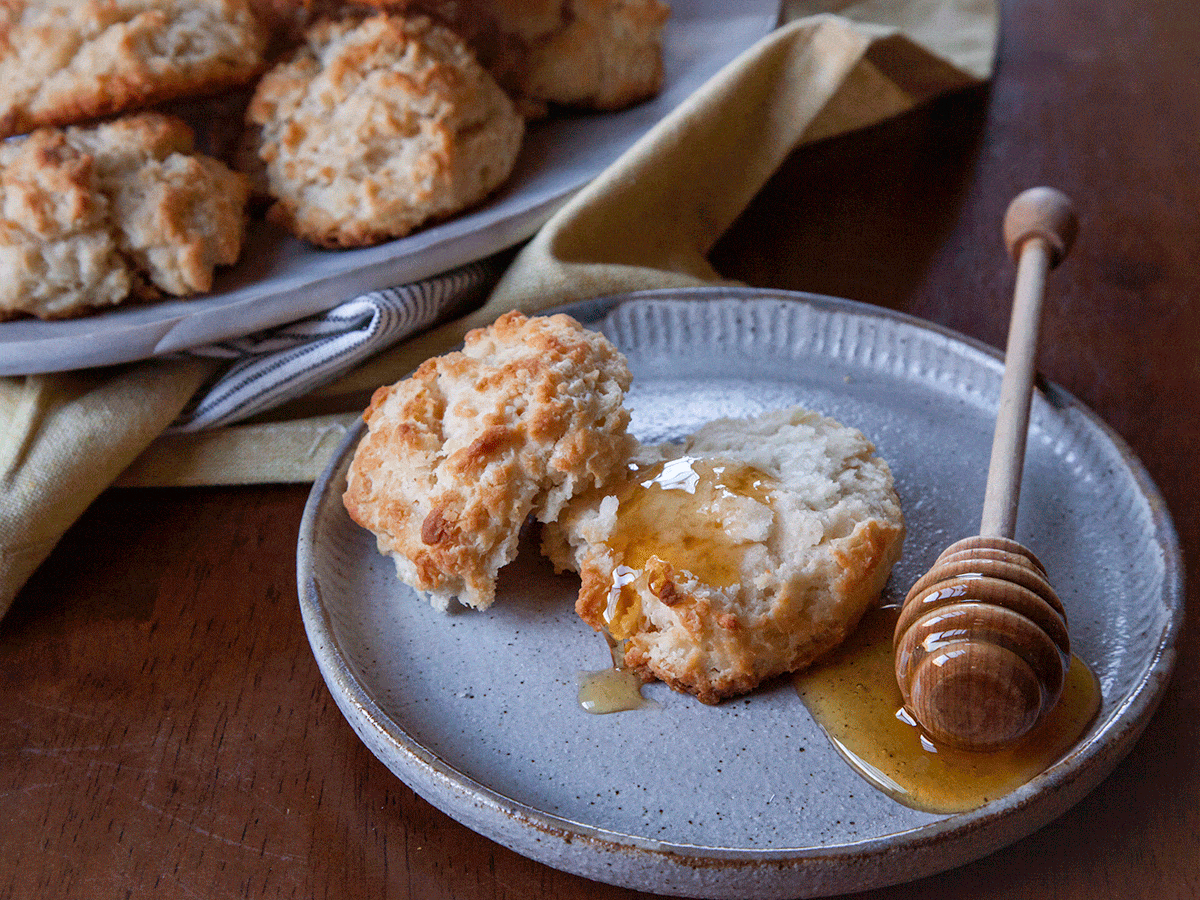 Drop Biscuits
Contributor: Irvin Lin
One of life's pleasure is making fresh drop biscuits from scratch. These three ingredient biscuits are fast and easy to make. Don't fuss too much about forming the biscuits. These are meant to be rustic and imperfectly shaped. Just make the dough, mound them on a baking sheet, and bake.
Author:

Prep Time:

5 minutes

Cook Time:

18 minutes

Total Time:

23 minutes

Yield:

8

servings

1

x

Category:

Side Dish

Method:

Baked

Cuisine:

American
2

cups

self-rising flour

1/2

cup (1 stick) cold unsalted butter, from the refrigerator

1

cup

buttermilk
Instructions
Preheat the oven to 400°F. Line a baking sheet with parchment paper and lightly spray it with cooking oil.
Place the self-rising flour in a large bowl. Take the stick of butter and coat it with some of the flour. Then grate the butter through the large hole of a box grater or hand grater. If the butter starts to stick to your hands, just dip it back into the flour to coat it again.
Once all the butter is grated, gently toss the butter flakes with the flour to coat them. Drizzle the buttermilk over the flour and butter, tossing the ingredients with a large spatula or fork, to mix. Keep adding the buttermilk, gently tossing, folding and stirring until all the buttermilk is incorporated and a dough has formed. Don't overmix. It will lead to a heavy biscuit. Just gently fold until all the dry ingredients are mostly absorbed.
Heap 1/4 cup mounds of the dough onto the baking sheet, making about 8 even mounds. You can wet your hands and gently pat them together to form a more cohesive biscuit shape if you want, but drop biscuits are not meant to be fussy. Just mound them as best you can.
Bake in the oven for 17 to 19 minutes or until the top of the biscuit is just starting to turn golden brown and a toothpick inserted inside the biscuit comes out clean. Let rest on the baking sheet for 10 minutes before moving biscuits to a wire rack to cool completely.