Make everything as delicious as the best bagels with this homemade Everything Bagel seasoning.
Note: Below you'll find a recipe for a full 1/2 cup (4oz.) batch of Everything Bagel seasoning. In addition, in case you're trying to make a recipe that calls for Everything Bagel seasoning and you just want to make a little bit, we've also given a recipe below that makes a small batch of just 2 tablespoons. We hope you find this helpful!
You've probably seen this seasoning blend in stores before, sometimes called Everything but the Bagel, but what's in it? And what does it taste good on?
What Is Everything Bagel Seasoning?
Everything bagel seasoning is a mix of dehydrated onion, dehydrated garlic, poppy seeds, sesame seeds, and salt. Basically all of the toppings that would be on individual everything bagels found in a grocery store or bakery.
According to NPR, a New York baker (or two) was cleaning out the bagel ovens and instead of tossing out the seeds and flaked onion and garlic that had accumulated inside, he scraped them into a bucket and suggested they be reused as a bagel topping.
The seasoning as a bottled spice mix was made famous by Trader Joe's in 2017, and is now available from other spice manufacturers like McCormick, Badia, and Simply Organic. These can be expensive though, so I like to make my own.
What Ingredients Do I Need?
Poppy seeds are optional, but if you're going to use them, toast them first. Untoasted poppy seeds have an intense earthy flavor, almost like dirt, but when you toast them, they taste like popcorn.
To toast the seeds: Add the desired amount to a dry skillet, and heat gently over medium-low heat until they start to smell like baking bread. Keep an eye on them, because they can go from almost toasted to burnt quickly if you walk away. Transfer the poppy seeds to a plate to cool and then add to your everything mix.
With the exception of the poppy seeds, all of the other ingredients should be roughly the same size as the sesame seeds. This is so that everything mixes evenly. Dehydrated onion and garlic flakes are not only what is used as an actual bagel topping, but they are preferred in this recipe for their size and shape for even mixing.
Kosher salt or flakey salt are preferred as well for the same reasons. The larger crystal sizes will keep the ingredients evenly mixed so that the salt doesn't end up just at the bottom of the jar or container. The larger size of the ingredients (as opposed to using ground or powdered herbs and spices) also gives the poppy seeds a place to rest. This way they are also less likely to sink to the very bottom of the jar or container.
A mixture of black and white sesame seeds can be used, but it's not necessary. If you prefer, the sesame seeds can also be toasted using the same method used for the poppy seeds.
To make the everything bagel seasoning, combine the onion, garlic, poppy seeds, salt, and sesame seeds until well mixed. Transfer to an air-tight container for up to 3 months in a cool dry place.
Making a Small Batch of Everything Bagel Seasoning
If you want a full batch of Everything Bagel Seasoning in your pantry that you can grab and use whenever, then scroll down to make the full recipe. However, if you just want a small batch to use right now in a recipe that calls for it, or, if you just want to know approximately how much of each ingredient to add directly to something that you're cooking, I have the info for you here. Here is how to make 2 tablespoons of Everything Bagel seasoning
To Make 2 Tablespoons of Everything Bagel Seasoning, Combine:

• 2 and 1/4 tsp. dehydrated onion
• 1 and 1/5 tsp. dehydrated garlic
• 3/4 tsp. blue/black poppy seeds, toasted
• 3/4 tsp. kosher salt
• 3/4 tsp. sesame seeds

To Add Directly to the Food You're Cooking: Add dehydrated onion as the main ingredient. Then add half that amount of dehydrated garlic, and half of that of the poppy seeds, kosher salt, and sesame seeds.
Using Everything Bagel Seasoning
Sprinkle everything bagel seasoning on avocado toast, buttered toast, or on top of scrambled eggs for a crunch of extra flavor. Try it over hot popcorn, on baked potatoes, or used as a coating for chicken or fish. It's great sprinkled on the cream cheese of these Smoked Salmon Lettuce Wraps too.
It also makes a flavorful dip when mixed with sour cream or yogurt, which rehydrates the onion and garlic.
I'm sure you have even more great ideas for using this seasoning mix. I'd love to hear them in the comments below.
Print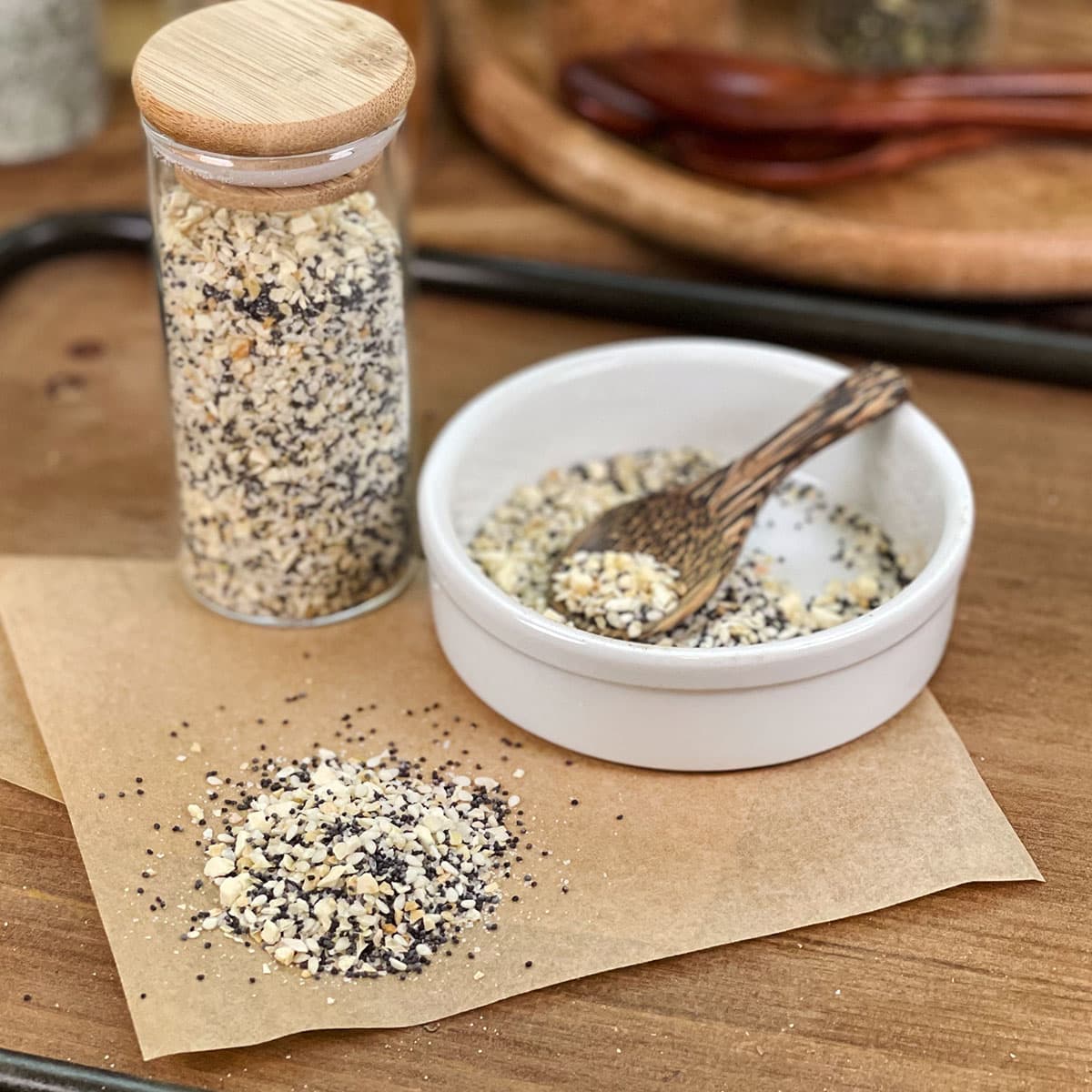 Everything Bagel Seasoning
Contributor: Christine Pittman
Make this homemade seasoning blend to make everything taste as delicious as an everything bagel.
Fits into a standard 4 oz. spice jar as written, can easily be doubled or tripled.
Author:

Prep Time:

10 minutes

Cook Time:

0 minutes

Total Time:

10 minutes

Yield:

About

4 oz

. (

1/2 cup

)

1

x

Category:

Spice Blend

Method:

Mix

Cuisine:

American
3 Tbsp

. dehydrated onion

2 Tbsp

. dehydrated garlic

1 Tbsp

. blue/black poppy seeds, toasted

1 Tbsp

. kosher salt

1 Tbsp

. white sesame seeds
Instructions
In a medium bowl whisk together onion, garlic, poppy seeds, salt, and sesame seeds until well combined.

Transfer mixture to an air-tight container. Store up to 3 months in a cool, dry, dark place.