We like experimentation here so we got nutty and zesty with our ganache.
When I say, "ganache," what's the first flavor that pops into your mind?
Chocolate!
Okay, but what about something more fruity? Or something salty? Floral, crunchy, smokey, robust?
Plain chocolate ganache is good in my book; however, if you are a flavor-adventurer like me, you're going to love flavoring your ganache. There are many ways one can flavor their ganache (along with millions of flavors you can create!).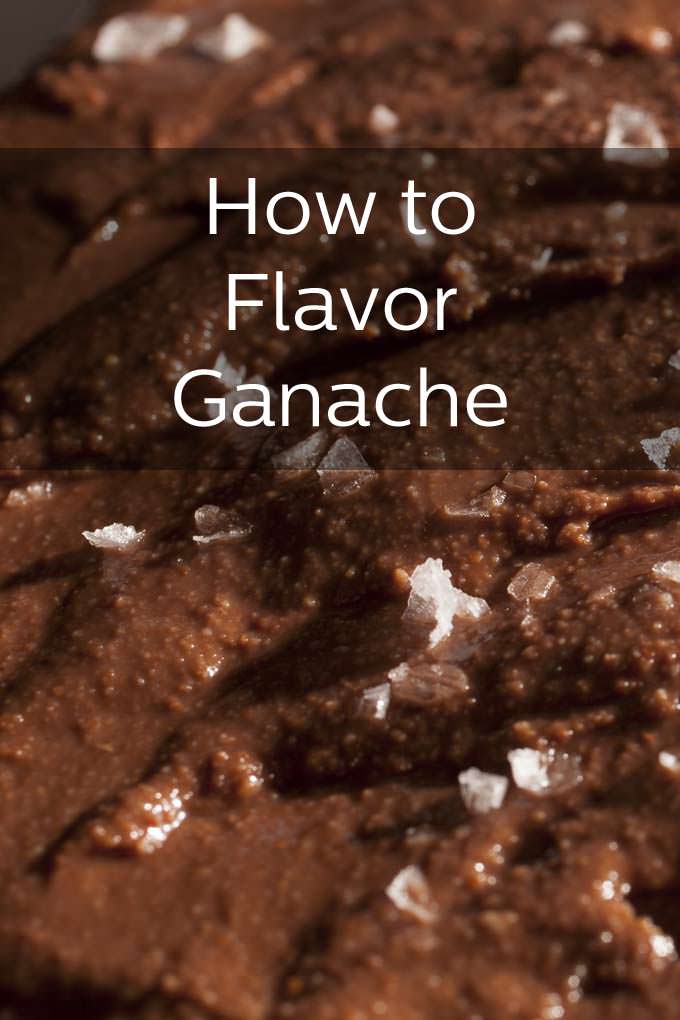 How To Flavor Ganache
Get Steeped
Like tea, certain ingredients can be infused into the cream itself to add a lovely flavor. Try adding something like lavender to add a floral tone or saffron to add a more middle-eastern flavor.  
To do this, measure out your cream and warm. Add in your infusion of choice and let steep for an hour (or longer depending on preference) and strain. Heat the cream back up and use the cream as usual for your recipe. Love infusions? Try out these fun ones we created with Hot Chocolate.
Get Salty
Sweet chocolate and sea salt are the perfect combination to tingle your tastebuds. Since the salt melts when added to the hot ganache we like to stir in a small amount (¼ teaspoon of sea salt to 2 cups ganache) to the cooled ganache. You can even use the ganache as a frosting and sprinkle the salt on top. Delish!
Get Extracted
You probably already have some of these in your pantry (vanilla, I'm looking at you), and they are perfect for adding a punch of flavor. Once the cream is heated, add the chocolate and stir. Once most of the chocolate is melted add in the extract and stir. (About ½ teaspoon extract to 2 cups of ganache).
Get A Little Zesty
Getting that tart essence of orange for those bittersweet orange truffles (sounds so good right?) is fast and simple. Heat your cream and add in some orange zest (or lemon, lime, grapefruit, whatever). Let steep for 15 minutes, drain, then reheat the cream and add the chocolate.
Get Nutty
Who's feeling a little nutty? Add some Nutella or peanut butter to your ganache repertoire by simply adding them to your chocolate. Mix the nut butter in with your chocolate chips then pour on the heavy cream. Done!
Get Tipsy
Chocolate and alcohol does a good couple make. Add a few drops of your favorite liqueur to your ganache just as you would with a flavor extract. Be careful, too much can curdle your ganache. A drip will do ya!
Get Buzzed
Add a bit of a caffeine kick by stirring in 1 teaspoon of instant espresso into your heavy cream. The coffee will perk up the chocolate sending you into a coffee-chocolate-superdrive.
This post originally appeared in February 2016 and was revised and republished in February 2022.