Both of these sweet desserts tend to be compared in a lot of the same circles. So, what's the deal? Are tres leches and flan the same thing?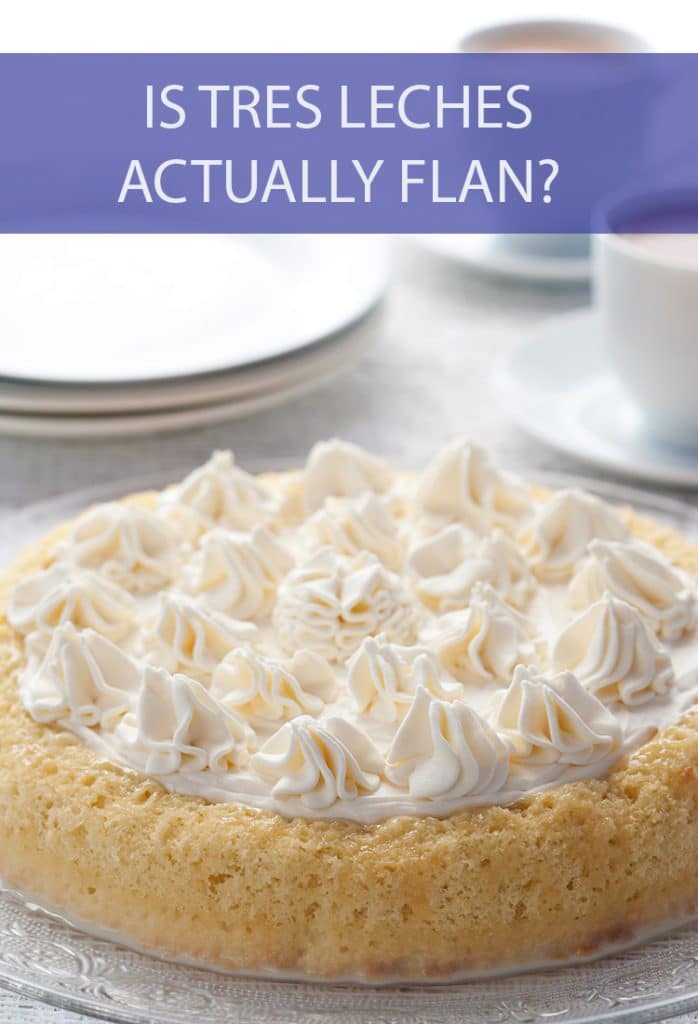 The Short Answer
No, tres leches and flan are not the same thing.
The Long Answer
I get the confusion here because in doing the research for this article I was incredibly confused. Flan and tres leches tend to be used a lot in the same sentence because you can make a tres leches flan. But at their base, they are not the same thing.
Part of the problem here is that there are two different definitions of flan.
The first definition is an open ringed pastry or sponge with a sweet or savory filling. This can include recipes such as quiche lorraine or custard tarts. This is typically how the British think of flan, but Spanish-speaking countries and the United States have a much different definition.
The kind of flan that we know in the U.S. comes to us from Spain and it is a custard made out of eggs, sugar, and milk. It is cooked in a container that has caramelized sugar at the bottom of it. This dessert is also known in some parts of the world as crème caramel.
Some other custard desserts like crème brûlée use only egg yolks in their baking. Flan, however, uses whole eggs to give the custard more rigidity. Flan is not meant to be served in a bowl, it is meant to stand up on its own. The egg whites help with this.
Tres leches cake is also Spanish (obviously) and it is translated into English as "three milks." Tres leches at its core is a sponge cake, but the sponge is actually doused in three different kinds of milk. The milks that are most often used are condensed milk, evaporated milk, and heavy cream.
Because this cake uses no butter, it is extremely light and contains air bubbles. That's also why it's not soggy after being soaked in three different liquids.
There is such a thing as a tres leches flan, but it's not your traditional tres leches cake as described above. It's just a flan custard recipe that uses the three different kinds of milk.
So while tres leches flan does exist, tres leches cake and flan are not the same thing.
Do you enjoy a good flan? Have you ever tried it the British way? Sound off on the comment section below and let us know!