Mujadara is a delicious dish with lentils and rice that can be enjoyed as an entrée or side dish. Take the time to caramelize the onions – you won't regret it!
An ancient dish enjoyed through the Middle East, mujadara is perfectly suited to contemporary diets. This naturally vegetarian and gluten-free combination of rice and lentils topped with caramelized onions works equally well as a meatless main course or as an accompaniment to grilled or roasted meats.
Lentils have been an important part of Middle Eastern cuisine since ancient times. Think about the Biblical story of Jacob and Esau. The dish that Esau traded to his brother in exchange for his birthright was a lentil stew. Did you know that? Indeed, lentils are mentioned four separate times in the Bible. That just shows how important these little pulses have been to humans for thousands of years!
What Is Mujadara?
The most iconic and beloved lentil dish throughout the Arab world is mujadara, which is sometimes written as mujadarra or mejadra. Mujadara combines gently spiced rice and lentils with sweet, caramelized onions and is often served with chopped fresh herbs and a generous dollop of thick, creamy yogurt.
As you might imagine, mujadara was once considered peasant food because it is made with such humble ingredients. It is still a very economical dish, but today, we know that mujadara is actually a terrific source of plant-based protein and offers excellent bang for your grocery buck.
In terms of versatility, mujadara can be both a satisfying one-dish main course or a versatile side. Indeed, if you are feeding a group that includes meat-eaters and vegetarians, a large pot of mujadara can serve both as the vegetarians' main dish and as an accompaniment to any main dishes containing meat. Oh, and did I mention that mujadara is gluten-free? Yes, mujadara works for pretty much everyone.
For this iconic lentil dish, you want to select green or brown lentils that will hold their shape after cooking. Avoid red lentils which tends to break down and become thick like porridge.
How To Make Lentils and Rice with Caramelized Onions
To make mujadara, you first par-cook the lentils because they take longer to cook than the rice does. You can use water or broth for the cooking liquid, but do not use chicken broth if you are serving this dish to vegetarians. (If keeping this dish strictly vegetarian is not important to you, chicken broth is fine.) Once the lentils have cooked for about ten minutes, you add the rice and the two finish cooking together. That means only one dirty pot for you to clean.
Well, you actually have to use another pan to sauté the onions, but they are so important to the dish, you simply cannot skip them! The onions should be deeply caramelized to bring out their natural sweetness. This process can take as long as 30 minutes, so I suggest frying the onions while the lentils and rice are cooking to save time.
Serving Mujadara
You can serve mujadara warm or at room temperature, which is very convenient. Indeed, in the Middle East, mujadara is considered a perfect food for picnics and potlucks because it can sit for hours without any ill effects. Some people say that mujadara only improves as it sits because the flavors blend together and continue to develop. So, if you are wondering whether you can prepare mujadara in advance, the answer is definitely yes!
However you choose to serve mujadara, I highly recommend garnishing the dish with a dollop of thick, creamy yogurt or, even better, cucumber tzatziki. Yogurt is such an important ingredient in Middle Eastern cuisine that almost no meal is complete without it! Here, the yogurt adds moisture and tanginess to the mujadara, which is, after all, a gently spiced, mild dish.
I hope that you are inspired to make this ancient and beloved lentil dish in your own kitchen. Mujadara is nutritious, comforting, economical and versatile – it doesn't get much better than that!
More Lentil Recipes
Print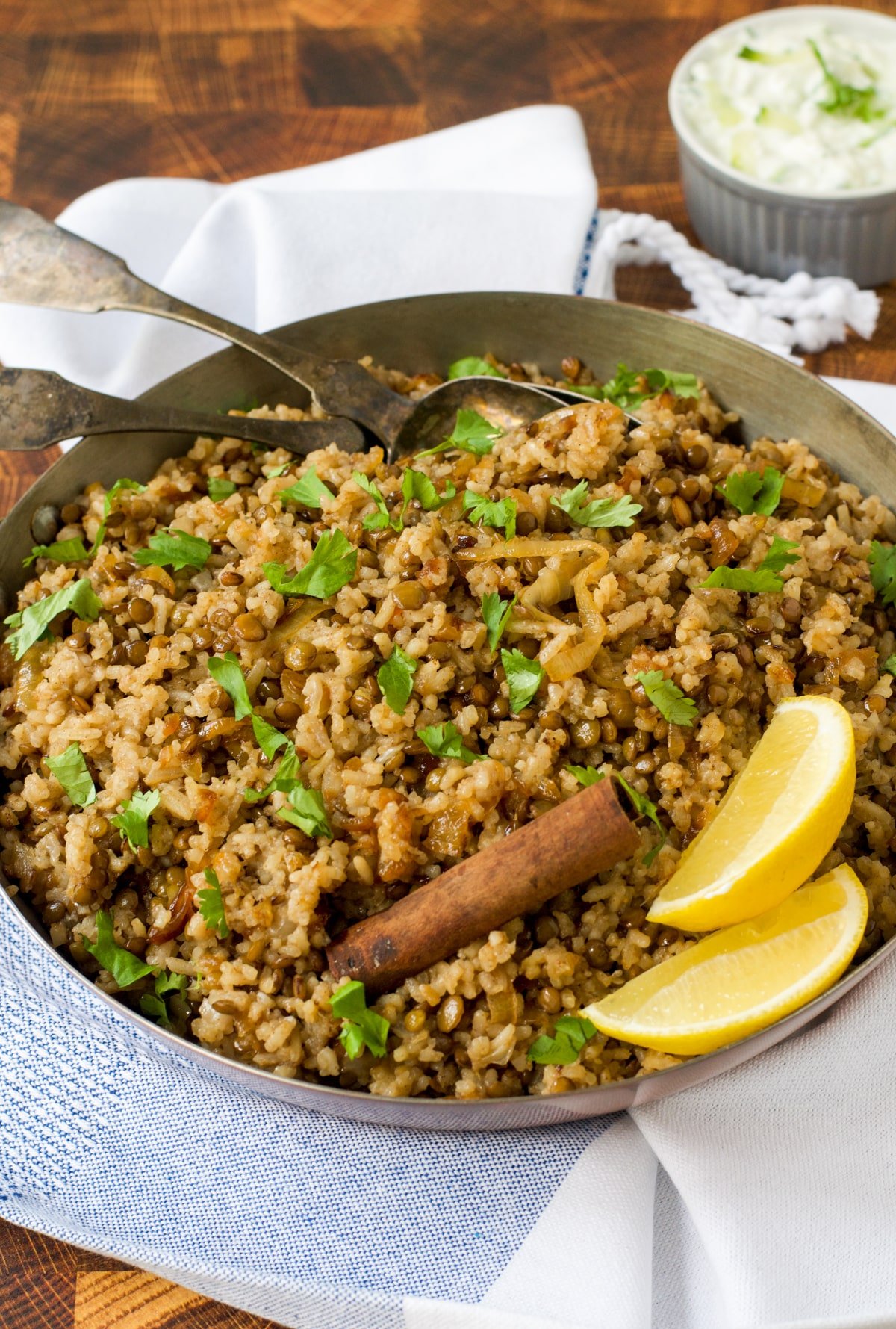 Mujadara (Lentils and Rice with Caramelized Onions) Recipe
Contributor: Emily Paster
Serves 4 as a main course or 6 as a side dish.
Garnish with ¼ cup chopped flat-leaf parsley and serve with plain Greek yogurt or Tzatziki.
Author:

Prep Time:

10 minutes

Cook Time:

50 minutes

Total Time:

1 hour

Yield:

4

servings

1

x

Category:

Entrée

Method:

Stovetop

Cuisine:

Middle Eastern
5 Tbsp

. extra-virgin olive oil, divided

3

yellow onions

1

and

1/2

tsp. ground cumin

1

and

1/2

tsp. ground coriander

1 tsp

. cinnamon

1 tsp

. kosher salt

1

cup

brown or green lentils

4

cups

water or broth (use vegetable broth to keep the dish vegetarian)

1

cinnamon stick (optional)

1

and

1/4

cups long-grain white rice, such as Basmati, rinsed in several changes of cold water

2 Tbsp

. butter
Juice of

one

lemon
Freshly ground black pepper, to taste
Heat 3 tablespoons of the olive oil in a medium saucepan. Dice one of the onions and add it to the oil in the pan. Sauté the onion over medium heat until golden, 5 to 10 minutes.
Add the spices and salt and sauté an additional minute until the spices are fragrant. Add the lentils and stir to combine.
Add the water or broth and the cinnamon stick, if using, and raise the heat to high. Bring the liquid to a boil, then reduce the heat to low, cover the pan and simmer the lentils for 10 minutes. After 10 minutes, add the rice and stir to combine. Simmer the lentil and rice mixture, covered, until the lentils are tender and the rice is cooked through, 10 to 12 minutes. (Total cooking time for the lentils should be 20 to 22 minutes.) Remove the pan from the heat, cover it with a clean tea towel followed by the lid and allow the mixture to steam for 10 minutes.
While the lentils and rice are cooking, make the caramelized onions. Heat the remaining 2 tablespoons of olive oil and the butter in a large, deep skillet over medium heat. Halve and slice the remaining two onions and add them to the skillet. Toss the onions to coat them with the butter and oil.
Sauté the onions, stirring occasionally until they are a deep golden brown and caramelized, approximately 30 minutes. Lower the heat as necessary to prevent scorching.
Add the caramelized onions, lemon juice, and parsley to the lentil and rice mixture and stir to combine. Taste and adjust seasoning, adding more salt if needed and pepper to taste.
Serve mujadara warm or at room temperature with yogurt or tzatziki on the side.
Love this recipe? I'd appreciate it if you could scroll down and add a *5 star rating* to help others know they'll love it as well!