This French-inspired lentil salad is a versatile meatless side dish or light lunch, with plenty of plant-based protein from the lentils and walnuts to keep you satisfied for hours. Best served at room temperature, this salad is also ideal for a potluck or backyard cookout.
A lentil salad studded with aromatic vegetables, crunchy nuts, and tangy cheese is a French bistro classic. Can't you just picture a pair of elegant Parisian ladies sitting at their favorite bistro, sipping chilled glasses of rosé and nibbling small, tidy bites of lentil salad?
While a French lentil salad may seem like fancy restaurant fare, this dish is very straightforward to make at home and is ready to eat in just 30 minutes. Best of all, a lentil salad like this one is nutritious, satisfying, and will keep for days in the refrigerator. In fact, this is exactly the kind of dish you can make over the weekend and eat (or pack) for lunch all week long. Who says that eating meatless has to be difficult?
What Kind Of Lentils Should I Use?
Lentils are pulses, which means that they are the edible seeds of a plant in the legume family. As plant-based sources of protein go, lentils are among the easiest and most convenient to prepare. They go from firm to tender in just 20 minutes of cooking with no soaking or advance preparation required. If you are looking to eat a more plant-based diet, then you should definitely incorporate lentils into your meal planning.
There are many different kinds of lentils, which can be confusing, and they each have different properties. It is important to chose the right lentil for the recipe you are making. In this case, we want lentils that will hold their shape and stay nice and toothsome – not mushy – in the salad. The best lentils for salad are French green lentils, which are also sometimes called Le Puy lentils, after the region in France where they are grown. Avoid red lentils or other varieties that tend to break down when cooked.
How To Make Lentil Salad
To make the salad, we begin by cooking the lentils in broth or water. (In order to keep this salad vegetarian, and not just meatless, be sure to use vegetable broth or water.) Do not add salt to the cooking liquid however; it will make the lentils tough. While the lentils are cooking, which takes approximately 15 to 20 minutes, sauté the vegetables and whisk up the quick and easy Dijon vinaigrette. (So French!)
Once the lentils are cooked, you combine the lentils and vegetables and add the dressing. Adding the dressing while the lentils are still warm will help the little pulses absorb the dressing better so that each bite bursts with flavor. However, it is a good idea to let the lentils cool to room temperature before adding the cheese and herbs, or else the heat will cause the cheese to melt and the herbs to discolor. (Note that to make this salad vegan, simply omit the feta or use your favorite plant-based cheese.)
Make It In Advance!
As I mentioned, once made, this lentil salad will keep for several days in the refrigerator, which is so convenient. If you are making this dish for a potluck or dinner party, for example, you can prepare the recipe up to 3 days in advance. Just take the salad out of the fridge about 30 minutes before you plan to serve it so it can return to room temperature. Alternatively, consider making this recipe over the weekend and enjoying lentil salad for lunch or a quick protein-rich snack all week long.
If you enjoy this recipe and want to create more lentil salads, you can experiment with different combinations of nuts, herbs, and cheese so that you will never get bored. For example, you could take this salad in an Italian direction by using pine nuts instead of walnuts, basil instead of rosemary, and fresh mozzarella instead of feta. Whatever combination you choose, you will be amazed at how versatile, sturdy, and satisfying a lentil salad can be.
More Lentil Recipes
Print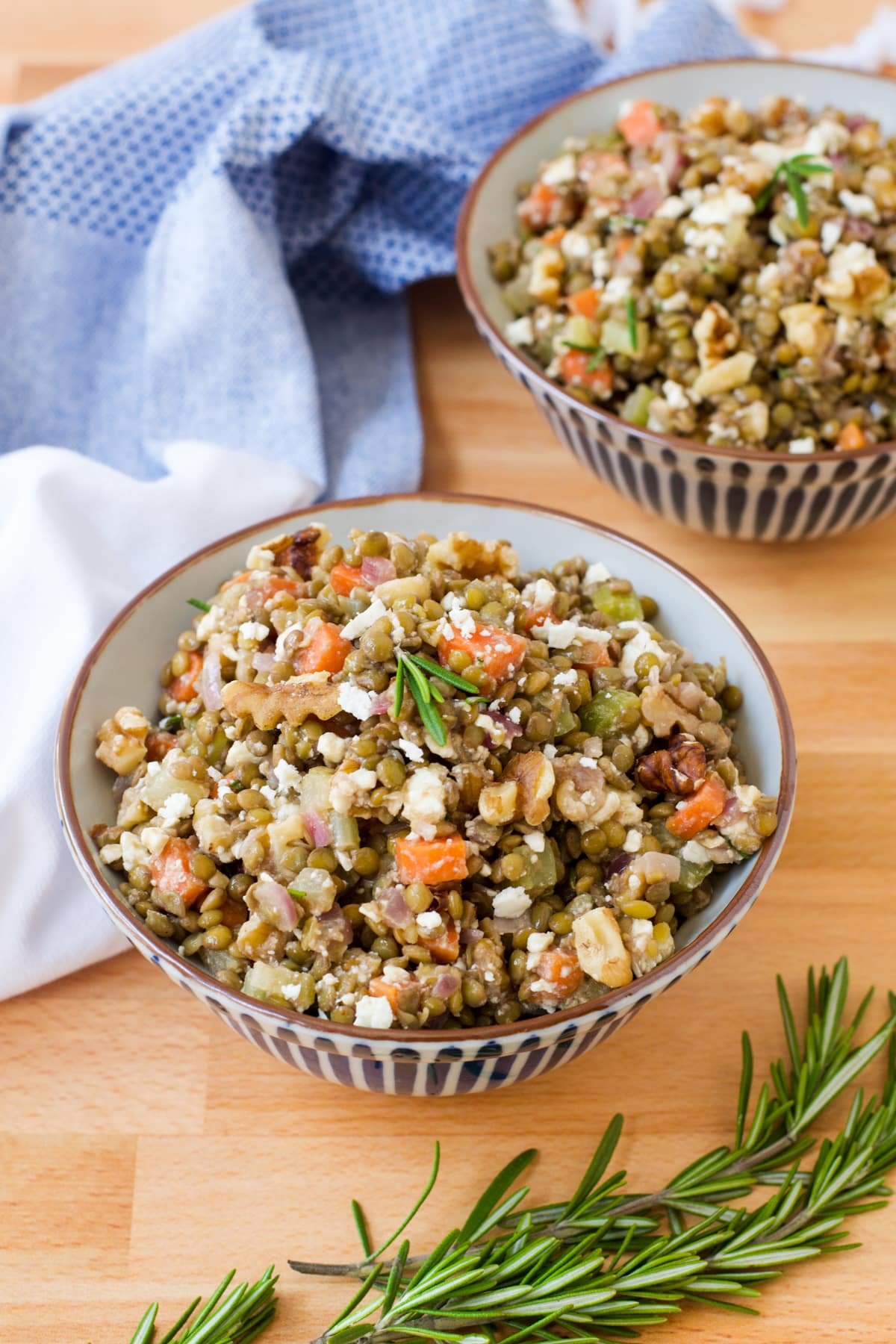 French Lentil Salad Recipe
Contributor: Emily Paster
This French-inspired lentil salad is a versatile meatless side dish or light lunch, with plenty of plant-based protein from the lentils and walnuts to keep you satisfied for hours. Best served at room temperature, this salad is also ideal for a potluck or backyard cookout.
Author:

Prep Time:

5 minutes

Cook Time:

20 minutes

Total Time:

25 minutes

Yield:

4

–

6

servings

1

x

Category:

Side Dish

Method:

Stovetop

Cuisine:

French
1

and

1/2

cups French green lentils

4

and

1/2

cups chicken broth, vegetable broth, or water

1

bay leaf

1

clove garlic, smashed

2 Tbsp

. extra-virgin olive oil

1

small red onion, finely diced

2

carrots, peeled and finely diced

1

stalk celery, finely diced
Pinch kosher salt
Juice of

one

lemon

1

cup

walnuts, lightly toasted and chopped

4

oz

. feta cheese, crumbled

1 Tbsp

. chopped fresh rosemary

1

shallot, minced

1 tsp

. Dijon mustard

2 Tbsp

. red wine vinegar

1/3

cup extra-virgin olive oil, walnut oil, or a combination of the two

1 tsp

. kosher salt
Freshly ground black pepper, to taste
Combine the lentils, broth or water, bay leaf and garlic in a medium saucepan and bring to a boil over high heat. Turn the heat down to low, cover the pot and simmer lentils until tender, 15 to 20 minutes.
While the lentils are cooking, sauté the vegetables: heat the olive oil in a large skillet over medium-high heat. Add the onion, carrot, and celery and toss to coat the vegetables with oil. Season with the salt. Sauté the vegetables over medium heat until softened, about 5 minutes. Remove from the heat and set aside.
To make the dressing, whisk together the shallot, mustard and vinegar in a small bowl. While whisking, slowly pour in the olive or walnut oil in a steady stream and continue whisking until emulsified. Add the salt and pepper to taste. Set aside.
When the lentils are tender, drain them well and discard the bay leaf and garlic clove. Combine the lentils and sautéed vegetables in a large serving bowl.
Add the dressing and toss to combine. (Adding the dressing to the lentils while they are still warm allows them to absorb the dressing better.)
Allow the lentils to cool to room temperature, and then add the lemon juice, walnuts, feta and rosemary. Toss gently to combine. Taste and adjust the seasoning adding more salt or pepper if desired.
If not serving right away, cover the lentil salad and refrigerate it until needed. (Salad will keep for up to a week.)
Love this recipe? I'd appreciate it if you could scroll down and add a *5 star rating* to help others know they'll love it as well!