Vegan Bolognese sauce with lentils makes for a hearty and comforting meal for Meatless Mondays or any other day!
This hearty pasta with lentils in tomato sauce is a vegan alternative to a classic spaghetti Bolognese. The lentils not only add protein, but their small size and firm texture mimic the texture of ground meat, making this dish a satisfying, plant-based meal that the whole family will love.
Scroll down to read more about how it all comes together or click here to jump straight down to the recipe.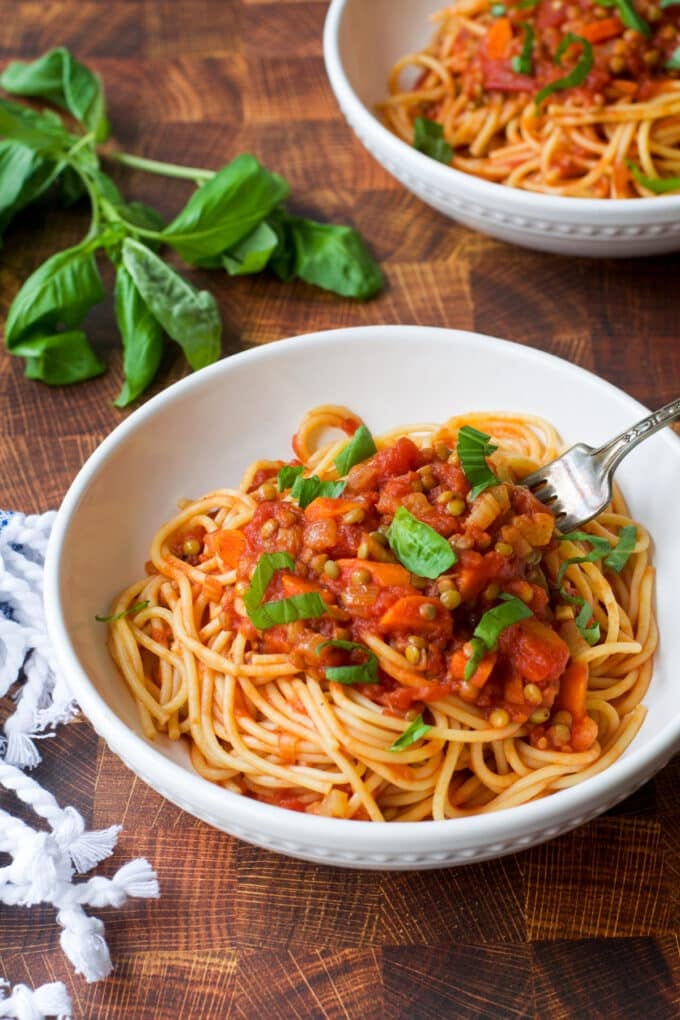 What Is Bolognese?
Spaghetti Bolognese is one of those dishes that everyone craves on a chilly night. Nothing says comfort food quite like a hearty tomato sauce mixed with ground beef or pork that has simmered all day on the back of the stove, filing the house with its tantalizing fragrance.
But what if you are trying to eat a more plant-based diet or need to feed vegetarian family members or guests? Is there a vegetarian – or even vegan – alternative to this classic meat-based tomato sauce? As a matter of fact, there is a satisfying plant-based alternative to Bolognese sauce! Simply replace the ground meat with protein-packed cooked lentils.
What Kind Of Lentils Should I Use For Vegan Bolognese?
Lentils are a good source of plant-based protein, fiber, and complex carbohydrates while being low in fat and calories. They are among the easiest and most convenient pulses to prepare; they go from firm to tender in just 20 minutes of cooking with no soaking or advance preparation required.
There are many different kinds of lentils on the market, from red lentils to tiny black lentils to the more common green or brown lentils. Different types of lentils behave differently in recipes, making it important to choose the right variety for your dish.
In this recipe, we want a lentil that will hold its shape and stay firm after cooking to mimic the look and texture of ground meat. Brown or green lentils, both of which are readily available, are the most suitable for this vegan Bolognese sauce. Avoid red lentils, which tend to break down when cooked.
How To Make Bolognese Sauce
To make a classic, meat-based Bolognese sauce, you typically begin by sautéing ground beef or pork. For our lentil tomato sauce, we begin by cooking the dried lentils.
Tip: You can cook the lentils up to a day in advance to save time. You can also cook lentils in the Instant Pot if more convenient.
I generally recommend dried lentils because they are more economical and have better texture than canned. However, if you are really pressed for time, canned lentils are a suitable option for a dish, such as this one, where lentils are combined with a sauce. Just drain and rinse the canned lentils before adding them to the tomato sauce. It's as easy as that!
The next step is to make the tomato sauce. I like a lot of vegetables and aromatics in my tomato sauce to add sweetness and depth of flavor. Sauté onion, carrot, celery, and garlic until nice and soft before adding the tomatoes. The acid in the tomatoes will prevent the vegetables from softening further once you add the tomatoes to the pan.
Once you have added the tomatoes, the sauce should simmer for at least 20 minutes to allow the flavors to develop fully. But the sauce can certainly simmer for longer if that is more convenient for you, and the flavors will only deepen. However, do not add the lentils until right before you want to serve the sauce so that they so not become overcooked.
I like to serve this vegan lentil Bolognese sauce over spaghetti, but any shape of pasta will work well. You could even try it with whole wheat pasta for extra nutrition.
I think that you will be pleasantly surprised by just how hearty and nourishing this meatless pasta sauce with lentils is. This may become your new definition of comfort food! And you can certainly feel good knowing that this dish is low in fat and packed with plant-based protein, fiber, and lots of nutrients to fuel your busy family.
More Lentils Recipes
Podcast Episode On Making Lentil Bolognese Sauce
Listen to our editor, Christine Pittman, explain briefly about how to make this dish, with some great tips along the way, by clicking the play button below:
Listen to more Recipe of the Day episodes here.
Print
Vegan Bolognese Sauce Recipe
Contributor: Emily Paster
Vegan Bolognese with lentils makes for a hearty and comforting meal for Meatless Mondays or any other day!
I like to garnish with fresh basil leaves.
Author:

Prep Time:

10 minutes

Cook Time:

35 minutes

Total Time:

45 minutes

Yield:

4

–

6

servings

1

x

Category:

Entrée

Method:

Stovetop

Cuisine:

Italian
1 cup

dried brown or green lentils OR

2 cups

canned lentils, rinsed

4

cloves garlic, one whole and 3 minced, divided

1

bay leaf

3 Tbsp

. extra-virgin olive oil

1

yellow onion, diced

2

ribs celery, diced

2

carrots, peeled and diced

1 tsp

. dried oregano

1 tsp

. kosher salt

1/4 tsp

. red pepper flakes

2

(28-oz.) cans whole tomatoes with their juices

2 tsp

. sugar

1

pound spaghetti
If starting with dried lentils, rinse the lentils in a fine-mesh colander to remove any dust or debris. Place the rinsed lentils in a medium saucepan and cover with 3 cups cold water. Add the whole clove of garlic, peeled, and the bay leaf. Bring the water to a boil over high heat.
Turn the heat down to low, cover the pan and simmer until the lentils are tender, but still holding their shape, 15 to 20 minutes. Drain the lentils and allow them to cool. (May be done up to one day in advance.)
Make the sauce: heat the olive oil in a large saucepan or Dutch oven over medium heat. When the oil is shimmering, add the diced onion and sauté for 5 minutes. Add the celery and carrots and sauté for an additional 5 minutes, until the vegetables are softened.
Add the minced garlic, oregano, salt, and red pepper flakes and stir to combine. Sauté an additional minute, just until fragrant.
Add the canned tomatoes with their juices, breaking up the tomatoes with your fingers or a wooden spoon, and sugar. Bring the sauce to a boil over high heat.
Then, reduce the heat and simmer until slightly thickened and reduced, about 20 minutes.
While the sauce is cooking, bring a large pot of salted water to a boil. Add the spaghetti and cook to

al dente

according to the package directions. Drain.
Add 2 cups of the cooked lentils (or the drained and rinsed canned lentils) to the tomato sauce and stir to combine. Taste and adjust seasoning, adding more salt if necessary. Simmer just until the lentils are heated through.
To serve, divide the spaghetti evenly among four plates or pasta bowls. Top with the tomato-and-lentil sauce. Garnish with torn or sliced basil leaves. Serve immediately.
Love this recipe? I'd appreciate it if you could scroll down and add a *5 star rating* to help others know they'll love it as well!
This post originally appeared in January 2022 and was revised and republished in September 2023.