Turn to quick-cooking lentils for a super-flavorful vegetarian taco filling that has plenty of protein and even mimics the texture of ground beef!
Taco Night is a favorite in every household. Tacos are tasty, fun to eat, and, best of all, everyone gets to customize their own – meaning that, for one night at least, everyone at the table is happy. But with many of us trying to eat a more plant-based diet – or cooking for vegetarian family members – we may be wondering if Taco Night is a thing of the past.
Vegetarian (Or Vegan) Taco Fillings
Happily, I am here to tell you that it is possible to make vegetarian – and even vegan – tacos that satisfy your cravings and are super-healthy. The key is convenient and quick-cooking lentils which are not only packed with protein, but even resemble the look and feel of ground beef.
You may be familiar with other types of vegetarian tacos, especially those filled with roasted or sautéed vegetables. Vegetable tacos can be really tasty, but they simply don't have enough protein to keep my ravenous teenagers fueled and satisfied.
Lentils, on the other hand, are a great source of plant-based protein and have lots of other nutrients, like dietary fiber, potassium, folate, iron, and manganese. And unlike your typical taco filling, namely ground beef, lentils are low in fat and calories.
Cooking Lentils
Lentils are not only a nutritional powerhouse, they are also quick and easy to cook. Dried lentils become toothsome and tender after just 20 to 25 minutes of cooking, with no soaking or other advance preparation required.
Don't even have 20 minutes to spare? You can substitute canned lentils in many lentil recipes, including this one. Just simmer the drained and rinsed canned lentils until heated through and serve! (I do prefer dried lentils, however, whenever possible because they are more economical and have slightly better texture than canned.)
One important thing to know about lentils, beyond how healthy and easy to cook they are, is that there are many different kinds, including black, brown, green and red. Different varieties of lentils behave differently when cooked, so you want to be sure to select the right kind for your dish. In this recipe, we want lentils that will hold their shape, so as to mimic the texture and look of ground beef, so I suggest using brown or green lentils. Red lentils are not a good substitute because they break down and become creamy and porridge-like.
How To Make Lentil Tacos
To make the lentil taco filling, we start by sautéing an onion. Next, add typical Mexican spices, like cumin, coriander and chili powder. I like to add a pinch of smoked paprika to give my taco filling a slightly smoky flavor, but don't feel the need to run out and buy smoked paprika if it is not already in your spice cabinet. (That being said, smoked paprika is a versatile spice that adds a hint of smokiness to lots of different dishes, so it is great to have on hand.)
This mixture of spices plus a generous dollop of tomato paste add tons of flavor and a rich savoriness to this vegetarian recipe. The lentils are cooked in water or broth in the same pot that we used to sauté the onion and spices, which not only minimizes dirty dishes, but also ensures that all those flavors go right into the lentil mixture.
(Remember to keep this recipe vegetarian or even vegan, use water or vegetable broth to cook the lentils. If making a vegetarian dish is not important to you, feel free to use chicken broth.)
Once the lentils have cooked and are tender, if the mixture is still a bit too liquid for tacos, simply remove the lid and simmer the mixture for a few additional minutes until some of the excess liquid has evaporated. I like to add a dash of hot sauce to the lentil mixture right at the end of cooking because we like our tacos spicy! (If you are not a fan of spice, simply skip the hot sauce or pass it at the table and let everyone adjust the heat level to their own taste.)
To serve the lentil tacos, heat up soft or hard taco shells – or a mixture of both – and pass all your favorite taco toppings! I think grated cheese, diced tomato, and shredded lettuce are all must-haves. But don't stop there! You could also add chopped avocado, sliced scallions, black olives, sour cream, or pico de gallo to your lentil tacos. Have fun and get creative! It's Taco Night after all.
Print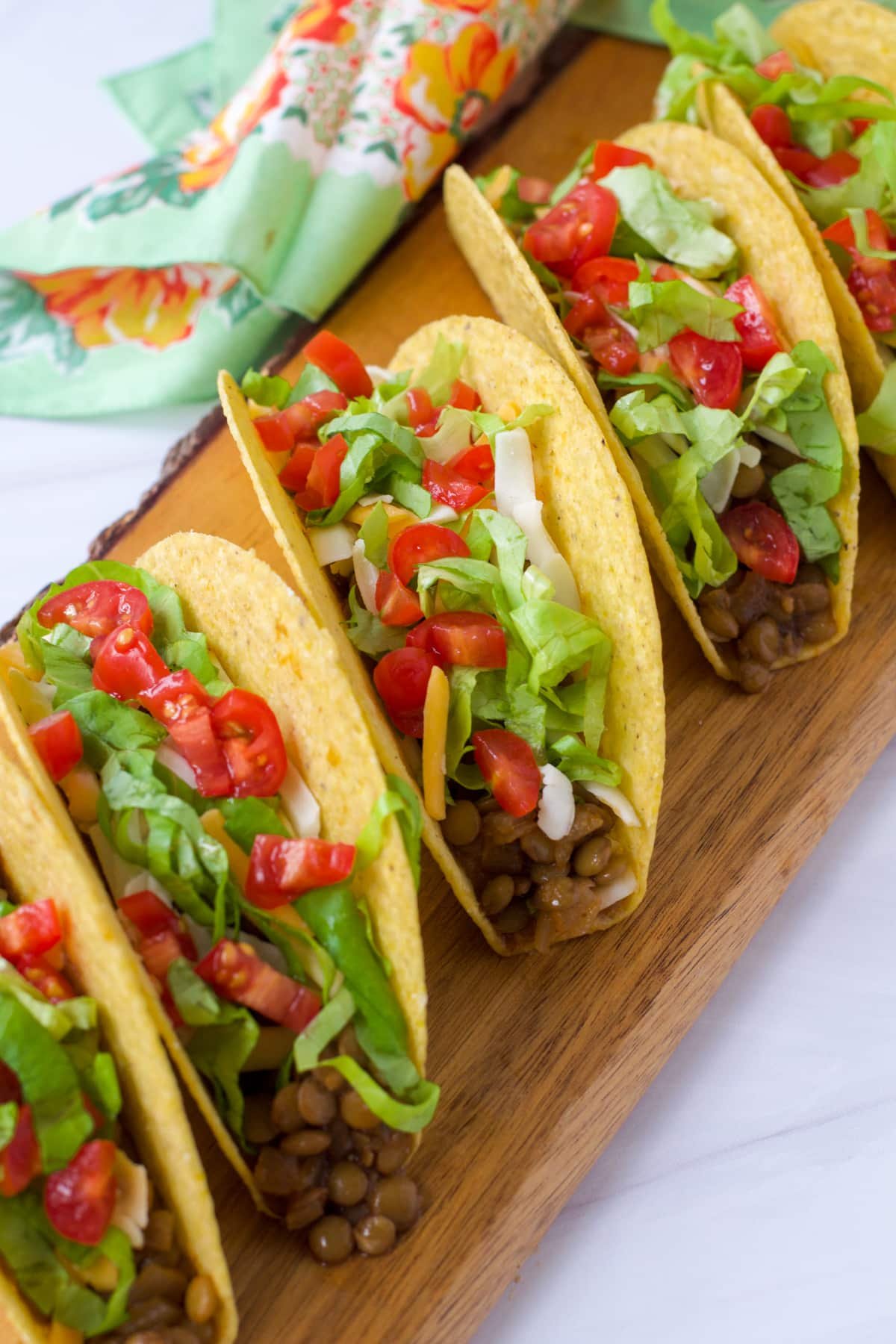 Lentil Tacos
Contributor: Emily Paster
Turn to quick-cooking lentils for a super-flavorful vegetarian taco filling that has plenty of protein and even mimics the texture of ground beef!
I like to serve with 2 cups grated cheese, 1 pint cherry tomatoes, diced, and 1 head lettuce, shredded. Plus, any other favorite toppings like sour cream and avocado!
Listen to our editor, Christine Pittman, explain briefly about how to make these vegetarian tacos, with some great tips along the way, by clicking the play button below:
Author:

Prep Time:

5 minutes

Cook Time:

30 minutes

Total Time:

35 minutes

Yield:

4

servings

1

x

Category:

Entrée

Method:

Stovetop

Cuisine:

American
2 Tbsp

. neutral-flavored oil, such as canola or vegetable

1

white or yellow onion, diced

1 Tbsp

. tomato paste

1 tsp

. kosher salt

1 tsp

. chili powder

1 tsp

. ground cumin

1/2

tsp. ground coriander

1/2

tsp. garlic powder

1/2

tsp. smoked paprika (optional)

1

cup

brown or green lentils, rinsed

3

cups

water or vegetable broth

1/2

tsp. Mexican-style hot sauce, such as Cholula (optional)

12

hard or soft taco shells
Instructions
Heat the oil in a medium saucepan over medium heat. When the oil is shimmering, add the onion and sauté, stirring occasionally, until softened, about 5 minutes.
Add the tomato paste, salt, and spices and sauté an additional minute until fragrant.
Add the lentils and water or broth and stir to combine. Raise the heat to high and bring the mixture to a boil. Reduce heat, cover the pot and simmer until the lentils are tender, approximately 20 minutes.
Remove the lid and add the hot sauce, if using. (If the lentils are tender but there is too much liquid remaining in the pot, simmer the lentils for a few minutes with the lid off to reduce the liquid.)
Heat the taco shells according to package directions. Serve the warm lentils with the shells. Pass grated cheese, diced tomato, and lettuce, or any of your other favorite taco toppings, at the table.