Salmon Poke Bowl is kind of a combo of sushi and ceviche. If you love them, you'll love poke. It's a little like both of those, but with a distinctively Hawaiian spin—plus it's a great way to celebrate a pristine piece of salmon!
Are you a poke fan like me? Sometimes I think I could happily eat it every day. Maybe rotating with sushi and ceviche. 🙂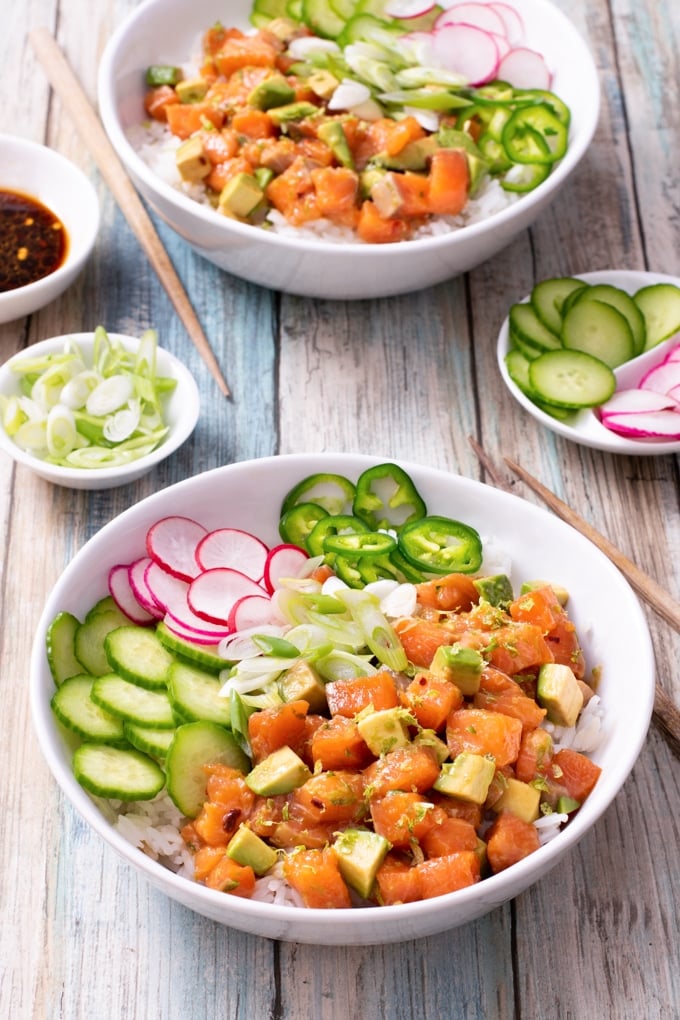 Not familiar with poke? While not particularly traditional—more on that in a sec—this Salmon Poke Bowl is a perfect place to start, especially if you love salmon. It's easy to make, full of interesting tastes and textures, and a delicious way to relish the clean, simple flavor of a great piece of fish.
What Exactly Is Poke?
Poke, pronounced "PO-kay," is a traditional and beloved dish that's been enjoyed in Hawaii for centuries, but in the last few years it's become popular in the States and beyond.
Poke combines cubed raw seafood with seasonings. It's simple, but seductive. And there are endless ways to prepare that basic combination, from a relatively traditional version made with tuna, Maui onion, and soy and sesame sauces, to California roll-type versions that add crab, cucumber, and spicy mayo. Pokes are made with all different types of fish and shellfish, raw and cooked, and some are even vegetarian.
And while a poke bowl is traditionally just poke on top of rice, you'll also see poke on everything from quinoa to zucchini noodles and often with additional toppings.
All that said, when I'm craving poke, I'm craving cubes of delicious raw fish seasoned with Hawaiian or Hawaiian-inspired ingredients. To make a meal out of it, I like it on rice with a few interesting toppings. So that's the blueprint for my Salmon Poke Bowl.
How To Get Great Fish
You can't make great poke with anything less than great fish. So go to a good seafood store and buy the best they have.
How do you know what's best? Ask. Other indications of high quality are if seafood is labeled "sushi grade" or if it's been flash frozen at sea, meaning it was frozen immediately after being caught, preserving freshness and texture. For more about sushi grade fish, here's a good article from The Kitchn. For more about buying salmon, read my All About Salmon post.
Once you get it home, plan to make and eat your poke within a day. If not, freeze your fish until you plan to use it.
Add-ins And Toppings
My salmon poke is seasoned with soy sauce, lime, sesame oil, sugar, garlic powder, and if you like, red pepper flakes—plus I add diced avocado. But you could totally use the avocado as a bowl topping instead of a poke mix-in, or even omit it.
To make it a bowl, I use a base of rice—any kind you like will work—and then add toppings of cucumber, radish, jalapeno, and scallion.
But feel free to make both the poke and the toppings your own. Try different types of fish and seafood. Try different seasoning ingredients, including teriyaki sauce, mirin (sweet Japanese rice wine) which you can find in stores or online here, citrus juice, wasabi, hot sauce, ponzu sauce, mayonnaise, ginger, honey, and rice vinegar.
Or toppings including pickled ginger, edamame, dried seaweed, sesame seeds, macadamia nuts, shredded cabbage, shredded carrots, bean sprouts, pineapple, tomato, and tobiko.
You'll find a zillion more great ideas online, as well as both the vegetable bin and condiment area of your refrigerator.
There's almost no way to go wrong with poke as long as you keep the focus on letting good seafood shine. And remember that it's from Hawaii, where it's a feel good, take it easy food.
Print
Salmon Poke Bowl
Contributor: Jill Silverman Hough
If you love sushi and ceviche, you'll love poke. It's a little like both of those, but with a distinctively Hawaiian spin—plus a great way to celebrate a pristine piece of salmon!
Author:

Prep Time:

30 minutes

Cook Time:

20 minutes

Total Time:

50 minutes

Yield:

2

servings

1

x

Category:

Fish

Method:

No-Cook

Cuisine:

Hawaiian
2/3

cup

rice

3 Tbsp

. soy sauce
Zest of

2

limes, plus 2 Tbsp. lime juice, divided

2 tsp

. sugar

1

and 1/2 tsp. toasted sesame oil

1/4 tsp

. garlic powder

1/4 tsp

. red pepper flakes (optional)

8

oz

. high quality salmon, cut into 1/2-in. dice (see note)

3/4

avocado, cut into

1/2

-in. dice
Salt to taste

1

(4-in.) piece Persian- or Asian-style cucumber, thinly sliced, or 1 (2-in.) piece regular cucumber, peeled, halved lengthwise, and thinly sliced

2

radishes, thinly sliced

1/2

jalapeno, thinly sliced

1/4

cup

sliced scallions
Instructions
In a small saucepan, cook the rice according to package directions. Set aside, covered if serving warm or uncovered if serving room temperature.
In a small bowl, combine the soy sauce, lime juice, sugar, oil, garlic powder, and pepper flakes, if using.
In a medium bowl, combine the salmon and 2 tablespoons of the soy sauce mixture, tossing gently. Set aside 5 minutes. 
Gently stir the lime zest and avocado into the salmon mixture. Add more soy sauce mixture and salt to taste. 
Arrange the rice in bowls and top with the salmon mixture. Arrange the cucumber, radishes, jalapeno, and scallions around the salmon. Serve any remaining soy sauce mixture alongside. 
Notes
Ask your seafood store for their highest quality or look for fish labeled "sushi grade" or that's been flash frozen at sea.