A whole side of salmon is super impressive, but easy to make. Try a perfectly roasted side of salmon for your next lunch, brunch, or dinner!
My absolute favorite dishes, especially when I'm cooking for company, are ones that make everyone feel treated and indulged but that don't wipe me out in the process. Can I get an amen for recipes like that?
Well, a side of salmon is one of them. It's big and beautiful. It's indulgent and impressive. And yet making one is as easy as putting it on a sheet pan and popping it in the oven. Now that's worth having a party over.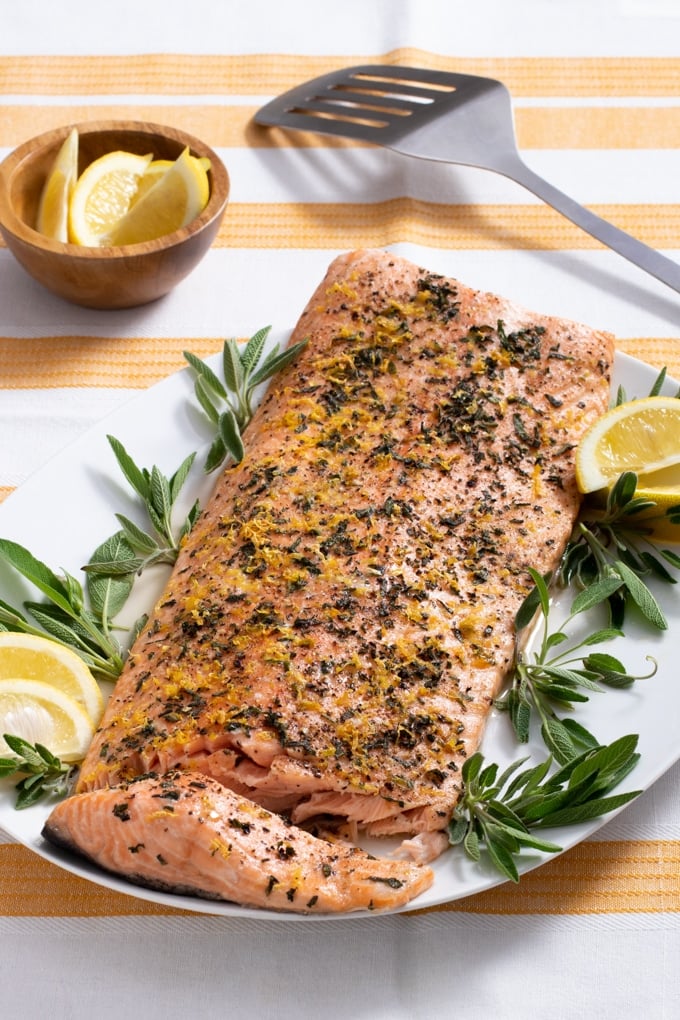 What Exactly Is A Side Of Salmon?
A side of salmon is a lengthwise half of the whole fish, cleaned and boned. You can see what one looks like in our article All About Salmon. When it gets cut down into smaller pieces, those are the salmon fillets that you'll commonly see at the seafood counter.
So then, a side of salmon is basically just one big salmon fillet—and just as easy to cook.
Buying A Side Of Salmon
Some fishmongers will have sides of salmon right there in the seafood case. And when you order a fillet, they cut the amount you want right from the larger piece. But some markets don't always carry the whole, uncut side. So if you want one, I recommend calling in advance.
Some species of salmon grow larger than others, so some sides will be larger. The recipe below calls for one that's 3 and 1/2 to 3 and 3/4 pounds, but if your salmon is slightly larger or smaller, just adjust your cooking time accordingly.
Cooking A Side Of Salmon
Just like salmon fillets or steaks, a side of salmon can be baked, grilled, or—providing you have a griddle or something similar that will fit it—cooked on the stovetop. But it can be challenging to turn over a whole side of salmon on the grill or stovetop. So I prefer to bake it. No turning required!
I also prefer to slow-roast it, using a low temperature for a longer time. It gives me more wiggle room between perfectly cooked and overdone, which I especially appreciate when I'm entertaining and there are more enjoyable things to do than hover at the oven. (See this post on how to bake salmon perfectly for more about slow roasting and why it produces such perfectly cooked fish.)
Serving A Side Of Salmon
Because one of the best things about a side of salmon is the grandeur of it, I like to serve a side of salmon whole rather than cut into serving-sized pieces. A large platter can work, but even a sheet pan (like this) can be nice if it's dressed up with a bit of garnish.
Speaking of dressed up, the salmon in the recipe below is seasoned with a little more than salt and pepper—it adds chopped fresh sage and lemon zest about halfway through cooking—but it doesn't have to be made this way. You could absolutely leave it at salt and pepper, or just add sage or lemon zest. You could use a different herb, like rosemary, thyme, or oregano. And you could even swap orange zest for the lemon.
Easy peasy.
One last thing. If your crowd is smaller, you can still get that "wow" factor with half a side or so, just use the recipe below with a little shorter cooking time.
But even then, I recommend doing what my dad does. When my husband and I visit, dad makes a whole side for the night we arrive. And then we enjoy the leftovers for the rest of the weekend—with bagels in the morning, on a salad for lunch, or made into a dip before dinner. (Check out this article for even more ways to enjoy leftover salmon.)
For us, a whole side of salmon is always a good thing!
Print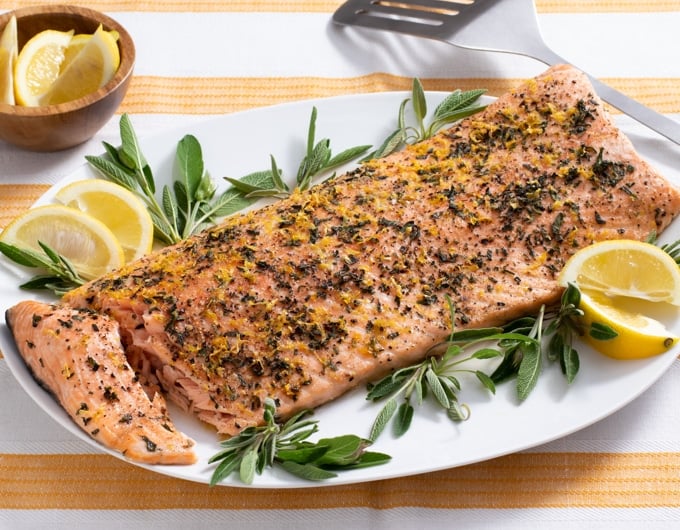 How To Cook A Side Of Salmon
Contributor: Jill Silverman Hough
A whole side of salmon is super impressive, but easy to make. Try a perfectly roasted side of salmon for your next lunch, brunch, or dinner!
Author:

Prep Time:

10 minutes

Cook Time:

40 minutes

Total Time:

50 minutes

Yield:

8

servings

1

x

Category:

Fish

Method:

Bake

Cuisine:

American
3 Tbsp

. olive oil, divided

1

(3 and 1/2 – 3 and 3/4 lb.) whole side of salmon with skin

1 tsp

. pepper

1 tsp

. salt

2 Tbsp

. chopped fresh sage (optional)

3

lemons, divided (optional)
Spring mixed greens, baby arugula, or baby spinach, for serving (optional)
Instructions
Preheat the oven to 275°F*.
Meanwhile, brush about ½ of the oil on a rimmed baking sheet. Arrange the salmon on top, skin or skinned side down, and brush with the remaining oil. Sprinkle with the salt and pepper.
Bake for 20 minutes.
If adding, sprinkle the sage on the salmon. Zest 2 of the lemons over the salmon.
Bake until the salmon is barely opaque throughout, 15 to 20 minutes depending on the thickness of the salmon.
Use 2 spatulas to carefully transfer the salmon to a platter. Cut the remaining lemon into wedges and serve alongside.
Notes
This is a slow cooking method that results in luxuriously tender and juicy salmon with almost no risk of overcooking—but the salmon doesn't get particularly browned or crispy. If you prefer it like that, bake it at 450°F for about 20 minutes.