Why should Crab Cakes get all the attention? Fish Cakes are similarly crispy and craveable—and my recipe really lets their sweet fish flavor shine through.
If you've never heard of Fish Cakes, you're not alone. While many of us have enjoyed crab cakes, Fish Cakes are a little more obscure.
But they absolutely shouldn't be. Why? Because Fish Cakes have all the tasty, crispy, seafood-y yumminess of crab cakes. And they also have this—fish tends to be less expensive than crab. So while Fish Cakes are special, you don't have to save them for a special occasion!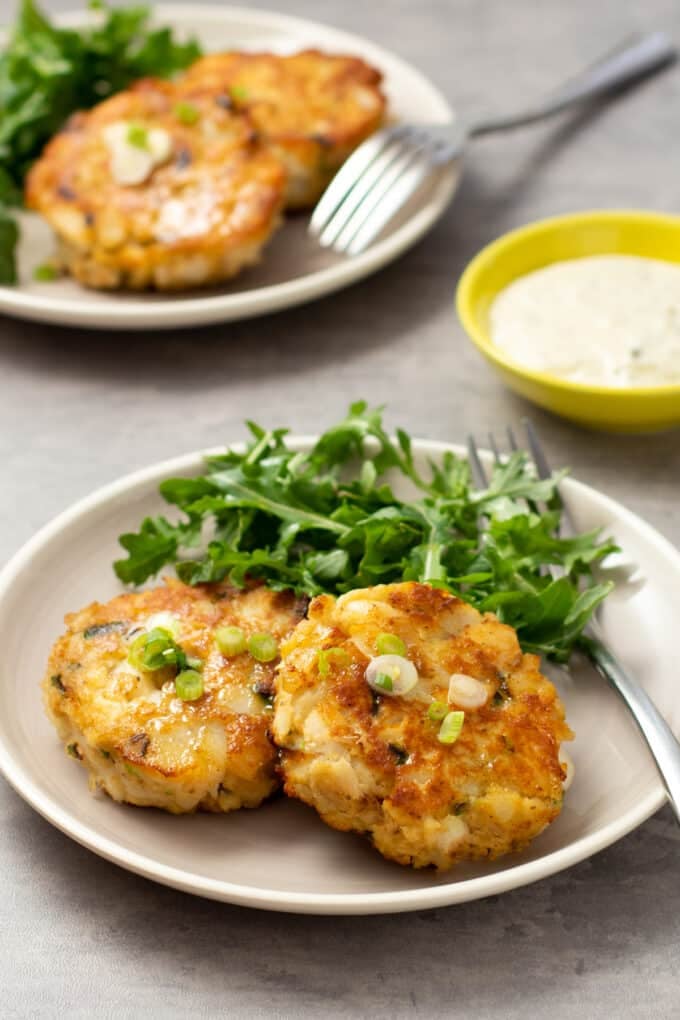 Fish Cakes Versus Crab Cakes
Both fish cakes and crab cakes are seafood, breading, and flavorings—which can include anything from Old Bay to lemon zest to veggies to fresh herbs—shaped into a patty and pan-fried. This recipe for Corn and Crab Cakes with Cilantro, for example.
Where they differ is in what's used to bind those ingredients together. Where crab cakes typically use eggs, fish cakes typically use eggs and mashed potatoes. The final results are similar, but slightly different in both taste and texture.
Breading and Binders
To me, whether it's fish cakes or crab cakes, the trick is to use a minimum of breading and binders. Enough to hold the ingredients together, but not so much that they steal the limelight from the seafood. So the recipe below uses a higher proportion of fish to mashed potato than most others, really letting the clean, sweet flavors of the fish shine through.
For the same reason, I use just a smidge of Old Bay for seasoning. But you could definitely add more if you like.
What Kind Of Fish To Use
Pretty much any flaky fish can be used in this recipe. My grandmother even made them with salmon. Cod, pollock, and haddock are some of the most commonly used, but cod is my favorite. I like its succulent, meaty flakes.
That said, my recommendation is to tell your fishmonger you're making fish cakes and ask what they'd suggest. They know what's freshest and what's the best use for the various fishes they have on hand—and can also advise on what's sustainable (for more about buying fish, see this post).
Using Leftover Cooked Fish
If you scroll down to the recipe, you'll see that the first step has you cook the fish. So, this recipe is using cooked fish, which means that any cooked fish can be substituted in. It's a great idea to plan to have baked fish fillets for dinner one night (try this Baked Tilapia Piccata) but cook extra fish. Then, the next day, that leftover fish turns into amazing fish cakes.
Note that you can also use leftover mashed potatoes for the potatoes in the recipe. If you plan to have mashed potatoes as a side dish one night, then the baked fish dinner the next, day three takes leftovers form both to make a satisfying new entree!
Tips For Crispy Cakes
I like to arrange my shaped cakes on a flat, rimless plate or on a rimless sheet pan. That way, I can gently slide them off the plate or pan into the skillet, making them less likely to fall apart.
When shaping your cakes, make both sides as flat and even as possible—in other words, more like hockey pucks than like flying saucers. That will give them more contact with the skillet, resulting in more crispiness.
But before you cook the cakes, make sure your pan is heated, then add your cooking oil and make sure that's heated. And don't crowd the skillet. All those things will also help you end up with tasty, crispy, browned, delicious Fish Cakes. Yum.
Print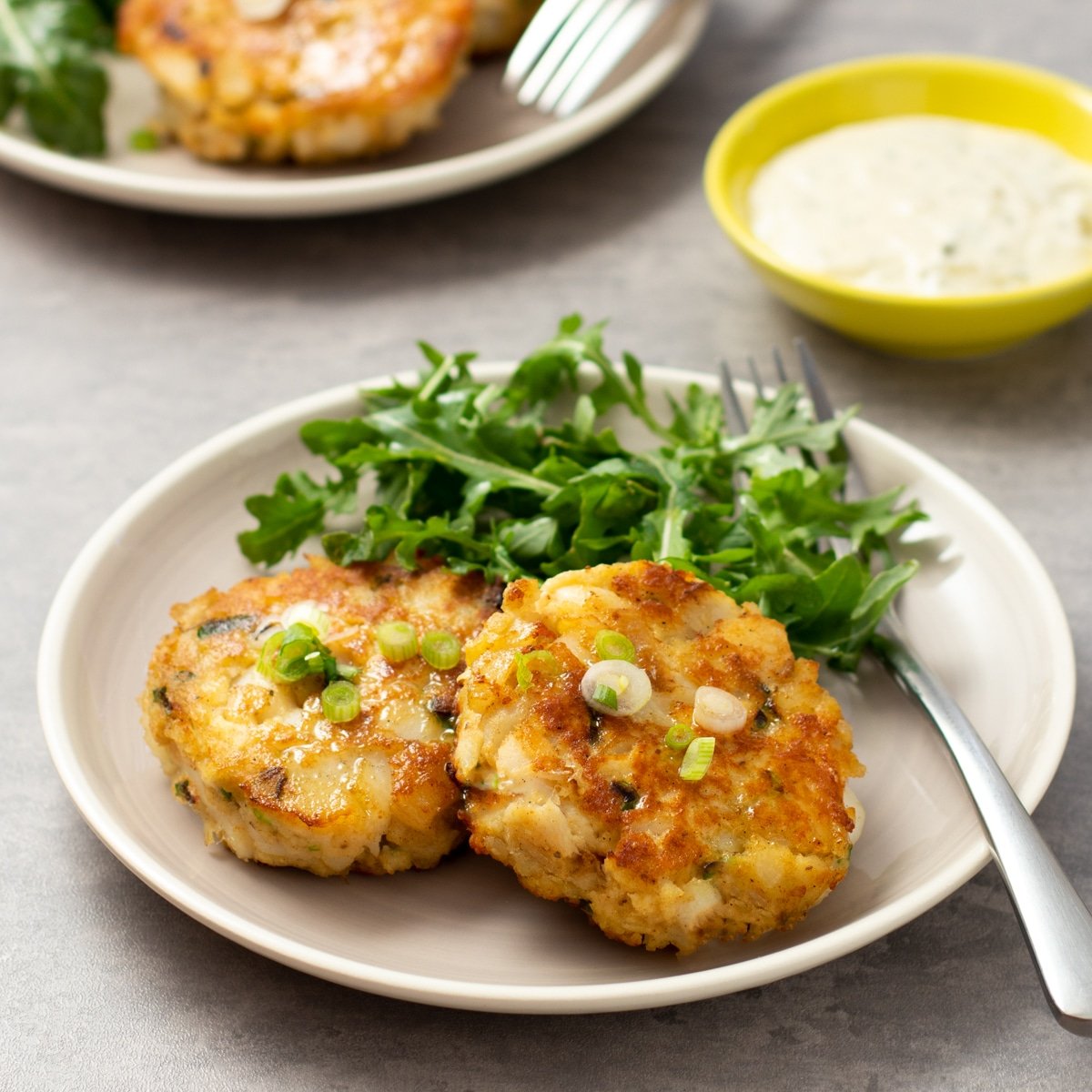 Fish Cakes Recipe
Contributor: Jill Silverman Hough
Why should Crab Cakes get all the attention? Fish Cakes are similarly crispy and craveable—and my recipe really lets their delicious fish flavor shine through.
Serve them with tartar sauce, aioli, or your favorite dipping sauce.
Listen to our editor, Christine Pittman, explain briefly about how to make this dish, with some great tips along the way, by clicking the play button below:
Author:

Prep Time:

10 minutes

Cook Time:

50 minutes

Total Time:

1 hour

Yield:

4

servings

1

x

Category:

Entrée

Method:

Stovetop

Cuisine:

American
2 tsp

. salt, divided

1

and

1/4

lb. white fish fillets, such as cod, pollock, or haddock

2

large eggs

1/2

cup sliced scallions

1/4

cup panko

1

and

1/2

tsp. Old Bay seasoning

1/4

tsp. garlic powder

3/4

lb. russet potatoes, cooked and coarsely mashed (about 1 and

1/2

cups) (see note)

1/4

cup olive oil, divided
Add enough water to a large skillet to reach a 1-inch depth. Stir in 1 and

½

teaspoons of the salt and bring to a gentle simmer over medium heat.
Add the fish and adjust the heat to maintain barely a simmer. Cover and cook until the fish is barely opaque throughout, about 6 minutes.
Meanwhile, place a baking sheet in the oven and preheat the oven to 200°F.
Remove the fish from the water and set aside to cool slightly. Empty the skillet, wipe it out, and set it aside.
In a large bowl, whisk the eggs. Stir in the scallions, panko, Old Bay, garlic, and remaining

½

teaspoon salt. Once combined, stir in the potatoes.
Flake the fish and then gently stir it into the potato mixture. Shape the mixture into 8 cakes, each about 3/4-inch thick.
Return the skillet to medium heat and add 2 tablespoons of the oil. Add 4 fish cakes and cook until golden brown, 2 to 4 minutes per side.
Transfer the cooked fish cakes to the baking sheet in the oven and repeat with the remaining fish cakes.