We're showing you an easy shortcut to have a baked potato in no time and it uses the microwave. Yup, you can make baked potatoes that quick.
Did you know the humble and inexpensive potato is an incredible starch? Not only is it versatile (check out all these amazing potato recipes), but they're packed with important nutrients like potassium, vitamin C, and B6 and they take very little effort to prepare.
Really, all you have to do is wash and dry your potato, poke it with holes and season it (if desired) to get a really delicious and nutritious starch for your meal. For real. That's it.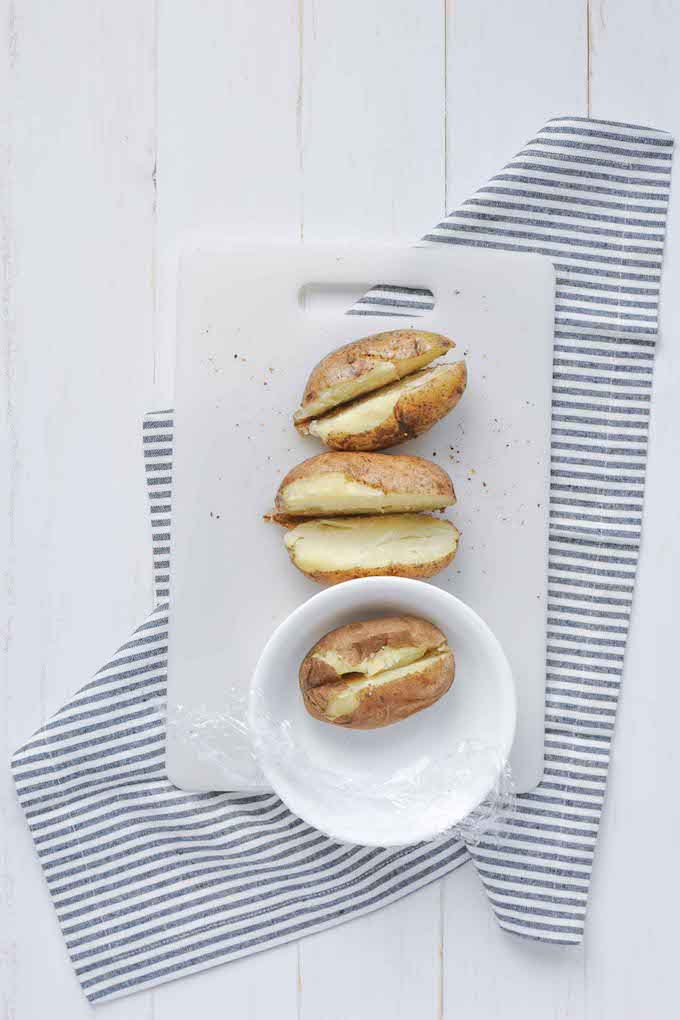 What Kind Of Potato Should I Use?
For tender baked potatoes, russet is what you want. They are a starchy potato that ends up with a fluffy inside and the biggest ones are often actually labeled as baking potatoes at the store. Depending on the size of your potato, you may need to add additional time to the instructions, but this will work well for medium potatoes.
Whatever potato you choose, make sure to give it a good scrub and poke holes in each one with a fork a few times. We do this so steam can escape while cooking, and there's no chance of potato exploding all over the microwave.
Find out more about different varieties of potatoes here.
Different Preparation Methods
What's the best way to prepare baked potatoes? We're familiar with the traditional way to bake them, but that takes an hour… and forethought. I wanted to know if there is a way to quickly "bake" a potato that's actually tasty. Yes, yes there is. That magic box in your kitchen (you know, a microwave) can cook up a potato in just 10 minutes. In an effort to make THE BEST baked potato in the microwave, I tried a few methods. Which would come up on top, and would it compare with an oven baked potato?
To do a thorough comparison of microwave baked potatoes, I steamed one potato in a microwave-safe bowl that was covered in plastic wrap, coated one in butter, and brushed a third with olive oil.
They all cooked in the same amount of time and tasted very similar. The steamed potato had the softest and fluffiest texture (my favorite). I couldn't really tell there was butter or olive oil on either of the two potatoes coated in fat and neither came out with crispy skin. They were both just a bit tougher than the one I steamed.
The Best Preparation Method:
With those thoughts in mind, it didn't take me long to decide that I liked the potato cooked in the bowl covered in plastic wrap. That potato had the best texture and was the easiest to prepare. Neither of the two potatoes covered in fat tasted differently than the steamed one so it felt like a waste of butter or olive oil.
If you aren't cooking in a bowl or on a plate, make sure to use a towel or oven mitt to grab it from the microwave, it'll be super hot!
Serving Microwave Baked Potatoes
While potatoes are great with just a pat of butter and sprinkle of salt and pepper, why stop there? Take your side dish to the next level with your favorite toppings like Cheddar cheese, sour cream and chives, or bacon bits.
Print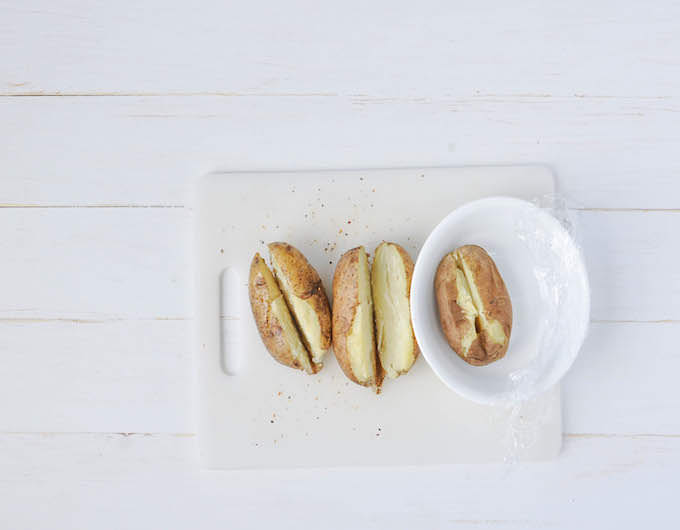 Microwave Baked Potatoes
Contributor: Rebecca Clyde
Try out my favorite way to quickly make a baked potato!
Author:

Prep Time:

2 minutes

Cook Time:

6 minutes

Total Time:

8 minutes

Yield:

1

serving

1

x

Category:

Side Dish

Method:

Microwave

Cuisine:

American
1

medium russet potato
Salt and pepper, to taste
Instructions
Scrub potato clean then dry it off with a clean towel.
Poke potato with a fork 6-10 times, all around potato.
Place potato in microwave safe bowl and cover with plastic wrap. Cook for 3 minutes. Turn potato over and cook, covered with plastic wrap, for 2 more minutes. Poke with a fork to see if it is soft all the way through. If potato yields easily to the fork, it's done. If not, cook for another 1-3 minutes.
Cut potato open and season with salt and pepper. Add desired toppings.
Notes
You could coat potato skin with butter or oil, but it doesn't get crunchy in the microwave, so save the fat for topping your cooked potato.
If you're going to cook multiple potatoes, you may need to cook them a few minutes longer. I was able to cook 3 at a time in just 10 minutes.
This post originally appeared in December 2017 and was revised and republished in June 2022.